VIDEO: Sebastian Vettel and Lance Stroll crash after the Malaysia GP
Ferrari heavily damaged after the chequered flag in the Malaysia GP
Last Updated: 10/10/17 11:58am
Sebastian Vettel was involved in a bizarre crash with Lance Stroll after the Malaysia GP which severely damaged his Ferrari car.
The remarkable incident occurred on the warm-down lap at Sepang after Vettel had recovered from last on the grid to finish in fourth.
Although the stewards have ruled out further action, it's possible the damage inflicted on the Ferrari will result in an unscheduled gearbox change - and a potential grid penalty at next week's Japanese GP for the world championship contender.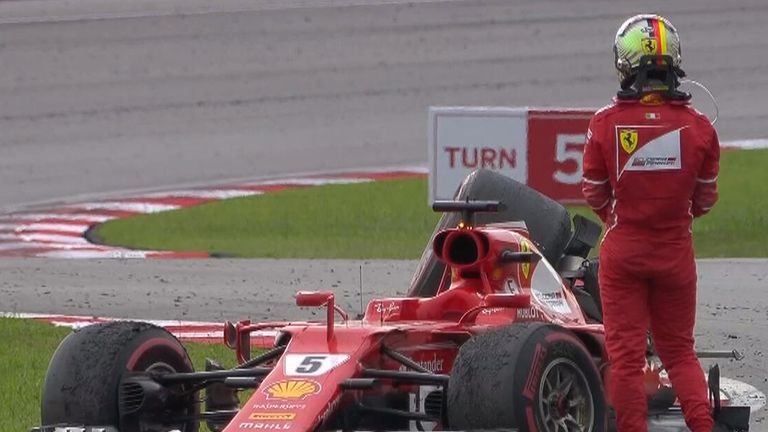 "Stroll completely shunted into my car," said Vettel after the pair collided.
"It's one of the most bizarre things I've ever seen after a race," said Sky F1's Martin Brundle.
Verstappen beats Hamilton to Malaysia GP win
Vettel later described the crash as "totally unnecessary" - and pointed the finger of blame at the Canadian youngster.
"It's not my fault if someone is picking up rubber and doesn't look where they are going," Vettel told Sky F1.
Stroll responded: "At the end I was on the in lap, on my normal line, picking up rubber, doing all my switch changes, shutting down the car and Sebastian came flying by me, pushing round the outside like the race was still on."
Replays showed Vettel's car clipping the rear of the Williams with the impact ripping off the rear-left tyre from the Ferrari and causing severe damage to its bodywork.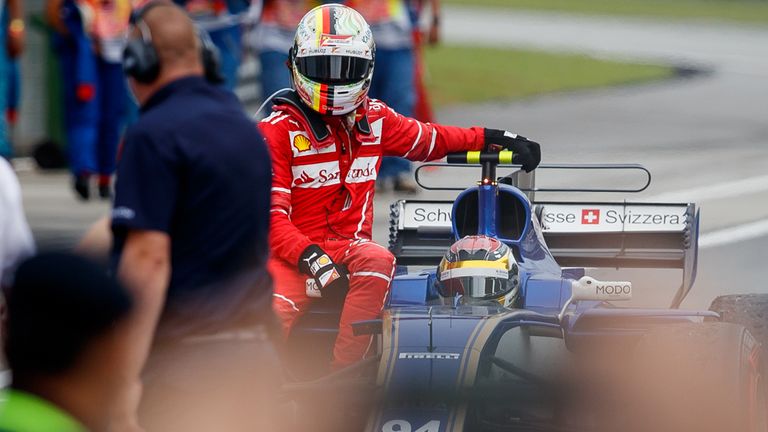 Vettel then hitched a lift back to the pits on the Sauber of Pascal Wehrlein.
The Sepang stewards investigated the incident but deemed that neither driver had been predominantly at fault and opted not to take any further action.