Japanese GP: Lewis Hamilton on title 'Hammertime' in F1 2017
Title leader optimistic Mercedes will be more of a match for Ferrari at Suzuka with world champions making procedural changes
By James Galloway
Last Updated: 05/10/17 12:45pm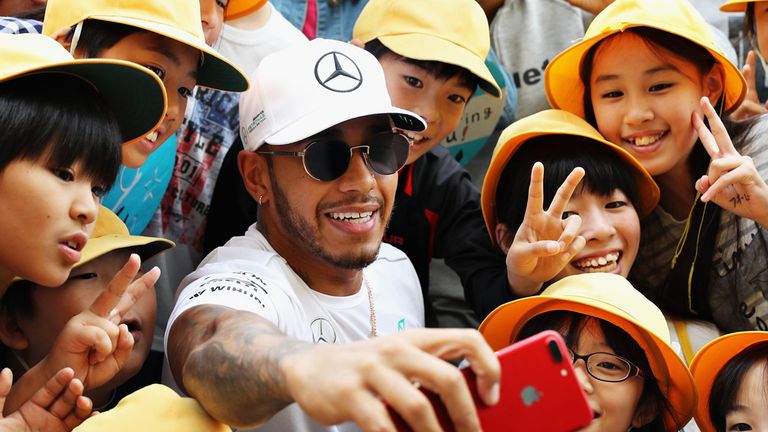 Lewis Hamilton says he intends to 'hammer' home his championship advantage and is optimistic Mercedes will be ready to bounce back to top form in Japan.
With the world champions admitting they were fortunate to come away from Singapore and Malaysia with increased leads in both title races, Hamilton says they have "improvements here and coming up" for their car.
When's the Japanese GP on Sky?
The Englishman also says operational changes to improve "communication" are also being made after the team thrashed out their Sepang problems in an extended Sunday night debrief.
Despite trailing Ferrari and Red Bull on race pace at the last two races, Hamilton leads Sebastian Vettel by 34 points with the Mercedes driver nearly in a position of being able to finish second to Vettel at every race and still win the title.
However, despite enjoying a season-high advantage, Hamilton has insisted: "I'm not comfortable at all.
"It's not that I'm not at ease either, but I want to win this thing. I might have the nail a little bit in, I've got to keep hammering it. It's not done until there's no more to push in."
Hamilton has not been beaten by Vettel since the summer break but Mercedes' dominance of Monza at the start of September failed to transfer to either Singapore or Malaysia, when Ferrari possessed the fastest car.
"It's definitely dependent on track by track," said Hamilton, who has won seven races in 2017.
"You've seen so far in the season there have been races where we have been quicker than others, races where we've not had the best car and won. But you've got to look at the season: we've got more pole positions than anyone, we're leading both championships and still are the best team. We are working hard as we can to continue to prove that."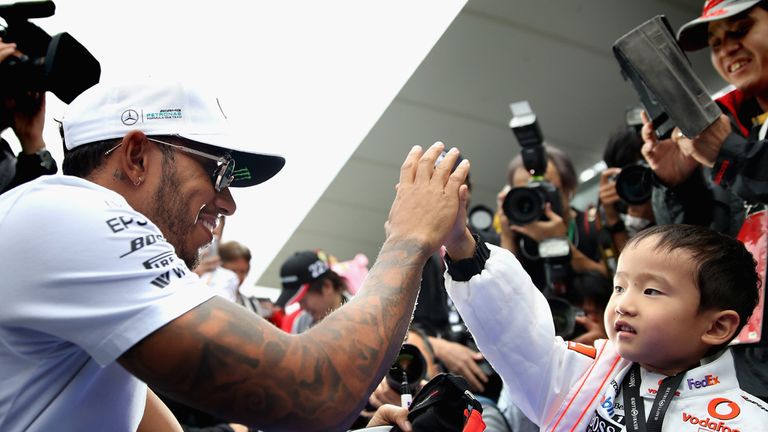 Mercedes make changes for Suzuka
Although outperformed by their rivals last weekend, Mercedes left Sepang on Sunday night encouraged by a constructive post-race debrief Hamilton described as a "real hit for us".
Rosberg joins Sky F1 for Japanese GP!
The Englishman says some working practices will be changed from this weekend.
"Things are just coming to light and things that we need to work on, and it's generally in the communication area," he told Sky Sports F1.
"It's cool because we'll work on those and we'll work on better procedures that are more efficient so that we apply them to the races coming up, stuff that we'll do next year, stuff that'll apply to our cars next year, so we become an even better team than we are."
Mercedes are also optimistic their car will be more suited to the conditions at Suzuka, where both the cooler weather and track layout should be more favourable for the W08.
"I don't expect a completely different car here, I'm hoping for a different type of performance from the car but I'll find out when I get on track," added Hamilton.
"But it's cooler conditions, generally the hotter places we struggle a little bit more, so hopefully it'll bring it back more into our window."
Despite their recent performance blip, Mercedes have won five more races than Ferrari this season with Hamilton one of only two drivers in the field yet to suffer a race retirement.
"As a team we have been the most reliable, we've done a better job," he said. "There are areas where other cars have done a better job, or we've done lesser of a job, but it's been a fantastic year of performance as a team."
Watch the Japanese GP LIVE ONLY on Sky Sports F1 this weekend. The race from Suzuka begins at 6am on Sunday. Want to watch but not got Sky F1? Buy a NOW TV pass from £6.99!
If you are using skysports.com you can comment below to get involved in the debate, but please adhere to our House Rules. If you wish to report any comment, simply click on the down arrow next to the offending comment and click 'Report'.