F1 Report: Are Ferrari bigger than F1 or would it survive without them?
By Matt Morlidge
Last Updated: 16/11/17 10:51am
Ferrari are "bigger than Formula 1" and Liberty Media must do everything in their power to keep the team in the sport, according to this week's F1 Report.
While the Scuderia are F1's most successful and historic outfit, their presence on the grid post-2020 has been placed in doubt following president Sergio Marchionne's perceived threat to stop Grand Prix racing if Liberty's plans for the future do not suit their interests.
The warning, which followed the sport's owners revealing their engine blueprint for 2021 and beyond, led to an entertaining and passionate discussion on the pre-Brazilian GP show, with revered motorsport journalist Peter Windsor making the case for giving Ferrari what they want.
Ferrari issue F1 quit warning
Vettel not giving up on Ferrari dream
"We should never underestimate the job Bernie [Ecclestone, ex-F1 chief] has done at keeping Ferrari happy all these years," Windsor said on the F1 Report.
"This is the key to everything in Formula 1 - keeping Ferrari happy and part of the programme. The reality is that Ferrari want as much money as they do because of what they bring to Formula 1.
"This engine situation is an excuse for Ferrari to say, 'unless we get everything sorted, we could easily pull out. We're bigger than Formula 1' - and they are."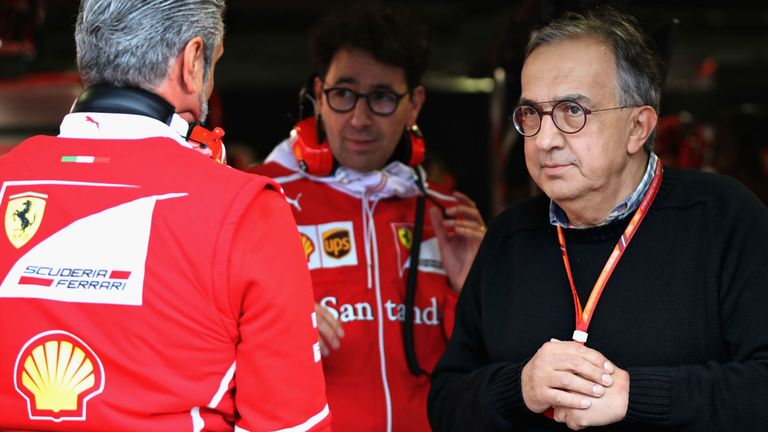 Windsor added that Ferrari could even create their own championship and prosper should they leave F1, explaining: "Without Ferrari, I'm afraid, Formula 1 is just another motor racing championship. There's nothing wrong with that, but it won't be Formula 1. We need to take it very, very seriously."
Former McLaren mechanic Marc Priestley, however, who joined Windsor and Sky F1's Natalie Pinkham in the studio, disagreed and insisted Ferrari don't deserve special treatment.
Ferrari are F1's most successful outfit with 16 Constructors' Championships and 15 drivers' titles, and their current share of the revenue reflects that special status, but Priestley feels Liberty Media are right to seek changes in the sport.
"I get the historical importance of Ferrari, but we have been giving them an advantage by throwing more money at them than any other team," he added. "For me, that is like giving a football team a 12th man on the pitch. If you spend it right, your budget directly correlates to success and performance, so we've been handing them an unfair advantage.
"I think modern Formula 1 fans want to see a much more level playing field and they want to see many more teams get an opportunity to fight at the front.
"We all recognise Ferrari's importance but I think Formula 1 would survive without Ferrari. Yes, they may go and start a new championship, but Formula 1 is much more than Ferrari involved in it."
It is by no means the first time Ferrari or Marchionne have threatened to leave the sport should new regulations not suit them - but it's still a major stumbling block for Liberty as they push on with their plans for 2021.
"If you think about Formula 1 as a brick wall; it's very strong, very high and very big," added Windsor.
"If you take one brick out of that wall then the whole business model collapses. Liberty are realising that if they do touch one of those bricks, it will affect the business model because that's how fragile Bernie's business model was.
"I think the answer is to look after Ferrari in the way Bernie did it."