Ferrari and Formula 1 'need each other', insists Christian Horner
"Ferrari and Formula 1 are synonymous - but they both need each other," says Red Bull chief as debate rumbles on after quit warning
By Matt Morlidge
Last Updated: 16/11/17 10:30am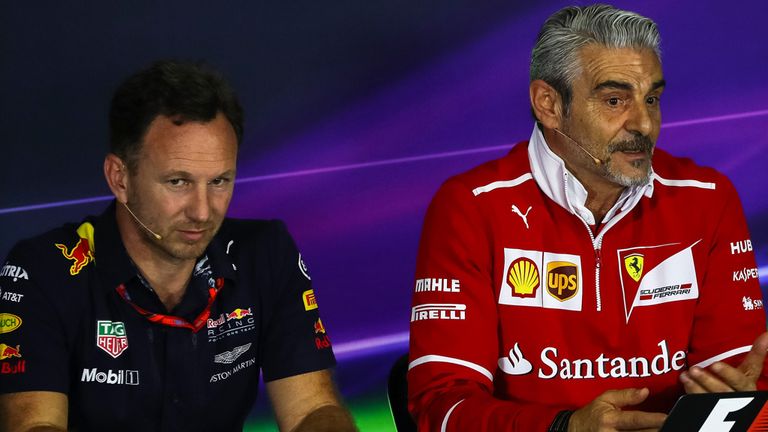 Christian Horner doesn't believe Ferrari can afford to leave Formula 1 but says the team and sport "both need each other" as the debate surrounding the iconic outfit and its long-term future continues.
While the sport's engine blueprint for 2021 onwards has received mixed reviews across the paddock, Ferrari's verdict following the meeting was clear - with president Sergio Marchionne warning he would have no problem pulling the Scuderia out of F1 if they do not agree with Liberty Media's plans.
It leaves F1's new American owners in a precarious position regarding their most successful team and renowned brand, with more crunch meetings ahead of the sport's next 'regulations reset' lined up in the coming months.
Ferrari's quit warning
Are Ferrari bigger than F1?
And Horner, who was present when Liberty revealed their vision for the future, has had his say on Marchionne's comments and the prospect of the sport's only ever-present team quitting.
"Sergio's never happy, he enjoys being unhappy!" the Red Bull team boss told Sky Sports F1. "It would be a great shame [if Ferrari pulled out]. Ferrari and Formula 1 are synonymous - but they both need each other.
"The two go hand in hand together and have done since the beginning of the championship. Nobody wants to lose Ferrari and I don't think Ferrari can afford to lose Formula 1."
It's not the first time Ferrari have issued a quit threat, however, and Horner believes the 16-time Constructors' Champions will eventually remain.
"They'll bluster that they don't need Formula 1, but what other form of motor racing is going to give Ferrari the platform that Formula 1 does?," he added.
"There will be a lot of chest puffing but I think when the music stops they will be there."
But Ferrari haven't been the only team voicing their discontent.
Mercedes and Renault were also unhappy about proposed engine regulations, with Silver Arrows' chief Toto Wolff claiming it was too early to discuss changes and that there were "many different opinions".
"The meeting about the engines was pretty cordial to be honest," explained Horner. "There was no table banging - Toto didn't thump the table or anything like that.
"I think Ferrari are linking engines to all kinds of other issues. They're obviously looking at the picture as a whole rather than looking at engines individually."
Removing the MGU-H, increasing the noise and reducing the costs were just a few of the ideas put forward by F1 and Liberty Media, assisted by experienced technical chief Ross Brawn.
And though Horner said he would have preferred a complete overhaul of the current V6 engine, he understood that the sport's chiefs are doing their best to find a "middle ground".
"I would have loved to go back to a V10 or V12 but I understand that they aren't trying to please one side or another," he admitted.
"They're trying to pick a middle ground that's right for the sport - and most importantly control costs and concertina performance. I'm not going to have a problem with that."
Martin Brundle on Ferrari's warning
"Ferrari's very important to Formula 1 and vice versa, but you can't have the tail wagging the dog. We've got to get costs under control in this business, the grid should be bigger and much closer.
"At the end of the day, you can't start making up rules because it suits Ferrari to keep some sort of financial or performance advantage.
"I don't think Marchionne will want to be the man who took Ferrari out of Formula 1, I don't think he'll want that on his CV.
"Formula 1 needs to be absolutely right moving forward and hopefully that includes Ferrari, but it mustn't be altered because of Ferrari."