Lewis Hamilton deletes social media messages on Twitter and Instagram
Hamilton wipes Instagram page and deletes tweets; But Kimi Raikkonen finally opens a social account for 2018
By James Galloway
Last Updated: 04/01/18 9:22am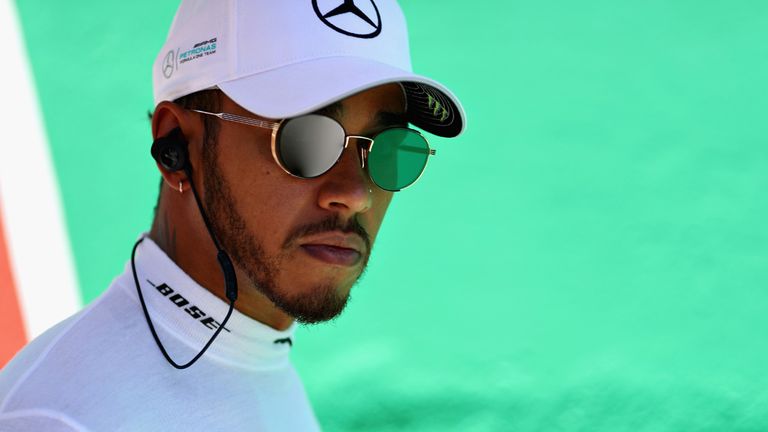 Lewis Hamilton has completed a clear-out on his two most prominent social media accounts.
The F1 world champion's Instagram account is currently showing no posts, while the most recent messages on his Twitter page date back to 2013, his first year at Mercedes.
The unexplained move comes after Hamilton issued a series of tweets on Boxing Day apologising for "inappropriate" comments in an Instagram story posted the day before, which featured his nephew.
Hamilton was criticised for saying "boys don't wear princess dresses" after the youngster was seen wearing the colourful costume in the video.
The four-time world champion issued his "deepest apologies" and, after deleting the video, said: "I meant no harm and did not mean to offend anyone at all".
Hamilton has over five million followers on both Instagram and Twitter.
The Englishman's Facebook account, which is liked by 4m fans, remains updated with the most recent post from Christmas Day featuring his two dogs.
Hamilton is by far F1's most popular driver on social media with a combined reach of 14m across Instagram, Twitter and Facebook.
The Mercedes driver, who celebrates his 33rd birthday on Sunday, has yet to post in 2018.
But while Hamilton has taken a least a brief break from social media, one of two F1 drivers who had long given it the widest berth, Kimi Raikkonen, has unexpectedly started an Instagram account.
The Finn and Ferrari team-mate Sebastian Vettel had been the only two drivers without a public social media presence but Raikkonen has now launched @kimimatiasraikkonen for F1 2018.
Raikkonen opened his new account with a video featuring a play on his legendary "I know what I'm doing" radio message put-down to his race engineer from the 2012 Abu Dhabi GP.
"Hello everyone. This time I don't know what I'm doing, but let's see what happens," said Raikkonen. "This is my Instagram, so let's see if you want to follow me. Ciao."
As of January 3, Raikkonen's new account has picked up nearly 300,000 followers with a total of three posts so far.
Sky Sports F1 is the only place to watch every Formula 1 Grand Prix, qualifying and practice session live in 2018. Get Sky Sports F1.