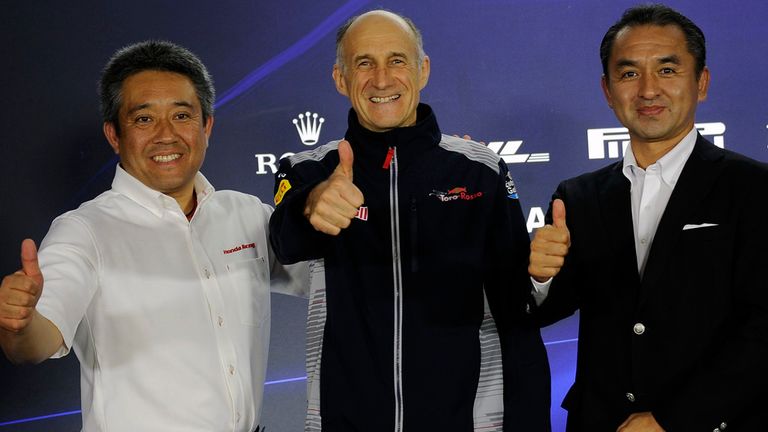 Toro Rosso have poked fun at Honda's critics with a spoof press release to mark the team's new engine successfully firing up.
After three disastrous years with McLaren, Honda will be Toro Rosso's power providers in 2018.
Despite most paddock observers predicting a year of struggle for the new partnership, Toro Rosso themselves believe they can fight for fourth in the Constructors' Championship and on Valentine's Day released a video to commemorate the 'love match' between their new STR13 and the Honda RA618H power unit.
Perhaps mindful of the scepticism which has greeted their alliance, the team then issued a tongue-in-cheek press release detailing the event.
'Did it take like 6 attempts to fire up?' ran the first question.
'Nope, the engine fired up on the first attempt'.
'Did the engine blow up?'
'Quite the opposite, it started just as planned'.
'Did your factory catch fire after the engine started?'
'Our factory is perfectly fine, thanks for the concern!'
Behind the humour, however, both parties will be acutely aware that 2018 is a serious business for both Toro Rosso and Honda.
While the exclusive provision of Honda power gives Toro Rosso - generally thought of as Red Bull's junior outfit - the opportunity to become masters of their own destiny, Honda know their reputation can ill-afford to suffer further ignominy after the unparalleled misery of their partnership with McLaren.
"I know that the STR engineers are very excited by the Honda and what its architecture allows them to do," tweeted Sky F1 analyst Mark Hughes. "One of them described it as a 'higher tec' engine than the Renault."
The 2018 Toro Rosso-Honda will be presented to the media on February 26 just ahead of the start of winter testing in Barcelona.
Sky Sports F1 is the only place to watch every Formula 1 Grand Prix, qualifying and practice session live in 2018. Get Sky Sports F1.