Martin Brundle: Explaining the virtual mystery of Mercedes' Melbourne defeat
Sky F1's Martin Brundle reviews the season-opening Australian GP and explains how Mercedes lost a race they should have won...
Last Updated: 13/12/18 2:44pm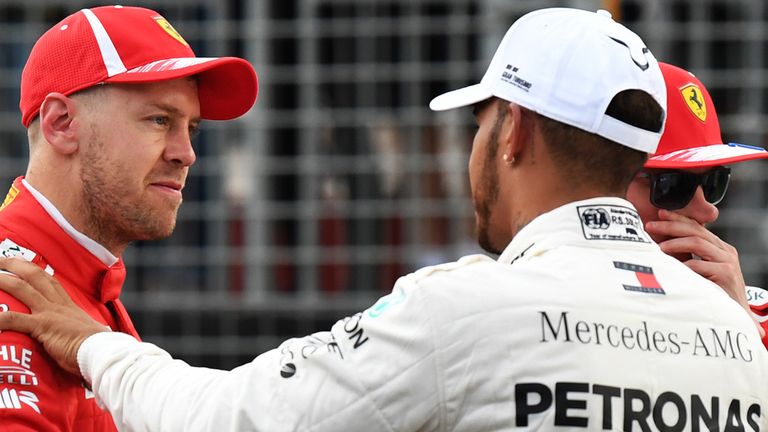 I'm writing this column on the plane home from Australia surrounded by largely disappointed people who felt they should have had a better result in the first GP of the season in Melbourne.
Let's start with Mercedes boss Toto Wolff. Indeed, Lewis Hamilton has topped every Friday session and been on pole position for the past three years without winning the race. Quite how his impressive performance, not least his stunning qualifying lap followed by the perfect start and pace, didn't claim victory around the lake of Albert Park this weekend is a head-scratcher.
Hamilton was leading Kimi Raikkonen, who was having a fine afternoon seemingly comfortably holding his team-mate Sebastian Vettel at bay having out-qualified him too.
Raikkonen was first of the main runners to pit on lap 18 of the 58-lap race. With Bottas out of position due to his qualifying crash it was two Ferraris versus one Mercedes, and the Merc pitwall had to cover off Kimi as he would almost certainly have passed Lewis on the undercut of new tyres and faster lap times. Lewis duly pitted on lap 19.
It was the perfect storm developing in favour of Vettel. He couldn't pit just yet because he was a few seconds behind, "losing touch" and he was at risk of exiting the pits amongst or behind the very fast Haas-Ferraris.
Kevin Magnussen, in the first of the Haas cars, pitted on lap 22 but immediately pulled over with a loose left rear wheel. His pit crew were understandably distraught, for the first time the team were genuine competitors for a big haul of points.
Their pain would double, probably more so, when Romain Grosjean pitted with several others on lap 24 and now his front left wheel became loose and he too pulled over after exiting the pits.
The two Haas drivers have some solid work to do to rebuild team morale after that, they can only be supportive, and in any event it seems they have a very promising season ahead. And a lot of pit stop practice to avoid cross-threaded wheel nuts.
This left Vettel out front but he had been lapping more slowly than the freshly-tyred Hamilton and Raikkonen, and so apparently solidly in third place. But Grosjean's car stopped in a difficult place away from any service road or access on this temporary circuit and a Virtual Safety Car (VSC) was thrown to recover the car.
The VSC should slow everybody down in a neutral and identical way, but it does leave everybody circulating all around the track at slow speed, and doesn't create the packed group and therefore periodically very quiet track which the actual safety car does when it scoops up the pack. The marshals sometimes need this to safely and practically remove a car from a live track.
It's rather luck of the draw as to where you are when the VSC is declared and shows up on the trackside signs and the drivers' dashboards. You will lose more relative time if you have to immediately slow from high speed than, say, a hairpin.
Also, once past the 'first safety car line' when heading into the pit lane, a distance which varies track to track, a driver is then permitted to accelerate hard to the pit lane speed limit line gaining time. The driver can then do the same thing after the pit lane speed limit line until the 'second safety car line' towards the end of the blend line as they re-enter the racetrack, gaining more metres.
Hamilton left in 'disbelief'
What did we learn in Australia?
Furthermore, while you are slowing into your pit garage, receiving four new tyres, and then accelerating away, this all takes place whilst your rivals are at restricted speed on the track and so costing you significantly less time than a full speed green flag track.
Despite all of this, Mercedes' computer software told them that Hamilton's advantage was enough to stay ahead of Vettel who pitted on lap 26. It wasn't, and to everybody's surprise, he emerged comfortably in front of a very confused Hamilton.
It's a quirk of the system which needs addressing so that the VSC really does neutralise a race. It adds another challenge and variable, but it's also very confusing when the running order changes so dramatically, and even Mercedes' mighty computer and brains can't work it out.
Vettel had the good grace to admit he was lucky but it was karma after Hamilton was poking him in the post-qualifying press conference about wiping the smile off his face, albeit largely in jest. Seb resisted the temptation to respond post-race.
Sitting behind me are a similarly grumpy Christian Horner and Adrian Newey. Red Bull knew that Max Verstappen could have been on the front row bar a mistake on his final qualy lap, and unusually Max was caught out in Turn One when he was so focused on the Ferraris that Magnussen skillfully slipped past him in the Haas.
Max was given the hurry up on the radio to pass the Haas asap and it all got rather wild as he burned his rear tyres out into an almost inevitable spin. It was a day to forget for him, but he salvaged some points.
Daniel Ricciardo drove a fine race in the other Red Bull, making the pass of the race on Hulkenberg (although it must be said that there was too much competition) but despite much fresher tyres he could not pass Raikkonen for third. His fastest lap was most encouraging for the team though, and the top three were very close in race pace.
It was the same up front, Hamilton clearly had the faster car despite seven-lap older tyres, but he was never going to pass the rock-solid Vettel in his scarlet machine. But Mercedes clearly have the faster car at the moment.
Over the next two weeks we will learn much more about the blueprint of where F1 is heading from 2021 and it must include significant aerodynamic changes to minimise this follow the leader issue with so little overtaking. And that's despite three DRS zones in Melbourne.
We don't want numerous overtakes every lap, that would be like having a football match with a basketball score. We want to savour the bravery and skill, just more often. We can't leave it all to Ricciardo.
It was great to see McLaren back up in fifth place with a solid performance but the team, and especially Alonso, were very realistic in the work yet to be done. Without the double Haas retirement and getting similarly lucky to Vettel under the VSC, it would have been ninth. But the race pace was solid with regard to the midfield, after the big three. We are going to see some great racing this year in this zone.
And so Ferrari lead both championships, not something I expected to be writing after the winter tests and early running in Oz.
Congratulations to them. Next up are Bahrain and China.
MB
Find out more about Sky Sports F1