Max Verstappen appreciates Sebastian Vettel's 'nice' reaction to Chinese GP collision apology
Dutchman tipped by fellow drivers to bounce back stronger following criticism of his driving style
By Jonathan Green and James Galloway in Baku
Last Updated: 11/12/18 2:56pm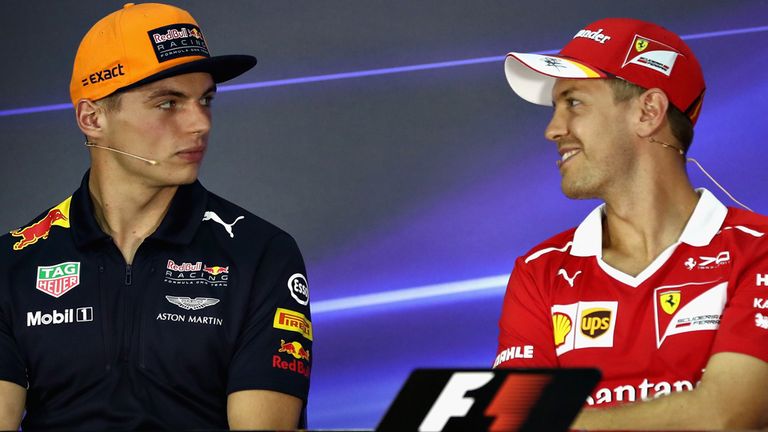 Max Verstappen says he appreciated Sebastian Vettel's reaction when he apologised for their Chinese GP collision.
The Dutchman sought Vettel out in the Shanghai paddock immediately after the race having rammed into the side of the German's Ferrari after locking up.
"It was obvious that I had to apologise to Seb so that is what I did. He was very nice about it so that was good," Verstappen said at the Azerbaijan GP.
Before the collision, Vettel had looked set to extend his lead at the top of the world championship but the Ferrari driver instead limped home in eighth and saw Lewis Hamilton cut his deficit to nine points.
Reflecting on the incident, Vettel told Sky Sports F1: "I was lucky to continue and the fact that he came straight after the race, I appreciated it.
"I told him as well, 'Look, this was your race to win and you didn't so you need to ask yourself what happened'. He took me out on the way as a consequence as well but ultimately nobody wants to take themselves out.
"Things happen and I am not a big fan of taking every single incident to the stewards. I think it's much better if we do it face to face."
Verstappen reflects - and vows to learn lessons
Speaking to the media at length for the first time since Shanghai in the Baku paddock, Verstappen accepted his desire to win had probably got the better of him in the closing stages when his Red Bull was on fresher tyres compared to the Mercedes and Ferrari cars ahead of him.
"I'm not there to finish fifth with the car I had at that time," he said. "Maybe I wanted the victory too much. Maybe that cost me."
While Vettel was measured in his criticism of his young rival, Verstappen's own father, Jos, issued a sterner public rebuke of the 20-year-old and said that "in some circumstances Max just has to think more".
But asked about his father's comments, Verstappen Jnr replied: "It's normal what he said. My dad is the hardest critic of everyone in the whole world so if I can handle him I can handle everyone!
"It's good. You are not perfect, nobody is perfect, and you can always improve. I am happy to listen and always improve, like everyone else. Those situations just make you a better driver at the end of the day."
Denying he felt under any excess pressure in Baku this weekend, Verstappen said "you learn from those moments" and added: "I speak to many people...and of course I have to look at myself because at the end of the day I can speak to a lot of people but it has to come from myself.
"But I've always been good at that and realising what went wrong and to look at the positives from it. In general, in China the race itself the start went really well, the pace was good, up until the last pit stop everything was going really well.
"So it's also not a big drama what happened in China. Of course, the end result was not good, but you also have to look at the strengths and in the whole season already pace-wise has been good, it's just the results have not been there yet. But it's only three races gone and 18 more to go."
Drivers tip Verstappen to bounce back stronger
Verstappen's collision with Vettel was the latest in a series of costly errors from the Dutchman in the opening races, having spun in the Australian GP and collided with world champion Lewis Hamilton in the Bahrain GP - a day after crashing out in qualifying.
Those mistakes have seen Verstappen's driving style come under intense scrutiny but his contemporaries believe he will come back stronger, with the 20-year-old's former Toro Rosso team-mate, Carlos Sainz, expecting all to be forgotten if Verstappen wins this weekend's Azerbaijan GP, live on Sky Sports F1.
"It's the same as always - it's three races into the season. He might have had a difficult first three races but all of a sudden he wins in Baku and everyone forgets about those races," Sainz said.
"It's the same for me, the same for him, in F1 you just need a race to change that tendency or change people talking negatively around you. It can apply to every single driver on the grid.
"I'm confident anyone who has had a tricky start to the season can change it around.
"I respect Max a lot. He's a great driver and anyone in their career has gone through a couple of tricky races. He will be just fine."
Force India driver Sergio Perez compared the Dutchman's recent struggles to the mistakes he had made as a younger driver during his sole year at McLaren in 2013 alongside Jenson Button.
"It's always good when you have outside criticism. That's part of the game," Perez said.
"You learn those things with years. If I look back, that cost me quite a lot actually in terms of reputation. Jenson beat me [on points], but everyone forgets that I out-qualified him and without those mistakes that I had with him because of being impatient - I was quite frustrated that my McLaren was not as quick as they told me it was going to be - I lost a lot of points because of that.
"Certainly Max in the last couple of races has been quite impatient and it's a bit related to that. He doesn't have the performance on his car he was hoping to have and he's just overdoing it, and he lost the win last weekend.
"I'm sure when he saw Ricciardo on the top of the podium it was a massive hit for him. He will learn and come back stronger."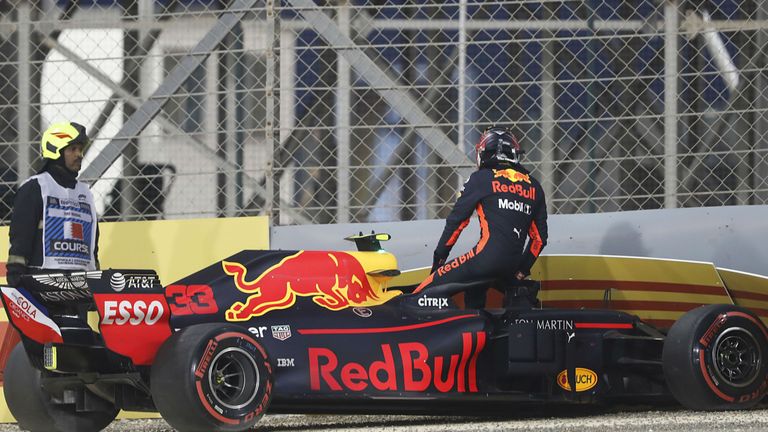 Perez's Force India team-mate Esteban Ocon had a fierce rivalry with Verstappen when the pair raced in European F3 in 2014 and the Frenchman doesn't think Verstappen needs to change his approach.
"Max is Max. He's still the same as he was back then. We used to bang wheels quite a few times down the same straight," Ocon told Sky F1.
"But that is how he has always been driving. He has never changed. I know how he is but I don't think it's a bad thing. That's how his driving style is."