Lewis Hamilton says Azerbaijan GP was his 'most challenging' F1 race and insists Mercedes must improve
Baku was my toughest race, says Hamilton, who insists he is "wired differently" to others and wouldn't gloat after not "earning" win
By Matt Morlidge and James Galloway in Baku
Last Updated: 11/12/18 2:29pm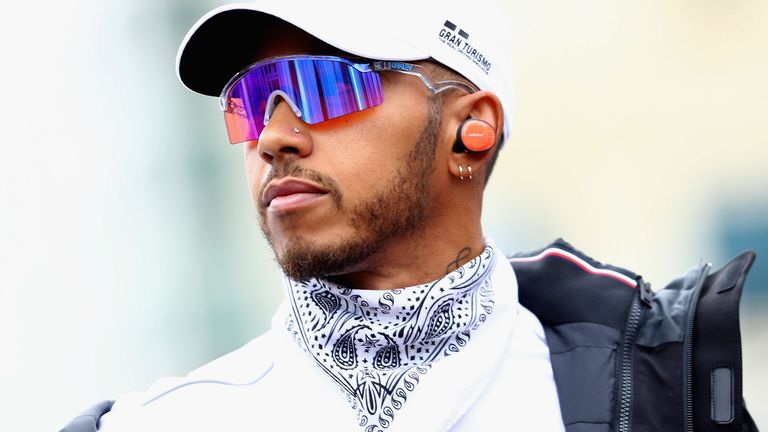 Lewis Hamilton has described the Azerbaijan GP as the "most challenging" race of his F1 career and admitted he has doubts about his world championship prospects.
The Mercedes driver is now four points clear of Sebastian Vettel in the standings after taking advantage of his title rival's lock-up, as well as Valtteri Bottas' puncture in a chaotic end to an incident-filled Baku race.
But an honest Hamilton insisted Ferrari are still the team to beat, while he also admitted that he never felt truly comfortable in his W09 during a difficult weekend in Baku.
Hamilton leads but loses favourites tag
Azerbaijan GP driver ratings
"It was probably the most difficult race I can remember having, the most challenging race that I can remember having," said Hamilton, who lost around four seconds just before his first pit-stop after a lock-up.
"All the wind, particularly, really made it the toughest race. It was like a wet race, and you know how tricky those conditions can be. It was very close to that."
Hamilton was third after the late race restart following the Red Bull-collision-enforced Safety Car, but quickly moved up a place as Vettel mistimed an overtake attempt on Bottas. One lap later, he held an unlikely race lead after his Mercedes team-mate's tyre disintegrated after running over debris on the main straight.
The Englishman said immediately after the race that Bottas deserved the victory and was delayed on the podium after going to see the Finn in the Mercedes motorhome. He later told reporters: "This was a lottery race. I was standing on the podium thinking Valtteri had earned it."
And Hamilton also referenced the "odd" feeling of standing on the podium when he didn't feel that he'd been at his best.
"It's definitely different when you think that somebody else has earned it," he added.
"There's days when I've lost a grand prix and it's been gifted to someone else, be it one of the drivers who are here or one who has left. The happiness they would have, and it doesn't matter if they had earned it or not - there were fingers up in the air.
"I'm wired differently. I could have done that because I still won and you take what you get. But I like to win because I've outsmarted, outwitted and outclassed every driver out there.
"I'm grateful for the win but I felt the performance, not entirely me but also with the car, was not on par with what I'm capable of doing."
Hamilton added that he and Mercedes haven't shone since the season-opening Australian GP, with the win in his Azerbaijan GP their first victory of the campaign.
"I'll take this away and try and churn it out and turn it into positivity to attack and come back strong for the next race [the Spanish GP]," the 33-year-old said.
"There's improvements we need to make and if we improve it and unlock that potential in the car, you'll see races like Melbourne."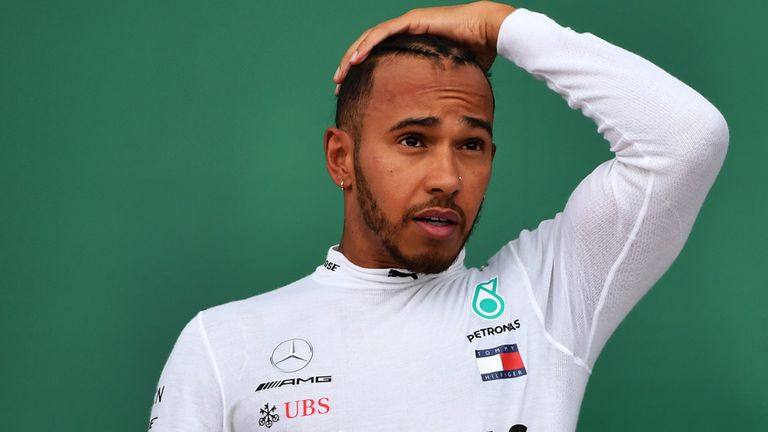 Hamilton not convinced he's title favourite
The reigning world champion may have taken the lead in the standings for the first time this season but Hamilton still believes Ferrari and Vettel are favourites, with the Scuderia having won two of 2018's first four grands prix.
In China and Baku, Mercedes couldn't match the one-lap pace of Ferrari while Vettel could easily have won both races.
Asked if taking the lead would spur him on for the rest of the season, Hamilton said: "I don't currently feel that way.
"Obviously being in the lead of the championship is great but if we continue on the trajectory we're on, it would need tricky races like this to keep us in the fight. There's been two weird races where it's kept us in the mix, but you can't rely on those for the next 17 that are left.
"We need ultimate performance and confidence in the car and I've got the pace within me, and I think the car's got the pace within it, but both of them are not being intertwined in perfect synergy to extract the perfect equation.
"We've definitely got to improve in lots of areas, and I mean myself as well, and that's what I'm going to work towards."