Pierre Gasly labels Kevin Magnussen 'most dangerous' rival
Gasly slams Magnussen ramming him to within inches of the wall at Safety Car restart; Haas driver penalised for collision
By Jonathan Green
Last Updated: 11/12/18 2:34pm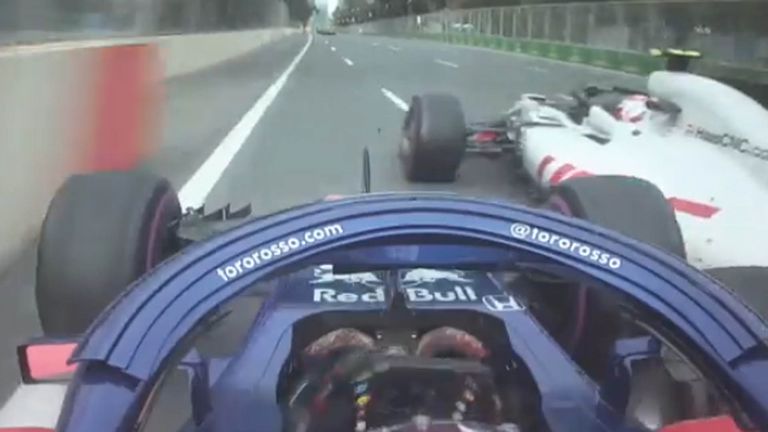 Pierre Gasly labelled Kevin Magnussen "the most dangerous driver I have ever raced with" after the pair clashed at high speed in the closing stages of the Azerbaijan GP.
The pair were battling for position after the Safety Car restart with four laps remaining and Gasly accused Magnussen of deliberately ramming him to within inches of the wall on the start-finish straight.
"Kevin is the most dangerous guy I have ever raced with," Gasly said. "He literally put me in the wall at 300 kph at the restart and completely ruined the race.
Hamilton leads but loses favourites tag
Hamilton wins after Baku bedlam
Red Bull won't impose team orders
"I would have been in the worst case P10 at the last restart. The Safety Car came out, we pitted and were P11. I knew points were on the table.
"I was going to pass him just before the Safety Car line 1, went on the side, and he just put me in the wall right in the middle and took half of my floor out.
"Both my front wheels went in the air, broke my right mirror and bent my steering as well. After that I was just trying to survive until the end of the race. There was almost no point to race after that.
"I don't mind racing drivers which are hard, but like this is just way over the limit. You don't put someone in the wall at 300 kph."
It was the second time the two drivers had clashed over the Baku weekend, with Gasly also feeling he was squeezed by Magnussen in Practice Two.
Both drivers ended outside of the points, with Magnussen handed a 10-second time penalty for the collision after the stewards deemed he had "moved unpredictably and unnecessarily" and was "wholly to blame".
The Haas driver also had two penalty points added to his super licence, leaving him just four points away from a one-race ban.
Magnussen said in his defence: "I had so many vibrations in the car that the mirrors were useless, I couldn't see anything at all."