Canadian GP: Red Bull close up on Ferrari and Mercedes in qualifying
Canadian GP build-up on Sky F1 from 5.30pm, lights out at 7.10pm
By James Galloway in Montreal
Last Updated: 10/12/18 4:25pm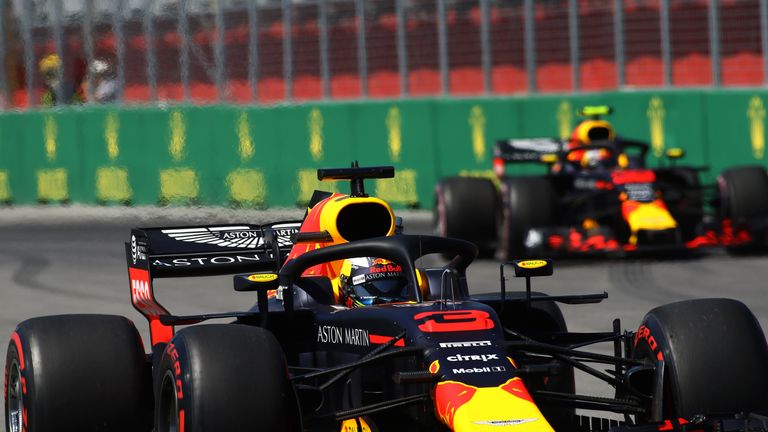 Red Bull have pinpointed the next fortnight as being pivotal to whether they decide to run Renault or Honda engines in 2019, so what might the results of Canadian GP qualifying have told them?
Armed with current supplier Renault's upgraded engine, Max Verstappen qualified third in Montreal which, while still behind one Ferrari and one Mercedes, represented the team's best grid slot this season on what could be considered a 'normal' track.
Red Bull set to pick Renault or Honda
Daniel Ricciardo claimed the team's first pole in two years at the last race in Monaco, the scene of that previous qualifying P1 too, but the slow speed and unique nature of the Principality's street circuit hardly makes it representative of most tracks on the calendar.
Excluding Monaco, Red Bull's average Q3 deficit to pole position in 2018 up to Canada was 0.582 seconds, with neither Verstappen nor Ricciardo qualifying higher than fourth.
But on Saturday, on a track as power critical as Montreal, Verstappen lapped just 0.173s adrift of Sebastian Vettel's pole position time and less than a tenth behind the front row.
Red Bull's 2018 qualifying deficit
| Race | Top Red Bull & Q3 position | Gap to pole position |
| --- | --- | --- |
| 1. Australian GP | Verstappen, 4th place | 0.715 |
| 2. Bahrain GP | Ricciardo, 5th place | 0.440 |
| 3. Chinese GP | Verstappen, 5th place | 0.701 |
| 4. Azerbaijan GP | Ricciardo, 4th place | 0.413 |
| 5. Spanish GP | Verstappen, 5th place | 0.643 |
| 6. Monaco GP | Ricciardo, 1st place | N/A |
| 7. Canadian GP | Verstappen, 3rd place | 0.173 |
How much was that a result of a well-balanced chassis that enjoys slow corners, or the extra power that Renault's upgrade is believed to have brought?
"A really exciting qualifying today, with nothing much between the times set, which is particularly encouraging for us at this type of circuit," summarised Red Bull chief Christian Horner.
Verstappen added: "In Q3 we were just lacking a little top speed but we were close and I'm happy."
Qualifying, and in particular the final stage of Q3, has proved a repeated stumbling block for Red Bull in the hybrid engine era.
Red Bull's last five pole positions
| Year | Race | Driver |
| --- | --- | --- |
| 2018 | Monaco GP | Daniel Ricciardo |
| 2016 | Monaco GP | Daniel Ricciardo |
| 2013 | Brazilian GP | Sebastian Vettel |
| 2013 | United States GP | Sebastian Vettel |
| 2013 | Abu Dhabi GP | Mark Webber |
Mercedes and Ferrari's access to so-called 'party modes' for the decisive final stage of qualifying, when the two teams are able to extract more power from their engines for a limited period, has consistently served to lock Red Bull out of the grid's front two rows, duly compromising their victory prospects despite often comparable long-run pace.
So Verstappen's 0.173s deficit in Canada on Saturday was a big improvement on that pre-Monaco season average, although Horner did caveat that by telling Sky F1 from the pit wall that the RB14 was still giving away three-and-a-half tenths to its chief rivals down Montreal's straights.
With Honda also producing an engine upgrade of their own for sister team Toro Rosso this weekend - which, incidentally, has been praised for its effectiveness by the Italian team's drivers - Red Bull's bosses can directly compare and contrast performance between the two manufacturers.
"The data we take out of this weekend will be fundamental to our decision-making for the future," Horner told Sky F1 this weekend. "In an ideal world, we would like to see two samples of that - here and in France. But by the Austrian race we will have made a decision."
The Red Bull-Renault relationship is the F1 grid's longest unbroken customer team-engine partnership, with the two companies joining forces back in 2007.
Four world title doubles and 57 race wins have been the high points, but the lack of a championship challenge over recent years has often put a very public strain on relations.
Renault, in particular, had seemed to have grown tired of the situation but, speaking to Sky F1 in the paddock on Friday, they appeared to be making a pitch for Red Bull to stay on board beyond this season.
"Frankly with us they have a chance to become world champions again," said Cyril Abiteboul.
"With what they have now, what is in the pipeline, and their car - which is a great car and maybe the greatest - they have the chance to become world champions again in the next two years."
In the short term, it is the next two weeks which will decide whether it is Renault or Honda with which Red Bull next go in search of world titles from 2019.