Canadian GP: Renault ready 'B-spec' engine upgrade for Montreal
'B-spec' engine update confirmed for Renault in Canada, but will Red Bull receive it?
By James Galloway
Last Updated: 11/12/18 11:45am
Renault are readying their 'B-spec' 2018 F1 engine to introduce at the Canadian GP as the French manufacturer bids to close up to Mercedes and Ferrari in F1's power stakes.
Most, if not all, of the grid's four engine suppliers are expected to introduce new units for power-hungry Montreal as they move on to their scheduled second engines of the campaign.
But the performance improvement brought by Renault's upgrade is set to be a big point of interest with the outfit also supplying Red Bull, who won last week's Monaco GP to suggest they could rival Mercedes and Ferrari for this year's world titles.
Christian Horner, Red Bull's team principal, is expecting a "small" but "hugely important" update from their engine suppliers, who also produce engines for McLaren and their own works squad.
"There's a B-spec engine for Canada and we're looking forward to that, as it should bring a bit more performance," confirmed Renault's technical director Nick Chester.
Team boss Cyril Abiteboul added: "We have the next stage of our power unit development scheduled and a number of aero and mechanical upgrades (to Renault's works car)."
But the Renault chief has cast doubt on whether all six cars that use their engines will receive the upgrade in Canada owing to contrasting engine usage so far this season.
"I think we have six engines available, subject to the last event on procurement in the supply chain," he told Autosport earlier this week.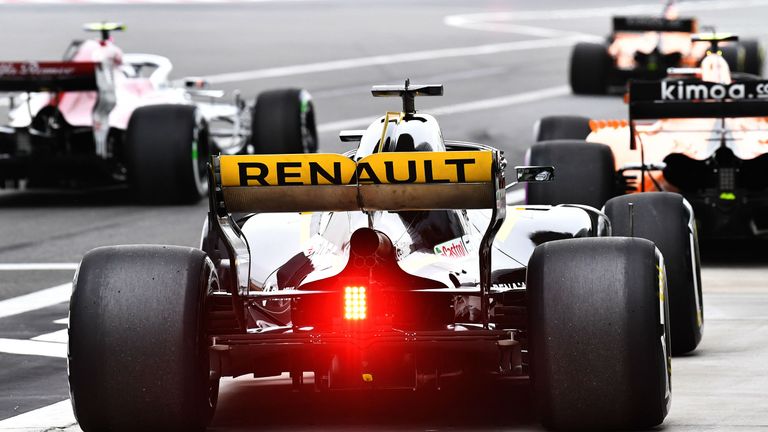 "That's the plan, but not sure it's actually the best to introduce it in all six cars, in particular Red Bull.
"We need to look into that. We always work in partnership with teams, trying to do the best for the overall season result.
"It's a small gain in power, although we know we won't be the only one."
All six of the drivers with Renault-powered cars have already replaced at least one of the six elements that make up an F1 power unit so far this season, with Red Bull's Daniel Ricciardo already one more change away from the limit on engines, turbochargers and MGU-Hs.
But the Australian, the race winner in Monaco, is already up to the penalty limit on the three areas of the power unit that can only be used twice - the MGU-K, control electronics and the energy store - which appears to be complicating matters for Renault's schedule.
Mercedes' championship leader Lewis Hamilton, by contrast, is still on the power unit elements he started the season with in Australia.
F1 driver power unit usage - Table One (3 elements allowed)
| Driver and team | Engine (ICE) | Turbocharger | MGU-H |
| --- | --- | --- | --- |
| Lewis Hamilton | 1 | 1 | 1 |
| Valtteri Bottas | 1 | 1 | 1 |
| Sebastian Vettel | 1 | 1 | 1 |
| Kimi Raikkonen | 2 | 2 | 2 |
| Daniel Ricciardo | 2 | 2 | 2 |
| Max Verstappen | 1 | 2 | 1 |
| Sergio Perez | 1 | 1 | 1 |
| Esteban Ocon | 1 | 1 | 1 |
| Lance Stroll | 1 | 1 | 1 |
| Sergey Sirotkin | 1 | 1 | 1 |
| Nico Hulkenberg | 1 | 1 | 2 |
| Carlos Sainz | 1 | 1 | 2 |
| Brendon Hartley | 2 | 3 | 3 |
| Pierre Gasly | 2 | 2 | 2 |
| Romain Grosjean | 2 | 2 | 2 |
| Kevin Magnussen | 2 | 2 | 2 |
| Fernando Alonso | 1 | 2 | 1 |
| Stoffel Vandoorne | 1 | 1 | 1 |
| Marcus Ericsson | 2 | 2 | 2 |
| Charles Leclerc | 2 | 2 | 2 |
F1 driver power unit usage - Table Two (2 elements allowed)
| Driver and team | MGU-K | Energy store | Control electronics |
| --- | --- | --- | --- |
| Lewis Hamilton | 1 | 1 | 1 |
| Valtteri Bottas | 1 | 2 | 2 |
| Sebastian Vettel | 1 | 1 | 2 |
| Kimi Raikkonen | 1 | 1 | 2 |
| Daniel Ricciardo | 2 | 2 | 2 |
| Max Verstappen | 3 | 1 | 1 |
| Sergio Perez | 1 | 2 | 1 |
| Esteban Ocon | 1 | 1 | 1 |
| Lance Stroll | 1 | 1 | 1 |
| Sergey Sirotkin | 1 | 1 | 1 |
| Nico Hulkenberg | 1 | 1 | 1 |
| Carlos Sainz | 1 | 1 | 1 |
| Brendon Hartley | 2 | 2 | 2 |
| Pierre Gasly | 1 | 1 | 1 |
| Romain Grosjean | 1 | 1 | 1 |
| Kevin Magnussen | 1 | 2 | 2 |
| Fernando Alonso | 1 | 1 | 1 |
| Stoffel Vandoorne | 1 | 1 | 2 |
| Marcus Ericsson | 1 | 1 | 1 |
| Charles Leclerc | 1 | 1 | 1 |