Lewis Hamilton says 2018 Mercedes car good enough for F1 title
"I'm still here to win and still believe that we can," insists Hamilton after losing title lead to Vettel after Ferrari's Canada surge
By James Galloway
Last Updated: 10/12/18 2:09pm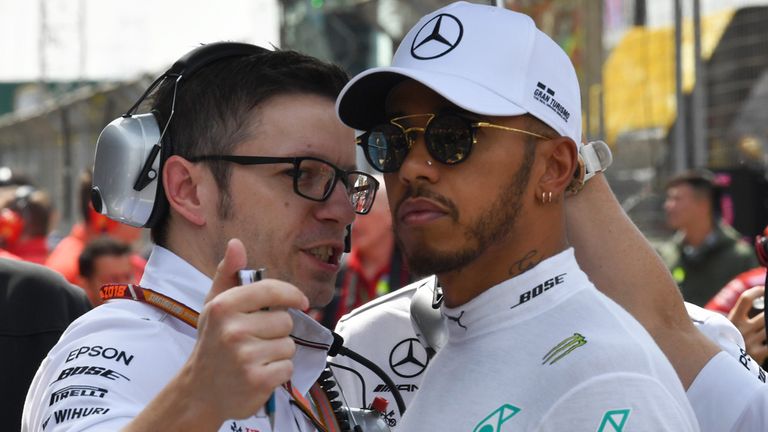 Lewis Hamilton accepts Mercedes have "fallen back" in F1's pecking order over the last month but retains absolute faith that their 2018 car can take him to a fifth world title.
The Englishman relinquished the lead of the Drivers' Championship to Sebastian Vettel on Sunday after the Ferrari driver's comfortable victory in the Canadian GP, on a day Hamilton finished only fifth.
While ultimately grateful to finish at all after cooling problems afflicted his car's engine, Hamilton is aware of the ground Mercedes have lost in the two races since dominating the Spanish GP in mid-May.
"I'm sure the next couple of days it will get more and more painful because ultimately it was a poor weekend, but it could be a lot worse. I could have had a DNF and lost 25 points," he said.
"However, in the two races we have lost 18 points so we have definitely fallen behind a little bit in that respect."
That 18-point swing between Hamilton and Vettel since Barcelona means the Mercedes driver now trails his Ferrari rival by one point with a third of the 21-race season completed.
Canadian GP driver ratings
'Ferrari have given Mercedes a wake-up call'
But asked whether he was beginning to have any doubts about whether Mercedes' W09 car was capable of taking him to another world title, Hamilton said: "I don't let that get into my mind. That would be the first sign of weakness and my mind is not weak. I'm still here to win and still believe that we can.
"I've got complete confidence in my guys and I'm putting that energy towards them. You imagine in tennis if you look across the net and you think 'I might lose this', you've already lost. It doesn't matter where I start on the grid, I don't look at any driver and say 'I might lose to that person'. I think 'How can I beat them? How can I be better?' I am going to keep doing that."Mercedes boss Toto Wolff has called on the reigning champions to respond to the "wake-up call" administered by Ferrari's impressive performance at a race his team had previously habitually dominated
Yet, amid a season in which the balance of power at the front between the top three teams has ebbed and flowed on almost a race-to-race basis, Hamilton remains convinced Mercedes have it in their power to emerge on top again.
"I think we've got potential in this car and when you guys are writing your stories, I think last year there was 'oh, Mercedes have the best car' and all those different things, but ultimately I think we did the better job," he added. "You probably shouldn't be writing that right now because we're not always outperforming the others, but also it's very close.
"The Red Bulls are every now and then are in the mix, Ferrari have been, I would say, the most consistent, but there are a lot of races to come.
"These engines have to go a long way, that's going to make things happen and that's why I'm really grateful for this one."