Red Bull drop Renault for Honda
Red Bull sign two-year deal with Honda 'to win world championships'; Renault consider split "a natural evolution"; Renault continue to power works team and McLaren
By Pete Gill
Last Updated: 10/12/18 1:52pm
Red Bull will be powered by Honda in 2019 and 2020 after dropping long-time engine providers Renault.
The new partnership will effectively result in Red Bull becoming a 'works' outfit for the first time in their history while Renault will continue to supply both their own 'works' team and McLaren.
Renault have partnered Red Bull for the last 12 years but the relationship between the two parties had soured in recent years due to disappointing on-track results.
Red Bull's two-year deal with Honda, who already power Red Bull's junior team Toro Rosso, is for the 2019 and 2020 seasons.
Analysis: Why have Red Bull split from Renault?
"This multi-year agreement with Honda signals the start of an exciting new phase in Aston Martin Red Bull Racing's efforts to compete not just for grand prix wins but for what is always our goal - championship titles," said Red Bull boss Christian Horner.
"After careful consideration and evaluation we are certain this partnership with Honda is the right direction for the team. We have been impressed by Honda's commitment to F1, by the rapid steps they have made in recent times with our sister team Scuderia Toro Rosso, and by the scope of their ambition, which matches our own."
Renault say they consider the split to be "a natural evolution for both Renault and Red Bull Racing in view of their respective aspirations."
You don't win Championships with a customer engine Ron Dennis said, seems Red Bull think he's right. Big call but much has changed at Honda since the start of their McLaren partnership https://t.co/M5oox00IN5

— David Croft (@CroftyF1) June 19, 2018
What now for Renault?
Confirmation of the Red Bull-Renault divorce is the latest instalment of F1's recent engine merry-go-round.
Who is supplying who in 2019
| | |
| --- | --- |
| Engine suppliers | Teams supplied |
| Ferrari | Ferrari, Sauber, Haas |
| Mercedes | Mercedes, Force India, Williams |
| Renault | Renault, McLaren |
| Honda | Red Bull, Toro Rosso |
Less than a year after McLaren divorced Honda to switch to Renault in order to boost their competitiveness, Red Bull have now taken the opposite course of action after seemingly reaching a diametrically different decision about the comparative potential of Renault and Honda.
Red Bull won four consecutive Drivers and Constructors' Championships between 2010 and 2013 in harness with Renault, but have been unable to keep up with Mercedes and Ferrari since the dawn of F1's new hybrid power era - with the team regularly pointing the finger of blame at their engine providers.
Although Renault introduced a new engine at last week's Canadian GP, it seems it was not sufficient to placate Red Bull.
Junior outfit Toro Rosso are currently in their first year of partnership with Honda, having given up their supply of Renault engines in order to facilitate McLaren's switch.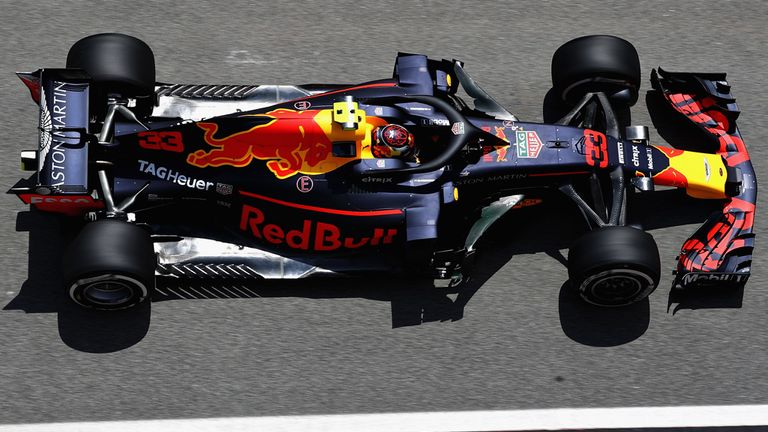 What's being said?
Honda president Takahiro Hachigo: "Having two teams means we can access twice as much data as previously. We believe that working with both Toro Rosso and Red Bull Racing will allow us to get closer to our goal of winning races and Championships, building two strong partnerships. Discussions proceeded very quickly, thanks to Red Bull's open and respectful attitude towards Honda, leading to a deal that is fair and equitable for all parties."
Red Bull advisor Helmut Marko: "This partnership with Honda signals a new era for Red Bull Group in Formula One with both the Toro Rosso and Red Bull Racing teams benefitting from common supply co-ordinated through Red Bull Technology. We have been extremely impressed by Honda's commitment and progress and share like-minded ambitions to compete for Championships. With this integrated approach between the companies we very much look forward to working with Honda."
Renault statement: "Two years after Renault's return as a works team, we consider this is a natural evolution for both Renault and Red Bull Racing in view of their respective aspirations...After two seasons, we are fully focused on the strong progression of Renault Sport Formula One Team, while continuing to foster the fresh relationship with McLaren Racing."
Red Bull boss Christian Horner said: "We would like to thank Renault for the past 12 years, a period during which we experienced some incredible moments together. We have sometimes had our differences but Renault has always worked tirelessly and to the best of its ability to provide us with a competitive power unit."