French GP: Fernando Alonso hopes McLaren slump is 'one-off'
McLaren suffer worst weekend of the season but Alonso hopes for rapid solution for Austria and says he's "very privileged" to be in F1
By Matt Morlidge
Last Updated: 11/12/18 11:22am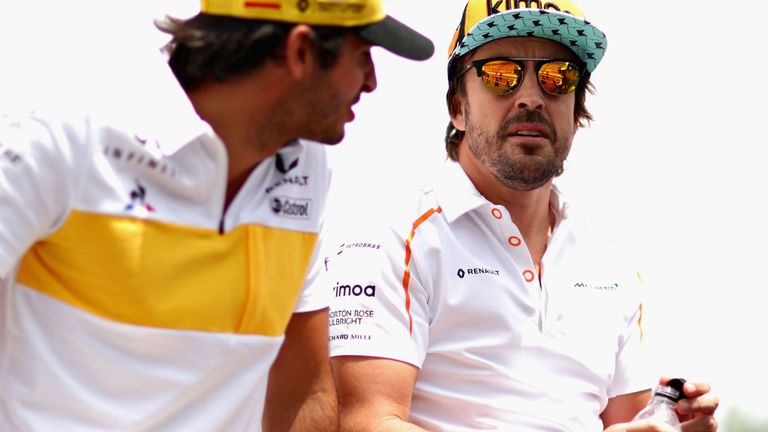 Fernando Alonso insists he still feels "very privileged" to be competing in Formula 1 despite McLaren's miserable French GP, which the two-time world champion hopes was a "one-off" weekend.
McLaren followed up their worst qualifying result of the season with a disappointing race; Stoffel Vandoorne finished 12th while Alonso was running last before he retired on the final lap due to a suspension failure.
But Alonso remained admirably positive about his team and said he was still as motivated as ever despite following up his Le Mans 24 Hours win with an uncompetitive F1 race.
Hamilton unhappy with Vettel penalty
Verstappen savages media critics
"I prefer to be here last than watching television," he said. "We are 20 drivers doing the best job in the world."
When asked how he can stay so upbeat, Alonso responded: "I'm surprised how negative you are because, as I say, we are the 20 top drivers in the world and the questions are how I manage to be positive, how I manage to smile, how I manage to breathe, to eat.
"I manage quite well, you know, and I feel very privileged."
Alonso was forced into an early pit-stop after a chaotic start to the French GP, and was running well outside the points - delivering several frustrated radio messages - before convincing his team to let him have an attempt at a fastest lap on ultrasoft tyres.
Unfortunately, that quest was ended because of the suspension damage.
McLaren chief Zak Brown said fans would have to "bear with us" as the team looked to resolve the problems with their car, explaining that a solution would probably not be found during the triple header.
Alonso, however, hopes for a rapid solution ahead of next weekend's Austrian GP.
"We've been uncompetitive this weekend and we need to find solutions for Austria and Silverstone," he told Sky F1.
"There is no time - in five days we are on track again. Ideally, you would like to have a bit of time, study the data, produce new parts for the car and maybe have a bit more time to find a solution.
"But there is no time and we will try to do our best. I hope this weekend was just a one-off and we are back on form in Austria."