Daniel Ricciardo nearing Red Bull contract renewal
But Australian admits odds are against title bid this year
By Pete Gill at Silverstone
Last Updated: 10/12/18 9:00am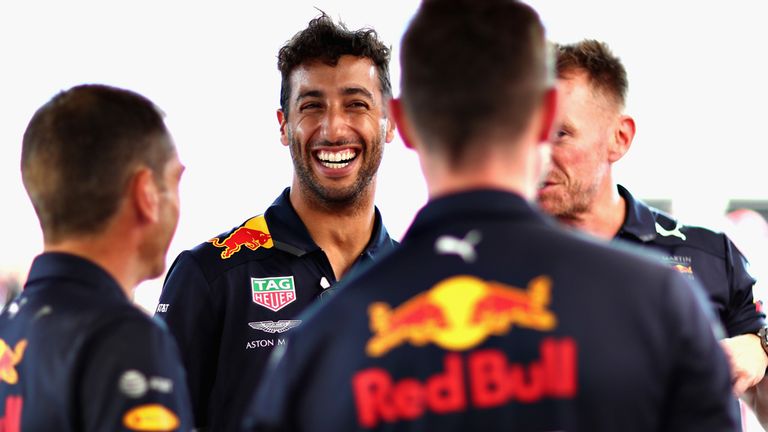 Daniel Ricciardo is close to making a decision on his F1 future amid heightened expectations the Australian driver will re-commit to Red Bull.
Ricciardo, who is out of contract with Red Bull at the end of the year, will make his decision before F1 breaks up for its summer holidays next month.
"Still no pen on paper but l am more confident it will get done before the August break," said Ricciardo ahead of this weekend's British GP. "You won't have to wait much, much longer."
Ricciardo is understood to have held talks after the French GP with McLaren about a move but it appears Red Bull are close to persuading the 29-year-old to recommit.
"They have done what they can to try to encourage me to make it happen," said Ricciardo at Silverstone.
Three factors are thought to be responsible for Ricciardo's dallying: the team's switch to Honda for the next two seasons; interest in a move to Mercedes if Lewis Hamilton fails to re-sign with the world champions; achieving financial parity with team-mate Max Verstappen after the Dutchman signed a bumper new deal late last year.
But the boxes are beginning to be ticked off.
"I'm just making sure," said Ricciardo. "[I can't be] 100 per cent until I have driven a Honda but I have heard the team out more than once and they have given me the reasons. What's important for me to understand is that they haven't done it purely on emotion after getting ****ed with Renault and that they are doing it just to change. They have done their homework and they strongly believe it is a good thing."
Ricciardo doubts title hopes
Both Ricciardo and Verstappen are on the fringes of the world championship fight despite Red Bull winning as many races - three - as Ferrari and Mercedes this term.
But, even with the conviction "we will again this season", Ricciardo fears the power weakness of the Renault-engined Red Bull package may prevent the team and their drivers emerging as a true title contenders.
"I still don't think we have the real pace every weekend to be there," Ricciardo admitted.
Ricciardo also suspects his internal rivalry with Verstappen, highlighted by the Red Bull drivers' race-ending collision in Baku, may ultimately jeopardise their chances in the Drivers' Championship.
"Max and myself probably take too many points off each," he said. "Lewis [Hamilton] and Seb [Vettel] are doing all the winning there [Mercedes and Ferrari].
"We are good enough to win more races but we need to find a little bit to be there on more tracks. We are doing pretty well considering we have only finished six out of nine races. But doing alright is not enough, especially because we are not dominating every race, so at every circuit we go to we need to finish."
Confirming he is "very likely" to take an engine-related penalty in Germany, Ricciardo continued: "The odds are against us but it's not impossible.
"They [Mercedes] have shown some signs of weakness in some areas. They are not as dominant as they have been in the last few years but I still think they are overall the toughest package on the grid to beat."