British GP: Valtteri Bottas in precautionary Mercedes engine change
By James Galloway at Silverstone
Last Updated: 10/12/18 8:57am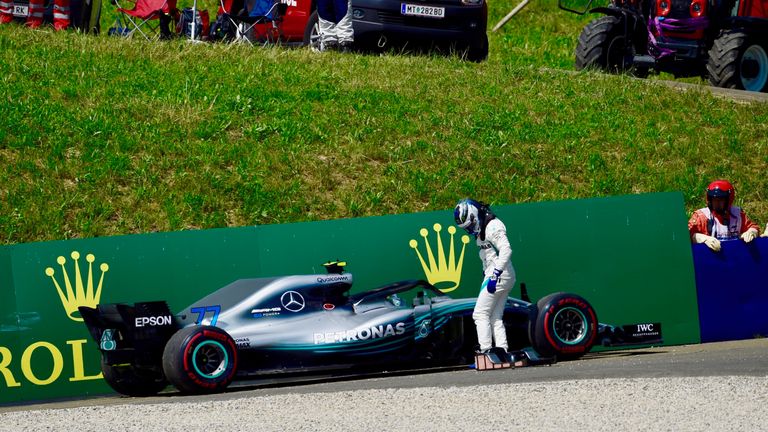 Valtteri Bottas will use a fresh version of Mercedes' latest engine at the British GP as a precautionary measure after his car failure last week in Austria.
Mercedes are taking no immediate chances with the power unit Bottas ran in Austria after it suffered high temperatures from heat soak after his hydraulics-related DNF last Sunday.
No grid penalty will be applied as Bottas remains within his engine allocation for the season.
The unit raced in Canada and Austria will, however, be used again and 'thoroughly checked' at the next race in Germany.
The unlocking of another engine for Silverstone does mean Bottas has now reached the penalty-free limit on certain engine parts for the season.
Mercedes have confirmed four of the six power unit elements have been changed - Internal Combustion Engine, MGU-H, turbocharger and MGU-K.
"Clearly it was something they want to check it out before they run it again," said Sky F1's Martin Brundle.
"They delayed the introduction of that engine so there is no doubt about it, Mercedes are a little bit off balance at the moment."
Lewis Hamilton also retired in Austria due to technical reasons but the Englishman is set to continue with the same engine raced there, with the title contender revealing on Thursday that the team had managed to implement immediate fixes for the problems that stopped his car for the first time in 34 races.