Sebastian Vettel 'fought like a lion' in British GP win, says Ferrari boss
Arrivabene hails Vettel, who he says he was "very concerned" about due to neck injury; Vettel delighted with Ferrari package
By Matt Morlidge
Last Updated: 06/12/18 3:34pm
Ferrari boss Maurizio Arrivabene claims Sebastian Vettel "fought like a lion" to shrug off neck pain and win a memorable British GP.
Vettel secured victory at Silverstone after overtaking Mercedes' Valtteri Bottas in a thrilling finale to the race, but was struggling with a neck strain throughout the weekend, almost missing qualifying altogether.
Arrivabene admitted he was worried about the taped-up Vettel, hailing his star driver's commitment.
Hamilton and Merc fume with Ferrari
The Formula 1 Gossip Column
"The most important problem for Seb was his neck," the Scuderia team principal told Sky Sports F1 after the race.
"It was really hurting yesterday, this morning he got a lot of treatment and to be honest before the race I was really very concerned about him.
"But today he fought like a lion."
Vettel added: "I wasn't sure I could do qualifying and it wasn't very enjoyable because my neck was stiff.
"I was a bit concerned going into the race but we managed to loosen it up a bit and I was fine, and probably a bit of adrenaline helped. The neck held up and that was a race I enjoyed a lot."
The German extended his title advantage over home favourite to eight points after claiming his first win at Silverstone in almost a decade, and was ecstatic on Ferrari's team radio when congratulated on his win.
Celebrating in Italian, Vettel exhaled: "We've won on their home ground."
Arrivabene hailed the championship leader, insisting "it's not easy" to perform in front of the British faithful.
"It's the home race of Mercedes [and Hamilton], so you have to be quite strong," he continued.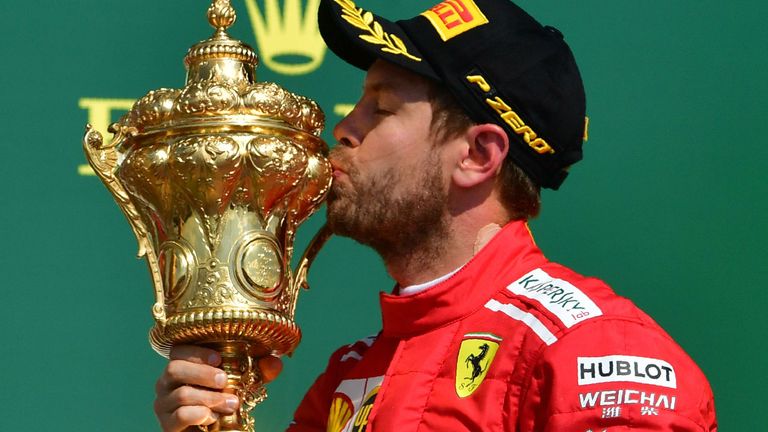 'Ferrari strong on all tracks'
Vettel believes Ferrari's victory and improvement at Silverstone, a track where they have been thoroughly dominated by Mercedes in recent years, shows that they have a well-rounded 2018 car.
"I think our car is very good," he told Sky F1's Natalie Pinkham, alongside Jenson Button, in the pen. "I think it's working well on these kind of tracks but to be honest everywhere it works quite good.
"You would say the opposite is Monaco and in Monaco we were pretty quick and not far off pole.
"I think we need to improve our car until the end of the year, that will be key because then you have something to fight, and if you have something to fight and something to play with, you can make things happen."