Mercedes confirm technical team changes for F1 2019 season
Aldo Costa and Mark Ellis, part of a technical team that helped Mercedes to eight F1 titles, are both leaving at end of the year
By Matt Morlidge
Last Updated: 10/12/18 8:41am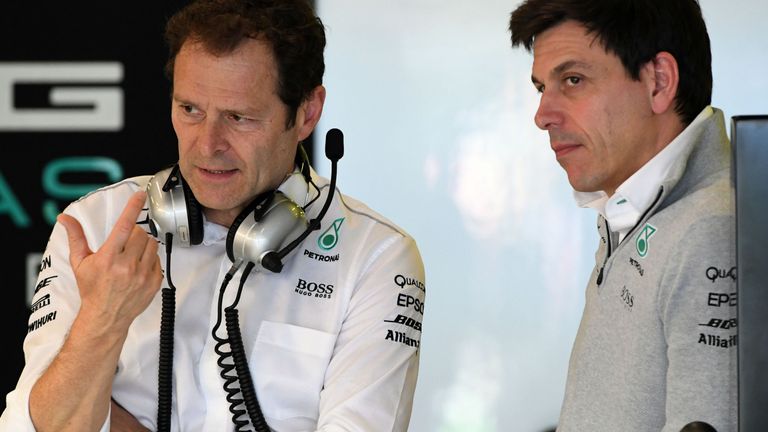 Mercedes have announced a major technical shake-up of their F1 team for the 2019 season, with Aldo Costa and Mark Ellis both set to leave their roles.
Engineering director Costa is a much-respected figure in the sport and regarded as a vital cog in Mercedes' era of domination, but is taking a step back into an advisor position so he can spend more time with his family in Italy.
Costa, formerly of Ferrari and Minardi, vacating his role means chief designer John Owen will become the senior member of the team's engineering group, under the leadership of technical chief James Allison.
Ellis, meanwhile, is to retire from his performance director role and take a sabbatical next year, with current chief dynamicist Loic Serra replacing him.
The Brackley outfit, winners of the last four drivers' and constructors' titles, claim the reshuffle is a "planned transition of its senior technical leadership" in a bid to integrate their "next generation of leaders".
"This is a significant moment for our team and a great opportunity," said Mercedes team boss and CEO Toto Wolff. "We have said many times that you cannot freeze a successful organisation.
"It is a dynamic structure and I am proud that we are able to hand the baton smoothly to the next generation of leaders inside the team.
"We have been in discussion for many months with both Mark and Aldo about how best to implement this transition and to empower their successors.
"Mark and Aldo have both helped to shape the timing and manner of these changes, and the team's future is very bright with John, Loic and our entire technical leadership working under James' direction."
Mercedes are currently second in both 2018 championships, with Ferrari providing the Silver Arrows with their toughest test since the hybrid era began in 2014.