German GP: Lewis Hamilton says chaotic win was one of his best
Hamilton ecstatic after taking championship lead with victory
By Matt Morlidge
Last Updated: 06/12/18 2:54pm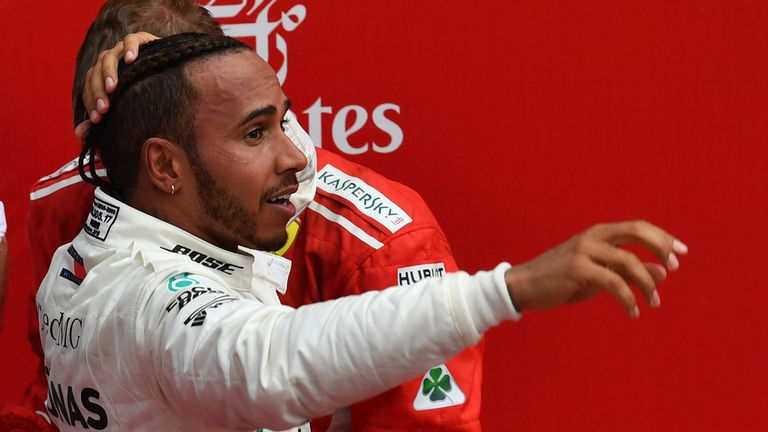 Lewis Hamilton hailed his remarkable German GP victory as one of his best-ever after profiting from Sebastian Vettel's crash to win a chaotic race.
The Mercedes driver won despite starting 14th on the grid, and now leads Ferrari rival Vettel by 17 points in the title standings. Hamilton was investigated by stewards after the race for cutting the pit-lane entry line, but received a reprimand and kept his victory.
"The mistake from Sebastian today has been a benefit to us at Mercedes," said a jubilant Hamilton after Vettel crashed out from the lead.
Hamilton wins after Vettel crash
Hamilton keeps German GP victory after investigation
The updated latest championship standings
Updated drivers' standings
| | | |
| --- | --- | --- |
| Driver | Team | Points |
| Lewis Hamilton | Mercedes | 188 |
| Sebastian Vettel | Ferrari | 171 |
| Kimi Raikkonen | Ferrari | 131 |
| Valtteri Bottas | Mercedes | 122 |
| Daniel Ricciardo | Red Bull | 106 |
Speaking prior to the investigation over his aborted pitlane entry, Hamilton added: "I've never had a race like this. After racing for so many years, you never know when you're going to have a better race than your best race.
"But this is right there with them."
It is the first time Hamilton has won a race from lower than sixth.
"It's obviously very difficult from that position but you've always got to believe," he added.
"I just wanted to stay calm and collected. I'm so grateful, I kept pushing and kept believing and it happened. I really manifested my dream today."
Vettel crashed after the heavens opened in Hockenheim, losing control of his Ferrari as he entered the hairpin on lap 51.
"I guess it is [a crucial point in the title race]," said Hamilton. "There have been several crucial points already this year."
"I'm just focussed on trying to be the best I can be in myself. Because the best me...if I'm my best and my higher self, I feel like I'm able to drive like I was able to today, regardless of all the people, who else is around doing whatever they are doing."