Carlos Sainz on why he is waiting for Daniel Ricciardo F1 2019 deal
Spaniard's moves to secure his F1 future remain on hold
By James Galloway
Last Updated: 06/12/18 2:39pm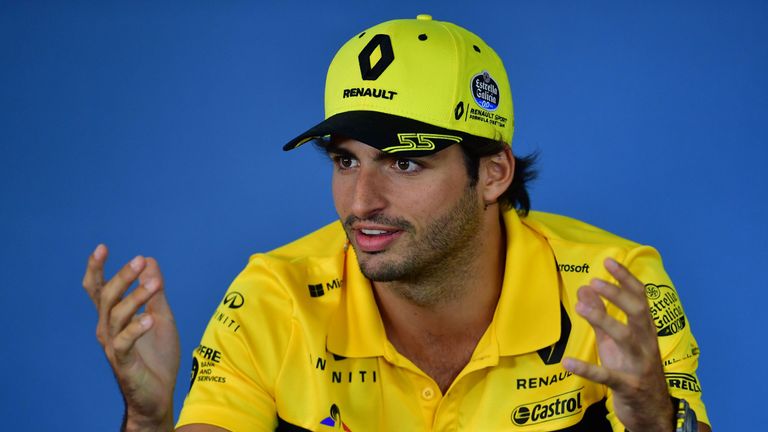 Carlos Sainz says his 2019 plans will not start to develop until Daniel Ricciardo's Red Bull future is resolved.
Ricciardo is expected to soon sign a new contract to stay at Red Bull into next season, but no deal has been announced yet.
While anything other than a contract extension for Ricciardo would now be considered a big surprise, Sainz says the wait for formal confirmation on the Australian's future continues to impact him while he remains on Red Bull's driver books.
Asked by Sky F1 ahead of the Hungarian GP if he knows what is happening with his future as speculation ramps up around the driver market, Sainz replied: "I know pretty much what's going on.
"What I know as a matter of fact is that until Red Bull and Ricciardo don't take a decision and don't do an announcement my future is still uncertain as I still need to be available for Red Bull.
"Until that thing clears it's impossible to say something and when that thing clears I will be the first one to start talking about it."
Sainz has been loaned by Red Bull to Renault for this season, but a second season at Enstone appears far from guaranteed. France's Esteban Ocon has been increasingly tipped to take Sainz's seat for 2019, with the Spaniard instead mooted as a target for McLaren.
"My priority is to find a place that I'm comfortable with," said Sainz, who is in his fourth year of F1.
What are Sainz's chances of a Renault stay?
Analysis: Who is moving where for 2019?
"I've already spoken about a two-year deal. First, my priority is what Red Bull and Ricciardo are doing and then myself together with my management team will find the solution I'm sure."
Asked why Renault appeared to be considering other drivers, Sainz replied: "As you all know, I did push hard last year to join this team because I have a lot of confidence in the project, in the team, and from what I know the management and everyone is happy with my performance and how things are going."
But if not Renault, what about McLaren?
With neither of their seats yet filled for next season, the Woking team have admitted they are talking to a "variety of drivers" - with Sainz mooted to be among them.
Any such move would potentially place Sainz next to illustrious countryman Fernando Alonso and the 23-year-old admitted he would relish such a match-up.
"I'm ready to beat anyone in the field," he insisted. "My racing spirit and my competitiveness and my self-confidence tells me that I can take over anyone. Probably Fernando would be the biggest ask that you could have on the grid, that's for sure, but I would feel ready for anything."