Carlos Sainz reveals 'two year' McLaren contact before signing
But who will partner Sainz at McLaren in 2019?
By Pete Gill
Last Updated: 06/12/18 11:50am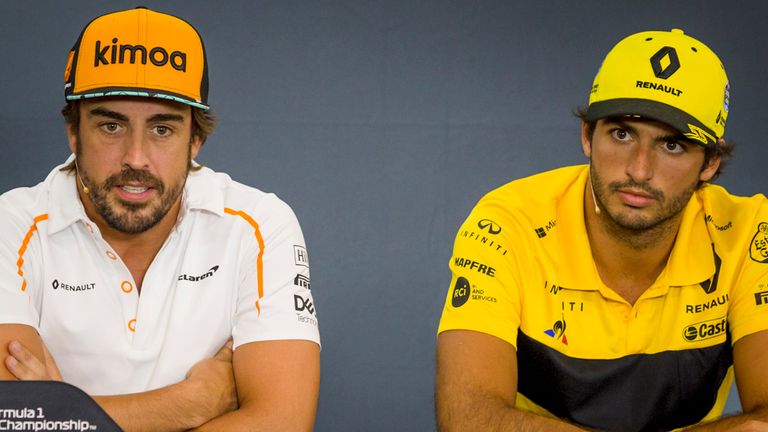 Carlos Sainz has revealed he was in contact with McLaren "for a year or two" prior to joining the team for 2019.
Sainz, currently on loan at Renault from parent team Red Bull, was named as a McLaren driver for the 2019 season just two days after Fernando Alonso's exit at the end of the year was confirmed.
But far from being a knee-jerk reaction to Alonso's departure, Sainz revealed when he faced the media at the Belgian GP: "I've been in touch with McLaren management for a year or two now."
Sainz to replace Alonso at McLaren in 2019
Sainz said McLaren's longstanding interest in acquiring his services had kept him "calm" in the aftermath of Daniel Ricciardo's decision to quit for Red Bull for Renault.
After Renault immediately named Nico Hulkenberg as Ricciardo's 2019 team-mate, the Spanish youngster's F1 future appeared to be in some doubt.
"If @Carlossainz55 doesn't get a strong drive in F1 next year it will be a travesty, annoy me intensely, and reflect badly on F1," tweeted Sky F1's Martin Brundle.
Barely two weeks later, however, and Sainz's move to McLaren was made public, with the 23-year-old signing a two-year deal.
"In the end it turned out to be good," said Sainz. "I'm about to leave the Red Bull family in a very good way."
Sainz says he has no regrets at being overlooked in favour of Pierre Gasly as Ricciardo's replacement in 2019 at Red Bull.
"It is impossible to be disappointed when you are leaving to go to a team like McLaren. It is one of my dreams I had as a kid to be joining McLaren it is impossible to be unhappy."
Who will partner Sainz in 2019?
Sainz's 2019 team-mate at McLaren has still not been confirmed as pressure mounts on the struggling Stoffel Vandoorne.
The Belgian has failed to out-qualify Alonso for any of this year's races and will be pitched in direct contrast to British hopeful Lando Norris this Friday when the 18-year-old debuts in Practice One at Spa.
But Vandoorne says he is confident he will be retained, "although there is nothing guaranteed for next year".
Rumours have also swirled in the Spa paddock Vandoorne could also be under threat from Esteban Ocon in an elaborate merry-go-round which would see Ocon replaced at Force India by Lance Stroll, Stroll then replaced by Robert Kubica at Williams, and Ocon slotting in at McLaren.
Get Sky Sports F1 - the home of every race weekend LIVE in 2018.