Lewis Hamilton support for Esteban Ocon after Belgian GP qualifying
"Unfortunately we're in a weird place in F1 where some teams... they'll take whoever has got the money," says Hamilton with Belgian GP qualifying star Ocon's future in doubt
By James Galloway and Matt Morlidge at Spa
Last Updated: 06/12/18 11:22am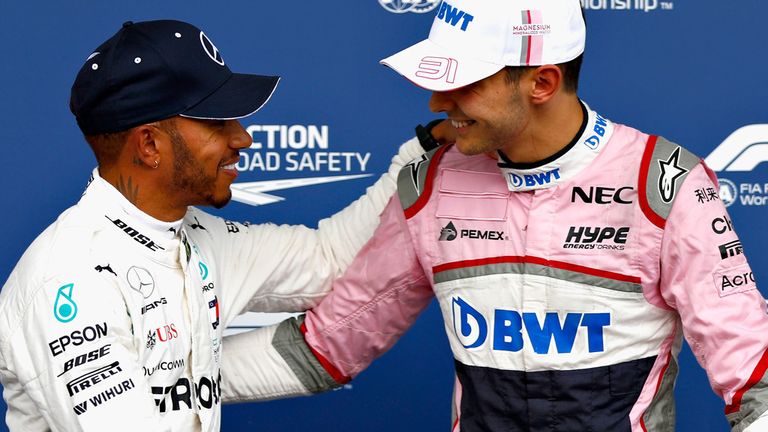 Lewis Hamilton has made the case for "exceptional" Esteban Ocon to be given a "great car" after the Frenchman qualified a career-best third for the Belgian GP amid growing uncertainty over his F1 future.
In the surprise result of Spa qualifying as rain hit the legendary circuit in Q3, Ocon headed an all-Force India second row behind polesitter Hamilton and Sebastian Vettel just days after the team were officially rescued from administration.
Report: Hamilton masters rain for pole
The latest Formula 1 Gossip
The qualifying result, the best of Ocon's short career, marked another milestone for the impressive Frenchman, who has consistently shone since making his debut in the sport two years ago at Spa.
Yet, with an anticipated 2019 move to Renault scuppered by Daniel Ricciardo and Force India expected to sign Lance Stroll for next season after his father bought the team, Ocon is yet to secure a drive for next season.
World champion Hamilton said: "I've always been a supporter of Esteban. I think how he conducts himself and how he performs on track is exceptional.
"Unfortunately we're in a weird place in Formula 1 where some teams, rather than taking a new up and coming kid, they'll take whoever has got the money. I think the structure is probably wrong.
"He needs to be in a great car because he's one of the top drivers here. I hope the opportunity is there for him."
Hamilton added: "You can't let someone who has more money leap in front of a better driver. The governing body definitely has to [address it] somehow.
"In some ways, I wish I was managing him!"
Sitting alongside the championship's top two in his first-ever post-qualifying press conference, Ocon was also praised by Vettel.
"I think he's doing everything right. I think it's very good for him, this qualifying session," said the Ferrari driver.
"Unfortunately nowadays a new guy comes in and he's the superhero, and then another guy comes in and he's the new superhero. And then the first guy is forgotten even though he's doing a very good job."
Ocon unsure of 2019 drive
After hearing the words of praise from Hamilton and Vettel, Ocon responded: "It's awesome to hear that. I'm very happy to hear that. Of course, I want to be racing next year and I'm doing everything for it, I'm working very hard every day for it and to hear great things from those two champions is fantastic."
It remains unclear, however, where Ocon will be on the F1 grid in 2019 - if at all.
Ocon's best options now appear to rest with McLaren and Williams but the 21-year-old admitted: "I don't know where I will race next year and what I will do.
"The only thing I can do is to do well on track, to do the same job as before, and if you do a strong job and then the team needs to have you."
'Not bad for a new entrant'
While Force India are fundamentally the same team which competed in Hungary a month ago, the legal ramifications of the team's rescue from administration by a consortium led by Lawrence Stroll has resulted in them forfeiting their points haul to this point of the season and being entered as a new team.
That led team boss Otmar Szafnauer to quip after qualifying that the second row was "not bad for a new entrant!"
Sergio Perez, who qualified behind Ocon in fourth place, paid tribute to the team in the wake of its difficult recent weeks.
"It's a great result for the team after all the issues we had and bad momentum," Perez told Sky F1.
"To come back and do this kind of result is amazing for the team. It's been a tough couple of months, so very pleased with the result."
Szafnauer added: "We got lucky with the decisions that we made when the rain came. We had a quick car anyway, but didn't anticipate being that far up the grid. Some good decisions by the engineers."
And for their initial decision not to pit for wet tyres in Q3 when the rain arrived, he said: "We were unsure. The drivers should give us more feedback.
"Here in the pit lane it wasn't raining that hard so we thought slicks were the right thing - but it was pretty obvious it wasn't when Checo nearly collected the car in the wall! We brought them in, a good turnaround, and it was good timing on track because it was getting quicker and quicker at the end."
Get Sky Sports F1 - the home of every race weekend LIVE in 2018.