Lewis Hamilton says Mercedes can't 'bluff' anymore in Ferrari title battle
Hamilton concerned about performance trend as Ferrari maintain pace advantage; But championship leader wants to put pressure on
By Matt Morlidge at Spa
Last Updated: 06/12/18 11:37am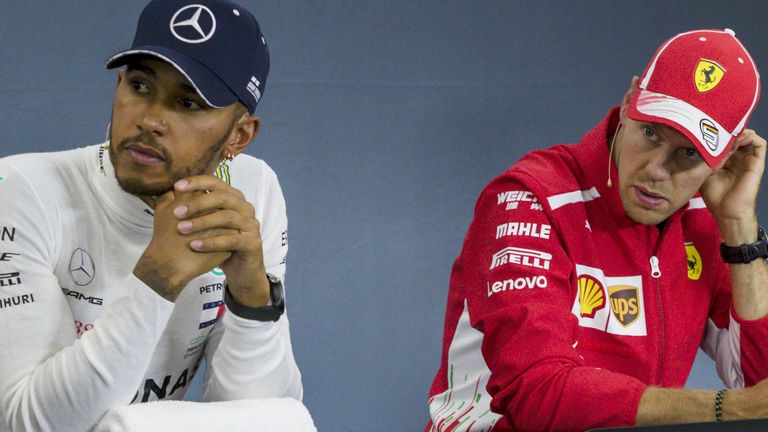 Lewis Hamilton says Mercedes can't afford to "bluff" in the F1 2018 title race any longer, and admits he is concerned about Ferrari's pace advantage as he prepares for a pivotal stretch in the championship.
Hamilton has seen his lead in the drivers' standings cut to 17 points after Sebastian Vettel's dominant victory at the Belgian GP, with Ferrari appearing to have taken a bigger step with their upgraded engine than Mercedes.
Though the Englishman claimed back-to-back wins before the summer break, he believes there's a worrying trend in the current performance race with Ferrari and has urged his team to step it up.
"Naturally, it is a concern," Hamilton told reporters after the race at Spa, which Vettel claimed by more than 10 seconds.
Hamilton 'blitzed' by tricky Ferrari
Vettel powers up title charge
"Everyone asks at press conferences, 'who do you think is faster, you or Ferrari?'. They've had the pace, the upper hand on us, for some time.
"Those last two races, before here, we just did a better job with it even though they had better cars.
"But if you're playing with a deck of cards, and you're bluffing, there's only a certain amount of time you can do that before your opponent realises you are doing that."
Mercedes and Ferrari both brought their new spec three power units to the race but it was Vettel who benefited most, enjoying plenty more straight-line speed than Hamilton on Lap One before passing him into Les Combes.
Silver Arrows team boss Toto Wolff said his team had been "swallowed up" while Hamilton claimed he was defenceless against Ferrari's "tricks".
"We can still beat them at races, I just don't know what ones they are going to be," he admitted afterwards.
The world champion continued: "Moving forward, we do have some performance coming, but I'm sure they'll have some performance coming, so I really can't predict what's going to happen."
Drivers' Championship - top six
| | | |
| --- | --- | --- |
| Driver | Team | Points |
| 1) Lewis Hamilton | Mercedes | 231 |
| 2) Sebastian Vettel | Ferrari | 214 |
| 3) Kimi Raikkonen | Ferrari | 146 |
| 4) Valtteri Bottas | Mercedes | 144 |
| 5) Max Verstappen | Red Bull | 120 |
| 6) Daniel Ricciardo | Red Bull | 118 |
Formula 1 heads to Monza this weekend, a home race Ferrari have not won since 2010 but have already been tipped for due to their apparent power advantage.
"We've just got to keep at it," Hamilton said. "I truly trust and believe in my guys. We feel the ups and downs together and you can't win them all, but these next string of races are going to be really telling.
"The next two or three races are going to show if they can sustain that high performance."
Hamilton: Let's put the pressure on
The Belgian GP may not have gone his way, but one frequent statement from Hamilton in his media sessions in recent months is that he truly believes he can handle the pressure of an F1 title race better than anyone, including Vettel.
"If we were level or behind in the championship it [losing in Belgium] would be more painful," Hamilton said. "But definitely we've made fewer mistakes this year. We need to try and keep that up because that counts for something."
Hamilton compared the challenge of his current battle up against Vettel and Ferrari to his karting days, when he used to turn up driving what he called a "four-poster bed", beating competitors using better equipment.
It's clear Hamilton has not lost faith in his, or Mercedes' abilities.
"I think the strength is there, the consistency is there, and that's something I want to continue to try and hold on to," he added.
"You can tell it's going to take the whole package, the whole complete package, 100%, to outperform them.
"[On Sunday] Sebastian performed really well and didn't make any mistakes, he did a great job, but we've got to keep applying the pressure."