Martin Brundle: F1 returns with a bang at the Belgian GP
Sky F1's Martin Brundle reviews the season-resuming Belgian GP and explains why he may have to change his mind about the halo...
Last Updated: 06/12/18 11:09am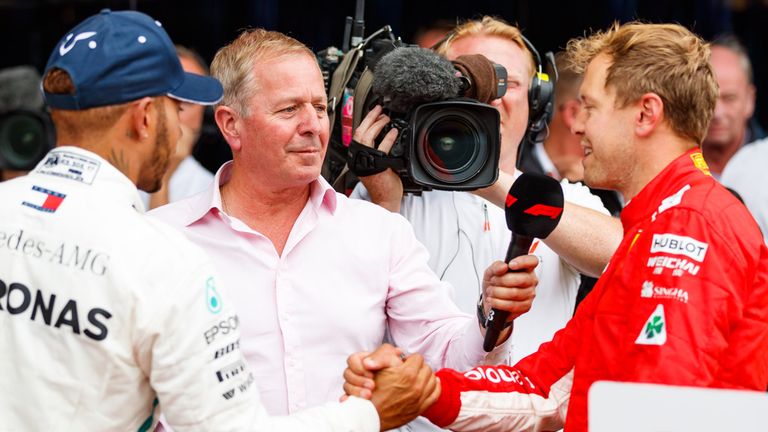 This year's Belgian GP as a whole was fast, wild and scary before settling down to end rather steadily.
With the phoenix-like recovery of the Force India team delivering a fairy-tale qualifying and race result, Daniel Ricciardo's surprise move to Renault and the ensuing musical chairs for several other drivers, Fernando Alonso claiming that he'd turned down Red Bull offer for 2019, and the chaos of a rainy qualifying along with so many other stories, it was difficult to know which to lead with.
Formula 1 remains in many ways a crucible of highly competitive and sometimes dysfunctional people motivated and energised by winning and money. Thank goodness.
Rain stirred up qualifying a treat, generating a very random grid. As so often happens in a championship battle the two main contenders somehow transcended the field and through the chaos, over three seconds clear of the field, emerged Lewis Hamilton on pole and Sebastian Vettel alongside him.
On their tails were two Force Indias proving that fortune favours the brave. Having tried a somewhat ambitious attempt to register the first flying laps of the top 10 shoot-out Q3 in the rain on slicks, and having somehow failed to spread the cars down the barrier, the late change to intermediate rain tyres proved just the ticket. The team kept its head perfectly unlike some others.
Hamilton 'blitzed' by tricky Ferrari
Vettel powers up title charge
Romain Grosjean and Kevin Magnussen shone for Haas too, and once again a wet track proved that skill and bravery will always win out over pure speed as a great spectacle.
After Hamilton's run of victories just before the break, and Vettel's very costly error when leading in Germany, this was a race which Ferrari, the 'right' Ferrari, simply had to win.
Kimi Raikkonen looked on great form in the other prancing horse, he has a smooth, flowing confident style around this magnificent race track. But his car was not adequately fuelled for the extra laps needed on a drying qualifying surface which put him only 6th on the grid. The fast-starting, Ferrari-engined Haas cars were both ahead of him into turn one and he was squeezed. Ricciardo, having already been clipped by Alonso's flying McLaren, then had a second contact with Raikkonen's right rear Pirelli and effectively both their races were over.
Starting from 17th after engine penalties, and having caused contact into the first corner, Valtteri Bottas, via a great move around the outside of Eau Rouge, made his way up to fourth place for some salvation.
The upshot of this, with eight races remaining, is that the two Finns, Raikkonen (68 points behind Vettel) and Bottas (87 points behind Hamilton), will be consigned to taking points off their respective rival teams, but never a point off their own team-mates for the rest of the season. With such a similar pace between Ferrari and Mercedes, this could well get very fraught.
Max Verstappen, with a rear wing so flat in desperate search of a reasonable top speed that he could have served a Dutch open sandwich from it, had an impressive run to a lonely third place. Ricciardo had a dismal weekend, never really finding any pace and heading for an early shower in the race.
The start was crazy, half the pack were in a 44-lap race, and the other half seemed to be in a one corner race. With such a short run down to the first corner with cool brakes and especially front tyres, and the concertina of the pack into a painfully slow apex, it has always been a risky scenario.
It's compounded by the fact that so many cars were out of true dry pace position, and the midfield so-called 'B-class' know that places won and lost on the first lap these days are hard to recover later.
Nico Hulkenberg wasn't making crazy darts across the track or wild dives up the inside, it all looked reasonably calm except he simply misjudged his braking distance and locked up, albeit by some margin. He's not had a recent history of such indiscretions and I feel the Stewards got it right with penalty points and a 10-place grid pain next weekend in Monza.
Of course the result of his action, or inaction, was Alonso launching over the back of Charles Leclerc who was calmly minding his own business on the outside of the turn one approach with his car nicely slowed down.
I have not been a fan of the halo because I don't like what it stands for in the gladiatorial nature of being an F1 driver, what might be next, and how it looks. I remain concerned that it could still deflect cars and parts towards the driver in some circumstances, and affect driver egress in a big shunt.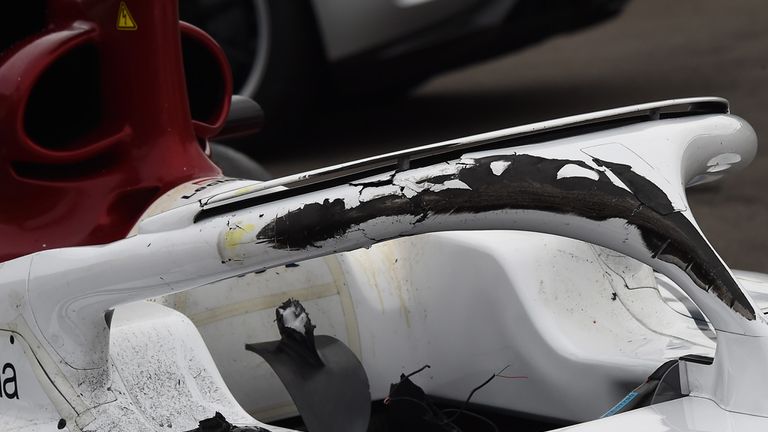 I've twice worn an F1 car on my head flying in from behind courtesy of Patrick Tambay at Monaco in 1986, and Jos Verstappen at Interlagos in 1994, and so I have some first-hand experience of this. Looking at the footage and stills I'm not convinced that the Halo saved Charles Leclerc's life but it sure as hell didn't do any harm, and may have saved serious injury if the angles were slightly different. Pre-halo the rollover bar and cockpit sides have done a pretty good job too in these circumstances.
Just as when we lost Jules Bianchi I would have been as distraught as anybody if we lost Charles, so I guess I'm going to have to change my mind on the halo.
Before the inevitable Safety Car was deployed for the turn one carnage we had an almighty and thrilling drag race up to turn five.
Vettel had been ruthless in using his slipstream and prodigious engine to slice across the nose Hamilton.
Both Perez and Ocon in the Force Indias had a double 'tow' and made it four abreast on the approach to Les Combes. Perez so nearly connecting with the mothership of the works Hamilton Mercedes and Ocon perilously close to Vettel's Ferrari. They quickly worked out where the real battle was and hit the brakes.
Vettel's racecraft shone through again on the Safety Car restart to fend off Hamilton and then he simply controlled the pace to reduce his championship deficit to 17 points, whilst surpassing the great Alain Prost with 52 victories, and counting.
That looks to be a handy car for Monza too, Mercedes need to find something extra for the increasingly tense closing stages.