Singapore GP Qualifying: Lewis Hamilton claims shock pole position
Verstappen to start on front-row alongside Hamilton; Vettel only third; Race start at 1.10pm on Sunday
By Pete Gill
Last Updated: 06/12/18 10:16am
Lewis Hamilton beat Ferrari and Red Bull to claim an unexpected pole position for the Singapore GP with a lap immediately hailed as the best of the season so far.
On a track where Mercedes were expected to struggle, a brilliant Hamilton unfurled a stunning lap at the start of Q3 to out-pace Red Bull's Max Verstappen and title rival Sebastian Vettel.
Mercedes described Hamilton's lap as "epic" while Sky F1 pundit Paul di Resta said: "That could be a championship-winning lap from Hamilton."
And Martin Brundle concluded: "It is the lap of the season so far."
Hamilton at his best to land stunning pole
Hamilton's lap of 1:36.015 was three tenths faster than Verstappen's best and over half a second clear of Vettel's quickest effort on an evening when Ferrari were predicted to dominate.
Underling the superlative nature of Hamilton's blockbuster lap, Mercedes team-mate Valtteri Bottas was fourth, seven tenths off the four-time world champion.
"That lap felt like magic," said Hamilton. "I don't know where it came from."
Hamilton abandoned his final run in Q3, but held on to pole position with none of the frontrunners able to improve on their last efforts.
"The pressure was at its highest for that Q3 run and l just hit every point perfectly. That was the one lap where it all flowed beautifully. It felt incredible."
Full results from qualifying for the Singapore GP
Watch Sky F1 on your mobile phone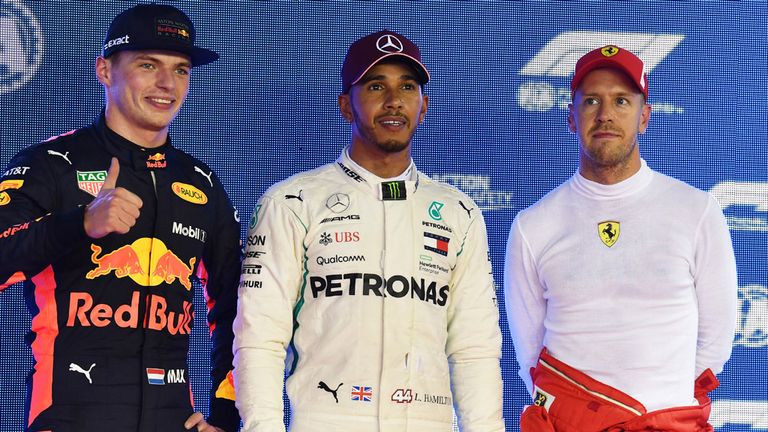 Vettel unhappy after surprise defeat
With seven races remaining this year, Hamilton leads the world championship by 30 points. And on this evidence, he will take some beating.
Vettel was the favourite to land pole before the session started after dominating final practice.
But the Ferrari driver repeatedly hit traffic on his out laps and bemoaned a "messy" qualifying session.
"The gap is a surprise," Vettel told Sky F1. "But l don't think it reflects the true performance. For us, it wasn't as smooth as we wanted it to be.
"As l said, it wasn't ideal - you can figure out what l mean. We should have done better."
Two weeks after landing pole at Monza, Kimi Raikkonen was only fifth quickest in the second Ferrari. The Finn said "the session was more difficult than expected. We didn't make the tyres work the way we wanted."
Behind Daniel Ricciardo's Red Bull, Sergio Perez was the best of the rest in seventh for a rejuvenated Force India outfit.
Romain Grosjean of Haas, Perez's Force India team-mate Esteban Ocon and Renault's Nico Hulkenberg rounded out the top ten.
At the back, both Williams cars were last, more than a second off the pace of the 18th-placed Stoffel Vandoorne as the Belgian suffered his 15th successive defeat in qualifying to McLaren team-mate Fernando Alonso this year.
The Spaniard will line up 11th for this final Singapore race.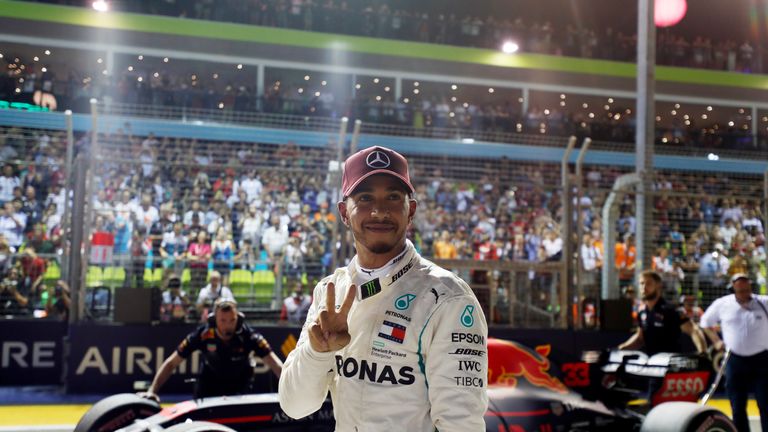 Reaction to Hamilton's pole position
Pole-sitter Hamilton: "That lap felt like magic. I don't know where it came from but it all came together. I don't think there was a moment in the lap that was wide or any problems. It was just perfectly to the limit. It felt like one of the best laps I remember feeling."
Sky F1's Martin Brundle: "It is the lap of the season so far. It's what it means as well. I've never seen the Mercedes pitwall other than when they have a world championship so happy."
Mercedes boss Toto Wolff: "Stardust. I can't explain what happened on that lap. He is such an exceptional driver. Only he will know what he did on that lap."
Sky F1's Paul di Resta: "No-one saw that coming. Ferrari had it written all over them. They've made a mistake, somewhere they've made an error. That could be a championship-winning lap from Hamilton."
Sky F1's Simon Lazenby: "Sometimes you run out of superlatives for Lewis Hamilton. But many people have straight away described that as epic. That must be the lap of the season."
Singapore GP Qualifying results
| | | |
| --- | --- | --- |
| Driver | Team | Time |
| 1) Lewis Hamilton | Mercedes | 1:36.015 |
| 2) Max Verstappen | Red Bull | + 0.319 |
| 3) Sebastian Vettel | Ferrari | + 0.613 |
| 4) Valtteri Bottas | Mercedes | + 0.687 |
| 5) Kimi Raikkonen | Ferrari | + 0.779 |
| 6) Daniel Ricciardo | Red Bull | + 0.981 |
| 7) Sergio Perez | Force India | + 1.970 |
| 8) Romain Grosjean | Haas | + 2.305 |
| 9) Esteban Ocon | Force India | + 2.350 |
| 10) Nico Hulkenberg | Renault | + 2.573 |
| Out in Q2 | | |
| 11) Fernando Alonso | McLaren | |
| 12) Carlos Sainz | Renault | |
| 13) Charles Leclerc | Sauber | |
| 14) Marcus Ericsson | Sauber | |
| 15) Pierre Gasly | Toro Rosso | |
| Out in Q1 | | |
| 16) Kevin Magnussen | Haas | |
| 17) Brendon Hartley | Toro Rosso | |
| 18) Stoffel Vandoorne | McLaren | |
| 19) Sergey Sirotkin | Williams | |
| 20) Lance Stroll | Williams | |
| | | |