Singapore GP: Romain Grosjean criticised after ignoring blue flags
"It was one of the worst cases of ignoring blue flags that I've seen for a long time,"; Grosjean three penalty points away from race ban
By James Galloway in Singapore
Last Updated: 04/12/18 6:01pm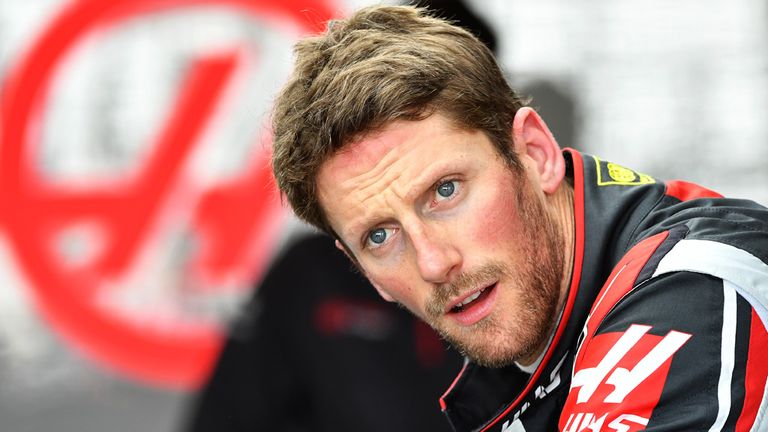 Romain Grosjean has been rebuked by Formula 1's race director for ignoring blue flags in an incident which nearly derailed Lewis Hamilton's Singapore GP victory.
Hamilton saw a five-second lead over Max Verstappen all-but wiped out in the space of two laps in chronic traffic around the tight street circuit, with the Red Bull getting on the Mercedes tail as they came up behind Grosjean and Williams' Sergey Sirotkin in battle.
Max: Not fair to overtake Hamilton
Grosjean was eventually handed a five-second time penalty by stewards for passing blue flags for a 'significant number of corners' without letting Hamilton by.
FIA race director Charlie Whiting has expressed his displeasure with the Haas driver's on-track conduct.
"I think Romain forgot the golden rule of blue flags and that's if, you are in a battle, you've got to forget about your own battle and move over," said Whiting in a post-race briefing.
"I've drilled that into them many, many times and he completely forgot about it. The light panels were flashing with his race number on and Lewis was much, much faster.
"It was one of the worst cases of ignoring blue flags that I've seen for a long time."
Grosjean, who finished 15th once the time penalty was applied, also had three penalty points applied to his race licence to take him on to nine for the last 12-month period, three away from an automatic race ban.
What did Hamilton say?
While the lost time behind Grosjean and Sirotkin did not ultimately cost Hamilton the lead, he admits Verstappen did briefly had a chance to overtake him.
But the race winner did express some sympathy for those having to pick out the blue flags being waved by marshals.
"It definitely got a little bit interesting towards the end with some of the backmarkers as you already felt the draft from the cars when you were five or six seconds behind, the car would start to slide a little bit more," said Hamilton.
"And you can't really see the blue flags, they are very dark blue, and there are the smallest holes out there [in the fences] so you actually can't really see them until the light panels come on and even when they came on a lot of drivers weren't really responding.
"Max had an opportunity really. I had to go on a massive defence and even when I was still racing the backmarkers, they still weren't lifting off as I was alongside them.
"The hairs were standing up for a second, but then back to business."
Sky Sports F1 is the only place to watch every Formula 1 Grand Prix, qualifying and practice session live in 2018. Get Sky Sports F1.