Charles Leclerc not expecting to play Sebastian Vettel support role
2019 Ferrari recruit expects to have same chance to win as new team-mate; Vettel pays tribute to 'best team-mate' Raikkonen
By James Galloway in Singapore
Last Updated: 06/12/18 10:23am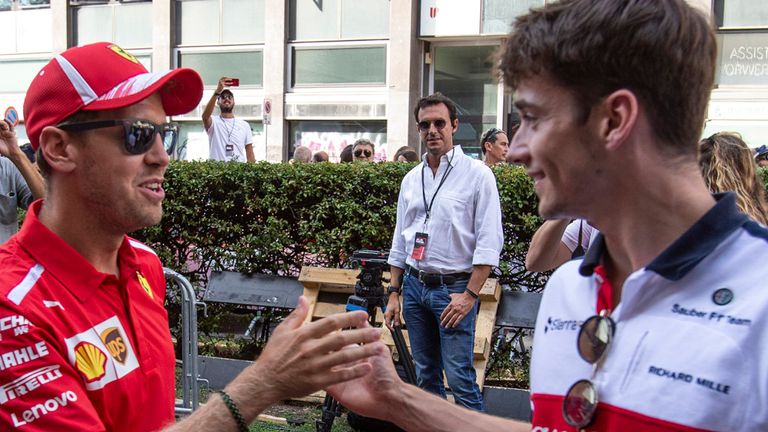 Charles Leclerc says he will be allowed to race Sebastian Vettel when he joins Ferrari as the four-time champion's team-mate in 2019.
Leclerc's rapid ascent through the ranks to one of F1's most famous seats was confirmed this week with a promotion to Ferrari in place of Kimi Raikkonen.
Leclerc is 10 years Vettel's junior and in his first season of F1, whereas his 2019 team-mate is already a quadruple world champion and winner of 52 Grands Prix. Significantly, he has also consistently proved Ferrari's lead driver ahead of Raikkonen.
However, despite the experience and status shortfall to his new team-mate, Leclerc is certain he will start next season on equal footing.
"It's more or less like this in every team," Leclerc said. "You have two drivers who start the season on equal status and then at one point in the season you see some team orders because probably one driver is playing for the championship and the other is not.
"This is normal, in every team it's happening. But I believe they will let us race at the beginning of the season."
And Leclerc is aware that, irrespective of his inexperience, joining Ferrari comes with a certain level of expectation for a driver.
"I need to deliver - I'm not going to Ferrari to learn," said Leclerc, who will become Ferrari's youngest driver since 1961.
"I've had a very good season this year where I could learn most of it and next year is to perform where I should be once you are going in a big team. I'm not saying I will not learn anything anymore, as I have so much to learn still and I can still improve a lot, but I will be a lot more ready than I was at the beginning."
And Leclerc told Sky F1: "I've seen a lot of people who are doubting the decision which is completely normal and I completely understand that but I will just try to prove these people wrong and do the best job possible."
Vettel welcomes Leclerc…but sad to see Kimi go
Leclerc's promotion means that Vettel will have a team-mate other than Raikkonen for the first time since joining the Scuderia in 2015.
Although yet to personally congratulate Leclerc due to the fact he does not have the Monegasque's phone number, Vettel said: "Obviously it's a great opportunity for him and he's been in the junior programme for the team for a long time so it's good to see that there's progression.
"Everyone is different, so for sure there are going to be some different dynamics and so on. He's a good kid and I hope he integrates well, but I'm sure everyone's willing to help."
Vettel's Formula 1 team-mates
| Years | Driver | Team |
| --- | --- | --- |
| 2007 | Nick Heidfeld (1 race) | BMW |
| 2007 | Tonio Liuzzi | Toro Rosso |
| 2008 | Sebastien Bourdais | Toro Rosso |
| 2009-2013 | Mark Webber | Red Bull |
| 2014 | Daniel Ricciardo | Red Bull |
| 2015-2018 | Kimi Raikkonen | Ferrari |
| 2019 | Charles Leclerc | Ferrari |
But Vettel did admit some sadness at the fact that his four years alongside Raikkonen were ending.
Asked if the Finn had been his best F1 team-mate to date, Vettel replied: "Yeah, absolutely. One thing you can express in numbers and results, but that's not the most important thing. The most important thing if you are team-mates is the respect you have for each other.
"Probably the degree of bull**** going on between each other and with Kimi it's been zero from the start and I don't think it won't change until the end.
"It's a great chance for Charles, but also it's sad to know that Kimi is not there anymore because we get along very well even though we are different and have this mutual respect for each other."