Formula 1 Reporter & Columnist
Rachel's Diary: Singapore
Sky F1's Rachel Brookes looks back at an eventful week in Singapore and uncovering new sights...
Last Updated: 24/09/18 11:47am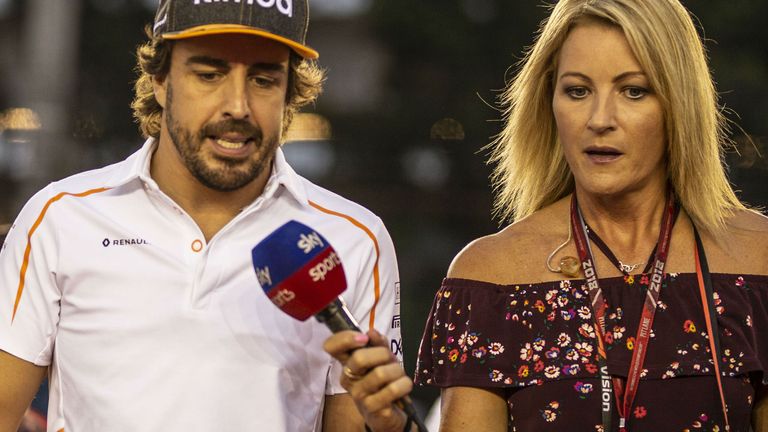 I flew into a Singapore a day before the rest of the team so that I could film some of the best places to visit for a feature on Saturday's pre-qualifying show. I had been liaising with the producer for a couple of weeks beforehand as we looked up some of the best tourist spots and unusual things to do.
We can get quite complacent after a while as we have been to some venues so many times we assume we have seen everything before but that is very rarely the case and after a little digging I found a whole area of Singapore I had never heard of. Our first location was Little India. We usually focus so much on the nighttime at this race that we miss a lot of the culture and experiences of the city. I'd seen pictures on the internet and read travel blogs and was expecting a very colourful street full of painted houses and stunning architecture.
The architecture was there but the paint was faded and the most stunning building was blocked from view by a rubbish truck. Undeterred we crossed the street and down a side road found a vibrant pedestrian street that wouldn't have looked out of place in the middle of Mumbai. There were stalls on either side selling beautiful flower garlands, tubs of spices, fresh fruit and vegetables and even a man offering to make our producer "a wonderful suit in 24 hours". To my left was a man chopping Bamboo with a cleaver and to my right boxes and boxes of fresh coconuts.
After that we headed to Orchard Road. Known as Asia's most famous shopping street, it is full of Mega Malls and every designer name you can think of. Unfortunately there was no time for me to shop, I just had to record a piece to camera and duck into McDonalds to use the bathroom while the cameraman got more generic shots. It's amazing how long even the simplest of shots can take to get, especially when having to time your delivery of lines to the 20 secs without traffic driving behind you.
Next we went to Chinatown. Most major cities have their own versions of Chinatown but the temples in Singapore are huge and breathtaking to look at. Lanterns criss-crossed above our heads and every shop was selling the lucky waving cats Ant and I bought in China earlier in the year.
As night fell we headed to the Gardens by the Bay - a nature park spanning 101 hectares of reclaimed land. In total the finished venue cost over a billion dollars but it is spectacular and Supertree Grove with its enormous illuminated trees is stunning.
From there we headed to Singapore zoo to go to the Night Safari, the world's first nocturnal zoo. I wasn't convinced we would see much and especially under the cover of darkness but all the animals were out and you are just feet from them as you travel around. We were only allowed to put our camera lights on at certain points so as not to upset the animals. It's funny how unimportant recording a link to camera becomes when you realise you could antagonise a White Lion or a Black bear by doing so!
After that we headed to the waterfront by the Marina Bay Sands for their laser show projected onto water fountains in front of the hotel. It was our last bit of filming and then we headed back to our own hotel to find the rest of the team had arrived and were hungry for dinner. It was midnight by now but as we try to stay on European time during this race week, it was actually only 5pm.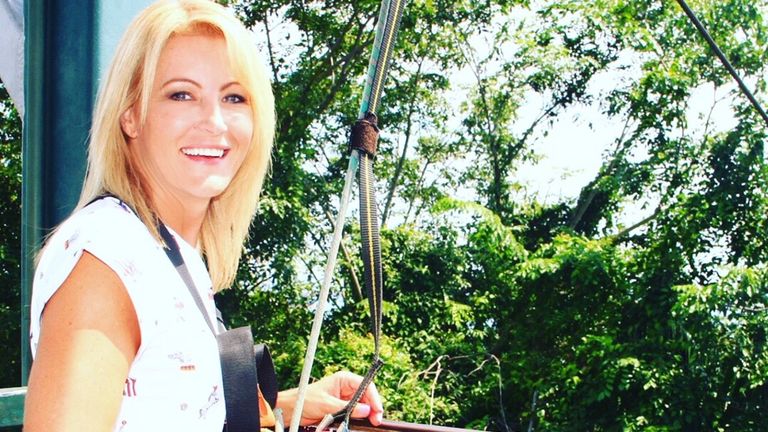 The next day was Thursday and our first day at the track but before that Johnny and I had to head to Sentosa beach to do one last bit of filming. There they had a bungee jump, a freefall and a Megazip zipline. We had chosen the zipline, which was 480 m long and took you from the treetops all the way down onto the beach. I loved the idea and wasn't worried at all until I had the harness on and was told to step through the gate and just sit, suspended in the air. At that point I was definitely a little nervous! Johnny, of course, wasn't, and started to mess around immediately - asking if he could go backwards or better still upside down. As you will have seen from the F1 show he did just that and although I did let go and enjoy the ride, I didn't have the absolute faith in the machinery that Johnny had. He said to me afterwards he finds it odd that people have fear over things like that, he genuinely doesn't have that gene. I imagine to drive in F1 you can't afford to have it.
Once we had finished filming it was off to the track and back to the normal race weekend routine. On a Thursday now though we do our "Welcome to the Weekend show". It's designed to round up all the news since we were last at a track and include driver interviews from that day as well as let you know what we will be talking about over the weekend to come. Crofty produces five water bottles to show the amount of sweat a driver loses during the race, 3kg, and it's something everyone can relate to in the paddock. It didn't actually feel as hot and humid this year as in previous years but it still felt like walking into a sauna every time I walked out of an air conditioned building into the 'not so fresh' air. It's a packed show but good fun and flies by.
On Friday I spend the practice sessions patrolling the paddock trying to find relevant people to talk to and stories to add to the programme. Unfortunately most people hide in air-conditioned offices and units at this race to get out of the high temperatures and very high humidity so it proves to be a challenge. After we finish we all head to about the only place still open and serving food at midnight, Newton Circus. It's officially called a "Food Centre" but is basically a lot of picnic tables in the centre of a large ring of food stalls - but the stalls are all tiny shop units. I am amazed how they produce food in such a small place and they are only manned by one or two people but the food is delicious and the fruit juices are the best you will find. Freshly squeezed mango juice actually isn't as sweet as you might think but it is way more refreshing than anything bought in a shop.
Saturday is a busy day that finishes with the F1 show and our guests were Pierre Gasly and Brendon Hartley. They came on the show in Bahrain and were good fun so I was looking forward to having them back. Pierre is a great character and very funny and I hope he stays that way once he moves up to the Red Bull team. They encouraged Daniel's personality so I have no doubt they will do the same for Pierre. It's a really difficult time for Brendon but despite all the speculation about his future he joined in and was a good sport. I can't imagine how tough it is to carry on as normal and keep trying to put performances in when the rest of the paddock is talking about your possible replacement next year.
We filmed the show on the roof of the paddock club and it was a real privilege. If you watch the race you will know what I mean when I say the big letters that spell out 'Singapore' on the pit building on the start finish straight. Well, we were sitting on the roof by the letters S I and N, which I discovered were in fact inflatable letters. We had the Singapore skyline as a backdrop and a very welcome gentle breeze.
After the show we went for a team dinner at a restaurant in one of the hotels. As I mentioned before it's hard to find places to eat by the time we finish work and the table had been booked for 1130, but those of us involved in the show didn't get there until midnight. Luckily the chef stayed on for us and we had what was my only full evening meal of the week finishing at 1.30am!
On Sunday there was a real sense of excitement in the air. There usually is in Singapore, I assume because it's a night race, and everything looks that little bit more spectacular. But it was more than that. We had all arrived in Singapore expecting Ferrari to be on top and Red Bull putting up a good fight but Mercedes maybe having to accept an exercise in damage limitation. However, an incredible lap from Lewis Hamilton threw all that up in the air, and an equally impressive, if not more so when you include how much they are down on horsepower on the straights, lap from Max Verstappen.
Some post-qualifying analysis suggested Max could have been even closer if not matched Lewis had he not had his engine issue in his flying lap. All of that meant that the tension on Sunday was palpable. Where were Ferrari? Could Red Bull's great race pace on Friday provide them with their 4th win of the season? Had Mercedes finally got on top of their Singapore hoodoo?
As it turned out, it was the latter and Lewis opened up a 40 point lead. But more telling for me was the look in Sebastian Vettel eyes post race.
Seb will always fight even after it's no longer mathematically possible to win the title, but I got the feeling that he thinks the team don't have an answer for Mercedes and that his fifth title is slipping away at an alarming rate. He admitted they maybe could have done more on Saturday that would have put them in a better position on Sunday and it will be interesting to see how they react in Russia. He knows though, that he and the team can not afford any mistakes at all if he is to stay in the hunt as the momentum has firmly swung towards Lewis and Mercedes.
As we walked home on Sunday night the track was being dismantled in preparation for the reopening of the roads. The poles used to hold up the catch fence had been lifted out and they were filling in the holes with tarmac as the Singapore Grand Prix already became a memory.
See you in Sochi
RB