Mercedes explain Lewis Hamilton-Valtteri Bottas switch reasons
"I'd rather be the baddie today than the idiot at the end of the year," says Mercedes boss as he defends and explains driver switch
By James Galloway in Sochi
Last Updated: 04/12/18 5:31pm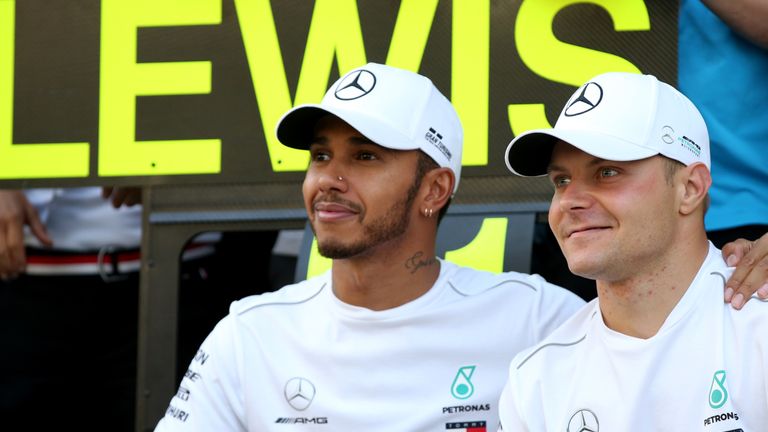 Mercedes have explained why they used team orders so that Lewis Hamilton won the Russian GP ahead of Valtteri Bottas.
The contentious switch of position in Sunday's race, which saw Bottas cede the lead to title-leading team-mate Hamilton, was ultimately a "rational" call according to Toto Wolff.
Hamilton: Victory doesn't feel great
Hamilton wins to close on title
However, the Mercedes team principal insisted it was not pre-determined as "we felt we needed to let them race" after Bottas claimed pole and that the Finn would have won had they not felt Hamilton was vulnerable to Sebastian Vettel.
"The race panned out differently to what we expected and discussed [on Sunday morning]," explained Wolff, who had said on Saturday evening that Mercedes faced a "tricky" call over tactics.
"We spent a lot of time discussing the various scenarios and the one that actually happened was slipstreaming each other [at the start], we thought that could happen.
"But then we got tangled up in the way we called the pit stops. We did the right thing in calling Valtteri in first, that protected his position, but we were on lap too late with Lewis.
"I take it on me because I was engaging with James [Vowles, Mercedes' chief strategist] in a conversation when he should have made the call. We came in a lap too late and lost the position.
"Lewis had to fight hard to overtake Sebastian, which was really an awesome move, but blistered the tyres. Then we were a situation where Valtteri in front was managing the tyres, Lewis behind with a blistered rear, and Sebastian all over Lewis."
That left Mercedes concerned that, with Bottas unable to go faster, Hamilton would eventually lose second place again - and therefore shed crucial points to Vettel in the championship
"At that stage there was two possible outcomes," added Wolff. "The best case would have been it stays like it is and we finish second with Lewis and win with Valtteri.
"The worst case was that the blister wouldn't last until the end and Lewis would have been overtaken by Sebastian in order to manage his tyres. This is why having Valtteri in between was the call we made.
"Rationally it was the right call to do. Our sporting heart says no."
'Baddie' Wolff stands by call
Although team orders are legal in Formula 1, they are little-loved among fans and drivers with Wolff himself loathed to implement them at his team.
However, pragmatism ultimately won out at Mercedes on Sunday amid the closing stages of what has been an intense title fight with Ferrari.
Wolff admitted he would rather be the Sochi "baddie" than the end-of-season "idiot" if Hamilton lost the championship by seven points or less, the difference between first and second place in a grand prix.
"Somebody needs to be the baddie sometimes and it's me today," he said.
"You need to weigh it up. What do I hope for? To be the baddie on Sunday evening for many right reasons or do I want to be the idiot in Abu Dhabi at the end of the season? I'd rather be the baddie today than the idiot at the end of the year."
It was for that reason that Mercedes did not switch their cars back on the final laps, despite Bottas asking over the radio whether that might happen.
"We did it in Hungary last year, but we are five races until the end and it is about seven points up and down," he said.
"As much as it is difficult to make such a call, somebody has to do it and this is why we didn't think about switching back any more."
With previous examples of teams using orders to prioritise a championship-chasing driver gaining notoriety - notably Ferrari with Schumacher and Barrichello in 2002 - Wolff said he was fully aware of the potential backlash.
"I spent half the night yesterday thinking about the situation and thinking about Austria in 2002 and the implication for the brand," he said. "It's a super-tough call to make."
Wolff added: "[Bottas] understands that, but it is hard. In the same way that in my heart and Lewis' heart and all of our hearts, it just doesn't feel right that he didn't win the race because he was the guy on track who was in the lead.
"At the end, if five points or three points are missing, then you are the biggest idiot on the planet by prioritising Valtteri's single race result over the championship."
Hamilton now leads the standings by 50 points - the equivalent of two race wins - with 125 points still up for grabs over the season's concluding five rounds, starting with this week's Japanese GP at Suzuka.