Japanese GP, Practice Two: Lewis Hamilton enjoys 'best day'
By Matt Morlidge
Last Updated: 04/12/18 5:14pm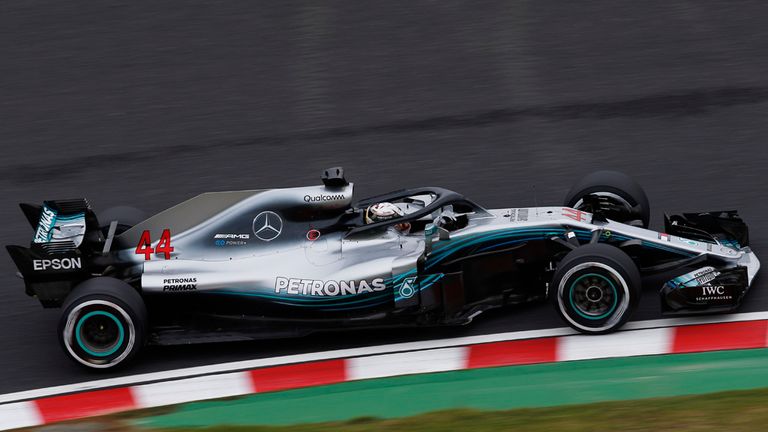 Lewis Hamilton has made the perfect start to his Japanese GP weekend by doubling up in Friday practice, with Mercedes dominating Ferrari once again in the second session.
Hamilton led another Mercedes one-two in Practice Two and posted the fastest Suzuka lap of the weekend after bolting on the supersoft tyres, finishing four tenths ahead of Valtteri Bottas again.
"This track is awesome. I'm having the best day!" giggled Hamilton after completing his flying laps.
But while Sebastian Vettel, 50 points behind Hamilton in the championship, cut Ferrari's deficit to Mercedes slightly from the early morning session, he was still 0.833s behind his rival's impressive 1:28.217.
Ferrari are believed to have been running their engines in 'conservative mode' on Friday, but the huge gap will still be worrying as they look to revitalise a title charge which has faded since the summer break.
"Mercedes are just dominant again - Ferrari really need to get their stuff together," noted Sky F1's Paul di Resta.
"They may come and surprise us tomorrow but you've got to look at what Hamilton's doing. The gap to Bottas is huge and he's on top form."
Kimi Raikkonen was fifth for the Scuderia, sandwiching the Red Bulls, who dropped off the pace in P2.
Max Verstappen was their lead car but more than a second off Hamilton's benchmark, with Daniel Ricciardo a further two tenths behind in sixth.
"It's like rallycross, drifting everywhere," said Verstappen as he struggled for balance in his RB14.
Esteban Ocon and Romain Grosjean shone again to lead the midfield, though the Force India driver was half a second clear of his French compatriot in seventh.
Sauber appear to be in the running for Q3 again with Marcus Ericsson up in ninth, while there were problems at Toro Rosso, who are debuting Honda's much-vaunted 'spec three' engine this weekend.
Though Brendon Hartley completed the top-10 for the Red Bull junior team, Pierre Gasly was stuck in the garage for much of the session after suffering a fuel issue.
He eventually finished 13th, but there will be reliability concerns from his team who are expecting a major boost at Honda's home race.
McLaren and Williams, former mainstays at the front of the grid, locked out the bottom four positions, with Stoffel Vandoorne more than a second adrift of his team-mate Fernando Alonso.
The Belgian, set to leave F1 at the end of the season, propped up the timesheets.
Japanese GP Practice Two Timesheet
| | | |
| --- | --- | --- |
| Driver | Team | Time |
| 1) Lewis Hamilton | Mercedes | 1:28.217 |
| 2) Valtteri Bottas | Mercedes | +0.461 |
| 3) Sebastian Vettel | Ferrari | +0.833 |
| 4) Max Verstappen | Red Bull | +1.040 |
| 5) Kimi Raikkonen | Ferrari | +1.281 |
| 6) Daniel Ricciardo | Red Bull | +1.296 |
| 7) Esteban Ocon | Force India | +1.818 |
| 8) Romain Grosjean | Haas | +2.223 |
| 9) Marcus Ericsson | Sauber | +2.261 |
| 10) Brendon Hartley | Toro Rosso | +2.285 |
| 11) Sergio Perez | Force India | +2.293 |
| 12) Nico Hulkenberg | Renault | +2.427 |
| 13) Pierre Gasly | Toro Rosso | +2.578 |
| 14) Carlos Sainz | Renault | +2.687 |
| 15) Charles Leclerc | Sauber | +2.689 |
| 16) Kevin Magnussen | Haas | +2.739 |
| 17) Fernando Alonso | McLaren | +2.771 |
| 18) Sergey Sirotkin | Williams | +2.870 |
| 19) Lance Stroll | Williams | +2.998 |
| 20) Stoffel Vandoorne | McLaren | +3.764 |