Japanese GP: Lewis Hamilton on pole after disastrous Ferrari error
Ferrari and Vettel make critical mistakes; Hamilton on front-row with Bottas
Last Updated: 04/12/18 5:07pm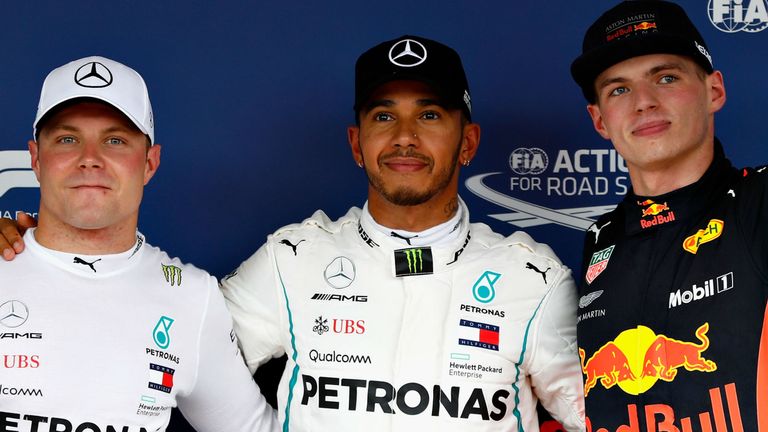 Lewis Hamilton will start the Japanese GP on pole position with title rival Sebastian Vettel only eighth after a disastrous qualifying for Ferrari.
Ferrari elected for the wrong tyres in changeable conditions at the start of the top-10 shootout.
Vettel, along with team-mate Raikkonen, then ran off track as Ferrari's day unravelled in spectacular fashion.
Full story: Qualifying disaster for Vettel and Ferrari
Vettel's starting position will be his lowest of the season to date as a season which promised so much in mid-summer continues to ebb away into a winter of discontent
"This is not the position we deserve to be in," a stern-faced Vettel told Sky F1 afterwards.
Vettel and Raikkonen were the only drivers to start Q3 on the intermediate tyres. Vettel had barely left the garage before he informed the team they had made a mistake, but the German then made a critical error of his own, slithering wide at the Spoon corner, after belatedly bolting on slick tyres.
"The Ferraris pulled out of the garage on the inters and I honestly didn't think it was the right decision," said Hamilton.
Vettel, unable to complete a second flying lap due to rain, finished the session ninth in the timesheets but will start the race - underway at 6.10am on Sky Sports F1 - from eighth after Esteban Ocon was demoted for driving too quickly during a red-flag stoppage.
Hamilton, who leads the world championship by 50 points with five races remaining, will be joined on the front-row by Mercedes team-mate Valtteri Bottas for Sunday's race.
Critically, Hamilton stole a march on Bottas through their first Q3 runs, with neither Mercedes driver able to improve on their second flying laps as drizzle descended on Suzuka.
"The call to go out for Q3 was the most difficult call and the team were just spot-on with it and gave us the opportunity to grab this pole position," said Hamilton as he celebrated his 80th F1 pole position.
Hamilton added: "It is so difficult out there to make the right call. I think that's another big difference that we as a team have made this year.
"Everyone has smart people but when it comes to being under pressure, and making the right decisions and right calls, that is why we are the best team in the world."
Max Verstappen was third for Red Bull on a bittersweet day for the former world champions after Daniel Ricciardo was hit by another apparent malfunction on his Renault engine.
Verstappen was asked after the session whether he would dare to battle to Hamilton given the state of the championship fight.
"Is it even a battle anymore?" the Dutchman shot back pointedly.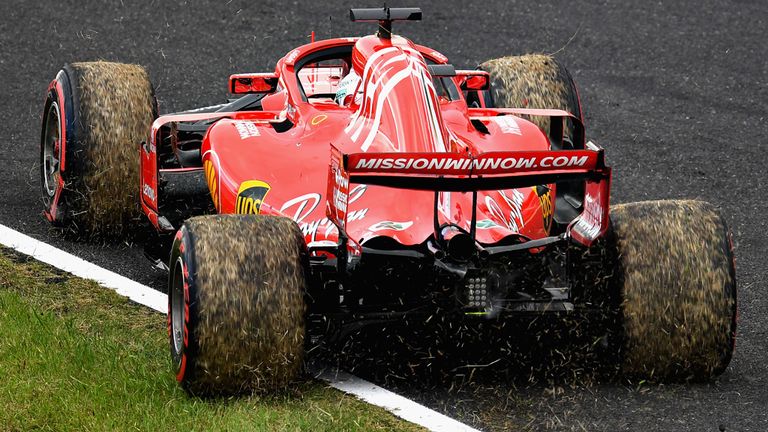 How Ferrari's disastrous day unfolded...
* The rain starts falling at the end of Q2, which Vettel finished just three tenths behind Mercedes
* Ferrari make an early decision to send Vettel and Kimi Raikkonen out on intermediate tyres at the start of Q3, while Mercedes wait a bit longer and opt for supersofts for Hamilton and Valtteri Bottas
* "It is dry," said Vettel as he immediately reports that the intermediates are the wrong tyre. "I knew it."
* Ferrari bring Vettel and Raikkonen back in for slick tyres after just one lap. Hamilton, meanwhile, posts the fastest lap of the weekend to seal provisional pole for Mercedes, three tenths ahead of Bottas.
* The conditions worsen again as soon as Ferrari finally start their flying laps on the supersoft tyres.
* Vettel makes a mistake through Spoon and runs off track, finishing his lap in ninth and more than four seconds behind Hamilton. Raikkonen goes fourth, with Max Verstappen third for Red Bull.
* Vettel stays out on track in the hope of getting a competitive lap on the board, but the rain starts lashing it down. Qualifying effectively ends there...
New lows for Ricciardo and McLaren
Only McLaren and Ricciardo rivalled Ferrari's disappointment at the conclusion of an absorbing qualifying hour which featured a high-speed crash for Marcus Ericsson and considerable encouragement for Toro Rosso-Honda at the Japanese engine manufacturer's home event.
Fighting to retain his seat for next season, Brendon Hartley recorded his best result of the season as he took sixth on the grid, a place ahead of team-mate Pierre Gasly, with both Toro Rosso drivers boosted by the introduction of Honda's 'spec three' engine.
But Honda's improvement will have added to the pain at McLaren as F1's fallen superpowers slumped to a new low. But for Ericsson's crash in Q1, Fernando Alonso and Stoffel Vandoorne would have finished flat-last at Suzuka, with McLaren indisputably the slowest team in qualifying.
Ricciardo's misery was even more palpable as the Australian howled with rage and frustration after his Renault engine lost power at the start of Q2. The Australian, who is switching to the Renault works outfit next year, has been out-qualified by Verstappen in each of the 11 events and failed to reach Q3 in five of the last seven.