Lewis Hamilton crowned 2018 Formula 1 world champion
Mercedes driver wins the title for a fifth time; Only Michael Schumacher has won more titles in F1 history
Last Updated: 04/12/18 2:54pm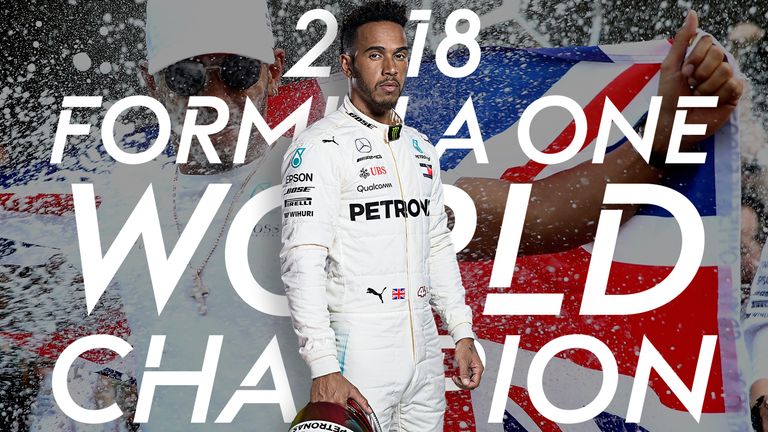 Lewis Hamilton has become Formula 1 world champion for the fifth time to cement his place among the sport's all-time legends.
Hamilton wrapped up the 2018 crown with fourth place at the Mexican GP.
Mexican GP: Verstappen wins race, Hamilton wins title
Hamilton is just the third driver in history to win five or more Drivers' Championships after Juan Manuel Fangio, the 1950s great, and Michael Schumacher.
Only Schumacher, with seven titles, has now won more F1 championships than Hamilton.
Most F1 world titles
| | |
| --- | --- |
| Driver | Number of championships |
| Michael Schumacher | 7 |
| Juan Manuel Fangio | 5 |
| Lewis Hamilton | 5 |
| Alain Prost | 4 |
| Sebastian Vettel | 4 |
All of Hamilton's 2018 results
"It's a very strange feeling right now. It wasn't won here, it was won through a lot of hard work through many races," said Hamilton.
"I've been with Mercedes since I was 13 so to complete this - Fangio had done it with Mercedes - it's an incredible feeling and very surreal at the moment."
Mercedes boss Toto Wolff said: "Usually, we don't acknowledge greatness until someone's career is over, but we need to take a moment to recognise its presence - Lewis has now equalled Fangio's record and there aren't many like him out there!"
At 33 years of age and in his 12th season of F1, Hamilton is at the same stage of his career as Schumacher was when the German great clinched his fifth crown in 2002.
Hamilton savours title 'dream'
Classy Vettel congratulates Hamilton
Fangio, who won five of the first eight F1 championships after the series was launched in 1950, was 46 years old when he won his fifth and final title in 1957.
Fifth world titles compared
| | | | |
| --- | --- | --- | --- |
| | Year won fifth title | Seasons to fifth title | Age at fifth title |
| Fangio | 1957 | 7 | 46 |
| Schumacher | 2002 | 12 | 33 |
| Hamilton | 2018 | 12 | 33 |
Title rival Sebastian Vettel was among the first to congratulate Hamilton on his triumph before applauding the Englishman's achievement.
"He drove superb all year and was the better one of us two," said Vettel. "Number five is something incredible. I asked him to keep pushing for next year and be at his best to fight him again."
Hamilton reflects on record-breaking championship
An emotional Hamilton told Sky F1: "I just feel very humbled by the whole experience. It's hard to realise it at the moment, it's something that I dreamed of - but never in a million years did I think I would be standing here today as a five-time world champion. I never knew that was going to happen.
"It's definitely my best year. And that's the goal. When I won the championship last year, I was like, 'how am I going to improve? How can I be fitter? How can I be more focused? How can I be a better all-round driver?'."
Sky Sports F1 is the only place to watch every Formula 1 Grand Prix, qualifying and practice session live in 2018. Get Sky Sports F1.