Esteban Ocon would be open to short-term 2019 Williams deal
Ocon says one-year Williams deal would appeal
By James Galloway in Austin
Last Updated: 04/12/18 4:29pm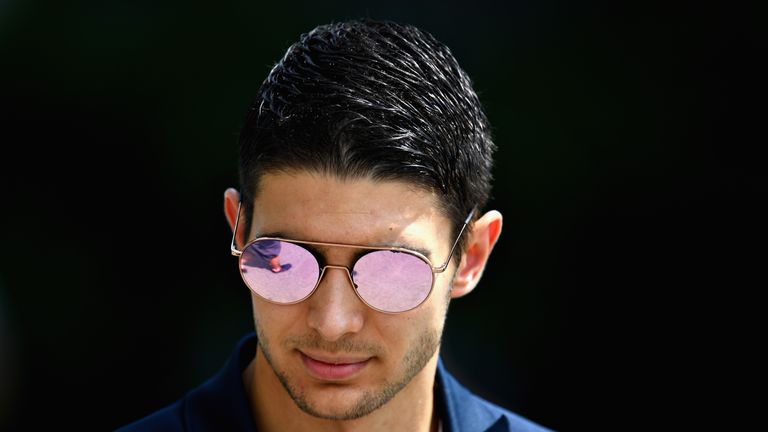 Esteban Ocon says talks continue over securing a possible 2019 F1 lifeline next to fellow Mercedes junior George Russell at Williams - but says only a short-term deal would suit him.
Williams confirmed to Sky Sports last week that Ocon is on a "short short list" for the team's second seat, with Claire Williams also telling reporters in the Austin paddock that they would be open to a one-year deal with the highly-rated Frenchman.
"There is still a second seat in Williams, there are still talks, so we will see where that goes," said Ocon.
Ocon was among the first to congratulate British rising star Russell on Twitter after the 20-year-old last week secured the first F1 seat of his career on a 'multi-year' deal from 2019.
Ocon is the more senior driver in Mercedes' stable, with nearly 50 grands prix under his belt, but insists he never saw himself as effectively rivalling Russell for the one Williams seat.
"It's good to see that George is promoted," said Ocon. "He's also part of the Mercedes junior programme and he's signed for multiple years. That was not our intention to sign for those many years.
"But congratulations to George. I meant what I said. He's in a different way of his career than I am and it was not at all 'stealing' my spot. That was not the way it happened."
Ocon added: "If Williams wants me it's fantastic news, if they don't, they don't."
Williams have slumped to the foot of the Constructors' Championship this year and a move for Ocon from Force India to Grove could be viewed as a backwards career move.
However, the Frenchman believes Williams won't be struggling to that extent for long.
"Next year the rules are changing," said Ocon. "There is a new front wing, a new aero package, and it's going to be different.
"The year Williams had is not the one they deserve and the one they have really shown in the past. Last year they were fighting hard with us, quicker in the first half of the season before we were quicker at the end, but I remember them being quick and competitive. I don't think that [their struggle] will last very long."
While Ocon's immediate F1 future beyond the end of this season is uncertain, the Frenchman remains optimistic that 2020 will offer wider opportunities.
"There are always risks in life and we have to see how everything turns out," he said. "But we see good opportunities in 2020 and hopefully that will be a bright future for me. But it was not our plan to sign multiple years with anyone really."