Abu Dhabi GP: Robert Kubica on his 'impossible' F1 comeback
2019 Williams race driver reflects on his fairytale comeback and says he is "not afraid" of making return after eight-year absence
By James Galloway in Abu Dhabi
Last Updated: 14/02/19 3:49pm
Robert Kubica believes his stunning comeback to an F1 race seat shows "nothing is impossible" and says he has no qualms about the work ahead to re-establish himself as a leading light.
Kubica will return after Williams promoted him from his reserve role to a race seat in 2019 as team-mate to George Russell. He has described his full-time return as "one of the biggest achievements of my life".
Williams' announcement in Abu Dhabi, the venue of Kubica's most recent F1 race in November 2010, completes a remarkable sporting story for a driver whose career at the top level had appeared over when he sustained severe arm and hand injuries in a rallying accident eight years ago.
"It's a story which probably nobody has believed and the only one who didn't give up was probably me - and people who are around me," said Kubica.
Kubica returns with Williams
Abu Dhabi GP TV times and ways to watch
"We all knew it might be something not achievable but this day shows that somehow nothing is impossible.
"From a driving point of view, it's very simple - you just have to wait a couple of months to see. If I wasn't able to drive competitively enough I would not be here. It's a normal way of thinking that people see my limitations and they are asking, can I do it? I know it's hard to believe, but Williams have seen it this year, and I have seen it in the last 18 months, that I can do it."
The Pole added: "My limitations are not limiting me like most people are thinking."
Before his accident in February 2011, Kubica was already a regular F1 podium finisher and widely regarded as a future world champion, with a Ferrari seat since understood to have been lined up from 2012.
"I know what it takes to be a top F1 driver so I'm not scared of it," insisted the 33-year-old. "I know it requires a lot of work and dedication and I'm ready for it. I'm not afraid of [the fact] that I've been away eight years. If I do my job well I'm sure everyone will be happy."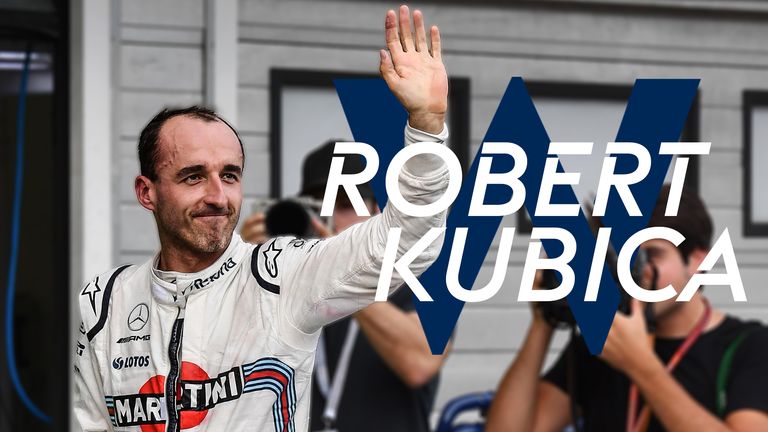 Why 2018 'on the bench' has been invaluable for Kubica
Kubica publicly hit the F1 comeback trail in June 2017 when he tested an old Renault car in Valencia, before turning his attentions to a race seat at Williams for 2018 with several tests for the team. He effectively went head-to-head with Sergey Sirotkin at last year's post-season test in Abu Dhabi but was outpaced by the Russian, who landed the drive instead.
"Last year we were probably quite close but it didn't work out," reflected Kubica.
"Many people saw it as a 'lose' from my side but, honestly, this year has been very useful for myself with having the opportunity to work with the team and having the opportunity to drive the car. Everybody remembers me from the old days but when I joined the team and came here [Abu Dhabi] for the test it was only the second time I had driven the new-generation F1 cars, so this gave me the opportunity to understand the cars and understand from a different perspective how the team works.
"I have been an active part of the team this year, I haven't been racing, so it gave me a lot of time to see different things.
"It's been very useful, maybe not from a driving perspective, but what it takes, how it works and what we can do better. We've had a difficult season but I'm ready to work with the team and George to get the team back where it should be."
What do Williams expect from Kubica?
Claire Williams has hailed 2019 as a "new start for Williams" after a desperate campaign this year.
The nine-time constructors' champions are set to finish bottom of the teams' standings but are expecting Kubica to play a key role in their attempted revival next year.
"It's been quite a challenging year for everyone and we're going to end this year in last place in the championship, which is something we certainly weren't hoping for or expecting," said Williams. "We have had to do some thorough analysis of what's gone on with the team this year.
"Robert has played an instrumental part of helping drive development of the FW41 and he's going to be a big part of the development of the FW42. He's got an extraordinary understanding of engineering and he's a real pusher as well. He helps drive the engineers in what they are doing.
"He pushes me - he talks to me at two in the morning in airport lounges about what's gone wrong and what we need to be doing. We really need a driver pairing that's going to deliver that for us next year."
Williams' new line-up blends the famous mix of experience and youth and Kubica said of his 2019 team-mate: "I'm very happy to be partnering with George. We met already a few times during previous grands prix. He's very young but very talented, if not the biggest talented we have coming into F1."
Kubica's return excites the F1 paddock
Lewis Hamilton: "He was always one of the most talented drivers l had the pleasure of racing against. It's exciting for the sport to see him back."
Fernando Alonso: "He is one of the great talents that the sport has. It remains to be seen what the performance of the car will be but if he is at 100 per cent he will be amazing."
George Russell: "I'm extremely excited to be his team-mate. He is extremely intelligent, has great experience and I think he will be a great addition to the team."
Romain Grosjean: "Great news. Very happy for Robert and very well deserved."
Sky F1's Abu Dhabi GP schedule
Friday, November 23
8.45am: Abu Dhabi GP Practice One build-up LIVE!
9am: ABU DHABI GP PRACTICE ONE LIVE!
12.45pm: Abu Dhabi GP Practice Two build-up LIVE!
1pm: ABU DHABI GP PRACTICE TWO LIVE!
Saturday, November 24
9.45am: Abu Dhabi GP Practice Three build-up LIVE!
10am: ABU DHABI GP PRACTICE THREE LIVE!
12pm: Abu Dhabi GP Qualifying build-up LIVE!
1pm: ABU DHABI GP QUALIFYING LIVE!
Sunday, November 25
11.30am: Pit Lane LIVE!
12.30pm: On The Grid LIVE!
1.10pm: THE ABU DHABI GP LIVE!
Sky Sports F1 is the only place to watch every Formula 1 Grand Prix, qualifying and practice session live in 2018. Get Sky Sports F1.
Comment below to get involved in the debate, but please adhere to our House Rules. If you wish to report any comment, simply click on the down arrow next to the offending comment and click 'Report'.