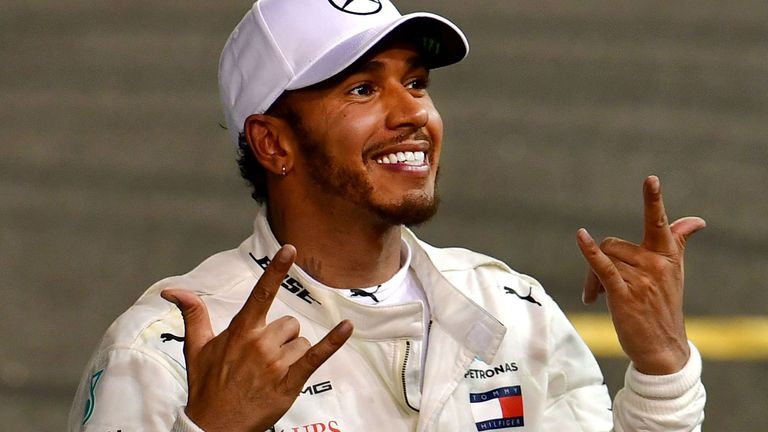 Lewis Hamilton set a new record in F1 after winning the season-ending Abu Dhabi GP, becoming the first driver to score over 400 points in a single campaign.
The final F1 2018 championship standings
Hamilton's win, inflating his points tally to 408, was his 11th of the season and he ended the year 88 points clear of Ferrari rival Sebastian Vettel, his closest challenger to the title, in the standings.
Despite not finishing in Abu Dhabi, Kimi Raikkonen held on to third in the world championship by just two points from Red Bull's Max Verstappen and Mercedes' Valtteri Bottas.
Nico Hulkenberg finished the year as the 'best of the rest' in seventh behind the drivers of Red Bull, Mercedes and Ferrari.
In another F1 record, every driver who raced during the season scored at least one point.
Full race result from Abu Dhabi
F1 in 2019: Schedule and driver line-ups
Find out more about Sky Sports F1
In the Constructors' Championship, Mercedes had already won their fifth successive title prior to arriving in Abu Dhabi.
They finished the year with 655 points compared to 571 for Ferrari and 419 for Red Bull.
Renault (122) were fourth ahead of Haas (93) and McLaren (62).
Despite losing all of their pre-summer break points after entering administration, Racing Point Force India finished seventh on 52 points, just ahead of Sauber (48).
Perhaps underlining the length of road Honda still have to travel, Toro Rosso scored 33 points.
Only Williams scored fewer, the Grove outfit only claiming seven points all term in the most disappointing year of their illustrious history.
Get the dedicated Sky Sports F1 channel - the exclusive home of all F1 next season - for £18 a month in HD with no contract. Get Sky Sports F1.