Sky Mobile: Watch Sky Sports F1 on your mobile without using your data
Sky Mobile customers with a Sky F1 subscription can now stream every practice, qualifying, and race of the 2019 F1 season on their phone without using any data with Sky Mobile's Watch feature
Last Updated: 01/04/19 4:54pm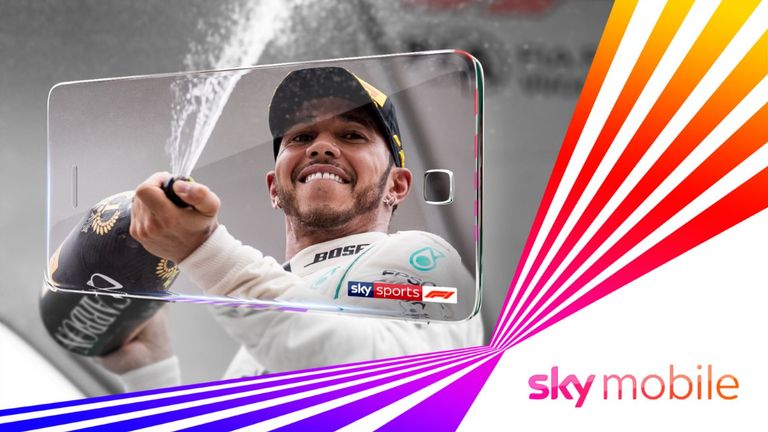 Sky Mobile customers with a Sky Sports F1 subscription can now stream every moment of the Formula 1 season wherever they are over a race weekend with Sky Mobile's new Watch feature, without using any of their data allowance.
With Sky Mobile's exciting new Watch feature, customers can stream everything from movies and TV shows to unmissable sports moments.
That means Sky Sports F1 subscribers with Sky Mobile can watch every race of the 2019 Formula 1 season live from Sky Sports F1, anywhere in the UK and the EU subject to network coverage, without using any data.
Unlimited streaming is also now available on Sky's range of apps, including Sky Go, Sky Kids, Sky Cinema, and of course Sky Sports.
Find out more about Sky Mobile
So whether they choose to stay in bed for the early start of the season-opening Australian GP this weekend, or simply want to catch every piece of the action when out and about, Sky Mobile customers won't miss a of moment of the 2019 Formula 1 season.
The new Watch feature builds on Sky Mobile's existing offering, where customers can download shows to their mobile to watch offline with Sky Go Extra. This is the first time viewers are able to stream wherever they are, on-the-go, without using their data allowance.
How to follow F1 in 2019
In 2019, Sky Sports F1 will be the home of live and exclusive Formula 1, covering every track session - race, qualifying and practice sessions - live.
And new and existing customers in the UK can become a Sky Sports F1 subscriber for just £18 extra a month.
How to get Sky Mobile
Customers can choose between a SIM-only plan, and get Watch on either a 1GB, 6GB, 8GB or 20GB plan with Unlimited Calls & Texts at no additional cost for £6, £12, £15, £25 a month respectively. Those who want a new phone from Sky can choose from a range of flagship handsets from Apple, Samsung, Sony, Huawei and more on Swap24 or Swap12 plans.
Find out more about Sky Mobile
Other Sky Mobile features
Watch is available on all Sky Mobile handset and SIMO plans, alongside the other great features of Sky Mobile; Roll, Mix and Swap.
Roll - unused data is automatically rolled into a customer's Sky Piggybank each month, so they get to keep it to use whenever they need it for up to three years
Mix - customers can change their data allowance, up or down, each month to match how much they use, without changing contracts
Swap - for those who always want the latest phone model, Swap12 allows customers to upgrade their phone every year without changing their contract. Or customers can opt for Swap24 and get Sky's lowest monthly price on their handset. For tablets, Swap36 gives customers Sky's lowest monthly price and the option to upgrade to a new tablet after three years, or those who want a tablet upgrade after two years can opt for Swap24
Sky Sports F1 is the home of live and exclusive F1. Find out more here to watch the 2019 season live