Ferrari confident of unlocking speed to become 'fair match' for Mercedes
Ferrari accept their are "limits" to their 2019 package but hopeful of unlocking performance; Team already 57 points behind Mercedes
By Matt Morlidge and James Galloway
Last Updated: 18/04/19 1:04pm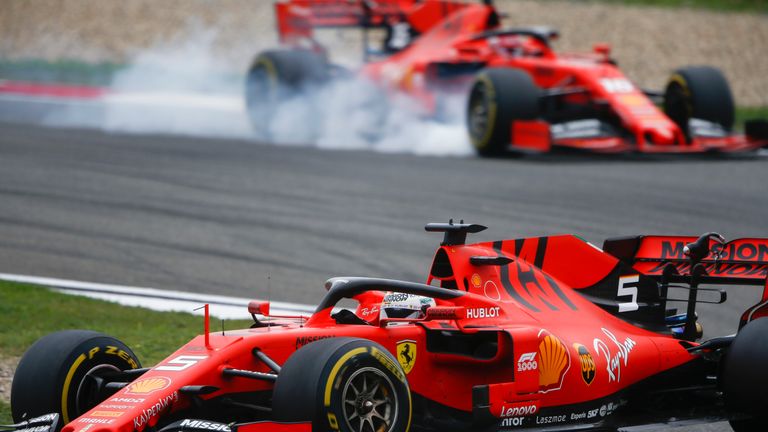 Ferrari are confident of catching up to early F1 2019 leaders Mercedes once they unlock their car's "very strong" potential.
Mercedes have enjoyed their best-ever start to an F1 season with three consecutive one-twos, but while that paints a dominant picture it also doesn't tell the whole story, with Ferrari well ahead in Bahrain before suffering unreliability and also quicker on the straights at the Chinese GP.
The problem is that Mercedes have been much faster through the corners.
Has F1 2019 revealed its true face?
Sky F1's Nico Rosberg claimed the Italian outfit have gone the "wrong way" aerodynamically, while Ferrari team boss Mattia Binotto even admitted: "We know where the limits of our car are and these limits may be emphasised in some circuits compared to others."
Next up is Baku - a circuit which Lewis Hamilton believes, with F1's longest straight, will suit Ferrari - and the team are focused on honing in on their car's strengths and eliminating the "weaknesses".
"I think we still have a good car and we're not able to unlock it completely," said Sebastian Vettel, who sits fourth in the championship for Ferrari.
"We're learning a lot, more than recent years in terms of what we're missing. It's good to get a lot of laps in a row to feel the car and hopefully soon we will be able to find what is causing, let's say the weakness at this stage, to catch up."
Vettel also admitted that Ferrari, so far, have not been a "fair match" for Mercedes.
"I think we can be very happy with where we are on the engine side," he continued. "It seems to be strong.
"I think overall our car is working and there's nothing wrong with it - but I think it's just about placing it in the right window and then being able to extract the performance that the car has.
"[The performance] seems to be there somewhere but at the moment seems to be a bit more difficult to find where it is, to be able to be a fair match to Mercedes at this point."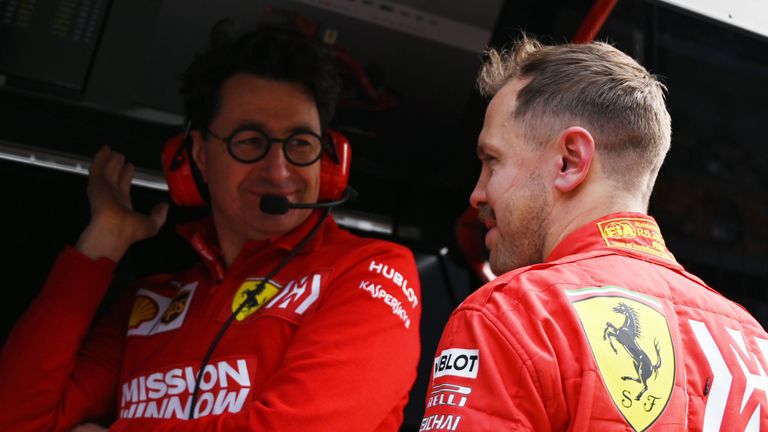 Ferrari: Next races critical
While Ferrari's strategy and purported early preference of Sebastian Vettel over Charles Leclerc has understandably dominated paddock chatter, the team themselves insist a bigger problem needs to be analysed and solved.
"Going back home the first priority will be to focus on the performance of the car," Binotto told reporters after the race in Shanghai. "I'm pretty sure if we got the performance which will keep us ahead of the others this issue will be sorted."
Ferrari expand on Vettel-Leclerc order
Can Ferrari find that performance, and if so, where? It's clear the next races will be crucial and could define their season and championship challenge.
"Obviously the three tracks we've been to now are quite different," said Vettel, who insisted Ferrari weren't "shocked" by Mercedes' early form.
"But I think we start to see a sort of pattern and understand what - especially throughout a grand prix distance - understand what we need, what I need, to really unlock this car.
"I think these couple of weeks and the next weeks will be very important for us to understand where we need to go in the next months."
Binotto added: "Australia was certainly an exception, where the difference was very high and very big. Otherwise, between Barcelona, Bahrain and China the difference was a few tenths, very few tenths, and that's what you may expect between two cars which are both very strong and very similar in some respects.
"The key will be to develop the car such that we are making it even stronger in the future."
The Azerbaijan GP takes place on April 26-28, with every session exclusively live on Sky Sports F1.
Sky Sports F1 is the home of live and exclusive F1. Find out more here to watch the 2019 season live