Lewis Hamilton, Valtteri Bottas focused on Spanish GP start battle
Mercedes pair agree first lap vital to destination of victory; Team confident of avoiding 2016-style driver clash; Race starts at 2.10pm
By James Galloway and Matt Morlidge in Barcelona
Last Updated: 12/05/19 1:40pm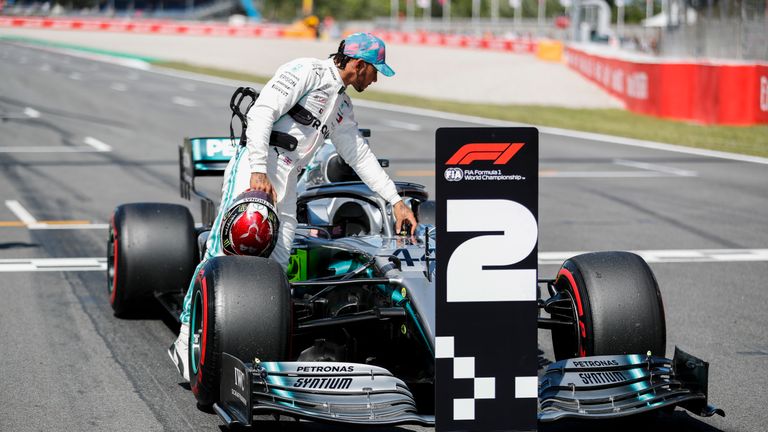 Lewis Hamilton believes the start of Sunday's Spanish GP could prove "decisive" as he bids to turn the tables on Valterri Bottas.
Meanwhile, Sebastian Vettel insists Ferrari should not be counted out of the reckoning yet despite their distant qualifying pace leaving them third and fifth on the grid.
For the third successive race it is Valtteri Bottas who heads an all-silver front row and both Mercedes drivers are expecting the long run to Barcelona's first corner to prove key in determining the outcome of the race.
"It really depends how you go into Turn One, how the starts go," Hamilton, who was out of sorts in qualifying, told Sky Sports F1.
"After that it's pretty straightforward here, it's a very hard track to overtake. So the start I guess will be decisive."
Bottas agreed: "There will be a good fight between me and Lewis. In terms of race pace it seemed identical [in Friday practice], so it's going to be very important at the start and Turn One."
The Spanish GP gets underway at 2.10pm on Sky Sports F1, with extensive build-up from 12.30pm.
Spanish GP Grid: Top Five
| | |
| --- | --- |
| 1. Valtteri Bottas | Mercedes |
| 2. Lewis Hamilton | Mercedes |
| 3. Sebastian Vettel | Ferrari |
| 4. Max Verstappen | Red Bull |
| 5. Charles Leclerc | Ferrari |
Mercedes expect Hamilton-Bottas respect
Although the Circuit de Catalunya has consistently been a happy hunting ground for Mercedes since the current engine era began, with four wins and a 100 per cent pole record, the team's management have uncomfortable memories of the 2016 event when Hamilton and then-team-mate Nico Rosberg collided on the first lap.
The build-up to this weekend's race has seen media focus placed on the emerging Hamilton-Bottas title rivalry but, while the pair will be reminded as usual of their responsibilities on the opening lap, Mercedes are not expecting 2016-style fireworks.
"Everyone knows Lap One is very important in Barcelona, it can be race decisive. But the two have been so respectful of each other, on and off track, that we are in a very different place than we were in 2016," Mercedes team principal Toto Wolff told reporters.
"We completely acknowledge that there is rivalry between the two of them and that rivalry will intensify as long as the championship goes, if it is between them, and this is just something we must address in a transparent way.
"Just like on any other given Sunday we will chat in the morning about scenarios and play a few videos. They know. Lewis has been there, and Valtteri has been always very open that he acknowledges the hard work from the team that's been going on and both of them have been really great in really respecting the immense effort that has been going into the team's work.
"Therefore it's very different to 2016."
Nonetheless, after losing out to Bottas in a duel into Turn One a fortnight ago in Baku, Hamilton had remarked he had been "too friendly" on that occasion and would not be so generous next time.
"That doesn't make us feel comfortable…" admitted Wolff.
A two-horse race…or can the Prancing Horse intervene?
The failure of Ferrari to challenge Mercedes so far at Barcelona has proved the weekend's other big talking point.
But asked if a Mercedes collision was his only hope of winning from third, Vettel replied: "I hope not. We hope to be closer in the race and put more pressure on. But if we have no chance maybe that is our best chance, I don't know."
Vettel added: "I'm happy to wake up [on Sunday] and happy to go racing. We'll get what we get. We know this track inside out, everybody does, but we never know what happens in the race. We need to be alert, clearly we are not the favourites by being slower today, but who knows what [the race] brings."
And Bottas isn't counting Ferrari out yet either.
"Our car does look very strong now - that's a fact. Also on the long run it looks good, but we don't go into the race thinking there will be no fight," warned the polesitter.
Sky F1's Race Day schedule
9am: The F1 Show on Sky One
10.20am: F2 Sprint Race LIVE!
12.30pm: Spanish GP Pit Lane LIVE!
1.30pm: Spanish GP On The Grid LIVE!
2.10pm: THE SPANISH GRAND PRIX LIVE!
4.30pm: Spanish GP Paddock LIVE!
5.15pm: Spanish GP full race replay
5.30pm: Spanish GP highlights on Sky One
8pm: Spanish GP highlights on Sky Sports Main Event
Sky Sports F1 is the home of live and exclusive F1 - and new and existing customers in the UK can now get the channel for just £10 extra a month. Find out more here to watch the 2019 season live