Spanish GP qualifying: Valtteri Bottas surprised by 'big' Lewis Hamilton gap
Bottas 0.6s ahead of Hamilton as pole streak continues; Ferrari fall flat; Watch Spanish GP at 2.10pm on Sky F1, build-up from 12.30pm
By Matt Morlidge in Barcelona and James Galloway
Last Updated: 11/05/19 8:25pm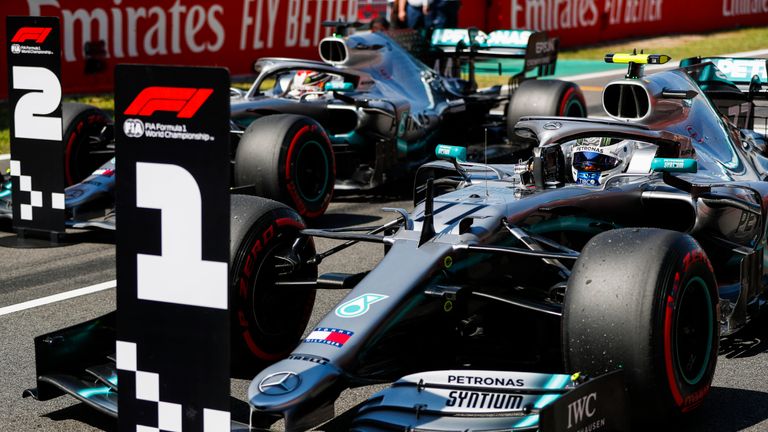 Mercedes have explained the battery issue on Lewis Hamilton's car during Spanish GP qualifying on a day the world champion conceded he "wasn't quick enough" to beat team-mate Valtteri Bottas.
In what turned out to be the decisive laps for the front of the grid at the very start of Q3, Hamilton made errors and ended up being blitzed by Bottas, who secured pole by six tenths of a second.
Button's Qualifying verdict
Bottas blows away Hamilton for pole
Can Verstappen beat Ferrari?
Hamilton has made no excuses for the gap, but Mercedes' Toto Wolff said later the world champion had still suffered a "bit of an unfortunate qualifying".
"He abandoned his final run in the second session due to a yellow flag at Turn 12, which meant the battery pack was not charged ready for the final session," explained Mercedes' Andrew Shovlin, the team's trackside engineering director.
"We therefore put him out on track first so he could manage his own out lap, but it meant we caught a number of the cars who left late. By the final run, it seemed that the track had lost a bit of pace and there was some gravel down so few cars were able to improve."
Hamilton told Sky Sports F1: "[Bottas] did a great job in qualifying, I didn't do such a good job, so I've got to keep working at it."
Bottas secured his third pole position in a row to strengthen his F1 2019 title credentials, and this qualifying performance was his most emphatic of this season.
"For sure the gap is big," said Bottas. "I never would have expected that. But I put everything right in the lap."
Bottas added to Sky F1: "It feels really good and quite a big margin as well. All I can say is in qualifying I was really focused on myself and getting those corners right."
The lap, hailed as one of his best-ever by Sky F1's Martin Brundle, was all the more impressive considering Bottas had a disrupted final practice, spinning into the gravel and finishing half-a-second behind Hamilton on the timesheets.
"I really enjoyed it," Bottas told Jenson Button after qualifying. "I enjoy the adrenaline rush you get from those laps. Practice Three was difficult with the spin but I forgot about that and moved on.
"The season has started well. I feel better and better in the car so I look forward to tomorrow."
Bottas has never challenged Hamilton for the title over a whole season before but this year he is presenting a new challenge for the four-time world champion, who accepted he needs to find "solutions" to stop his team-mate's qualifying form.
"The feel I have in the car, I just need to work on it," Hamilton, whose Q3 laps were riddled with mistakes, said. "I don't think I need to change my approach in qualifying but of course I'm looking at all solutions and we'll get there eventually."
Hamilton added: "Valtteri did a fantastic job, he's been quick all weekend. On my side I didn't put the lap together. The last laps, in Q3 particularly, just weren't strong. Ultimately it just wasn't a good enough job.
"Valtteri was quicker today so he deserved the pole.
"It's great for the team to have this one-two so we'll try and convert that, but if I can reverse it I'll be happy."
Where were Ferrari?
The distance between Bottas and Hamilton was surprising, and so was the gap between Mercedes and Ferrari.
Sebastian Vettel was the lead Ferrari in third, eight tenths off Bottas' pole time, while Charles Leclerc could only manage fifth after a sloppy afternoon.
After looking to be the team to beat at this track in Winter Testing, Ferrari have fallen behind - and that margin to Mercedes is only increasing after the latest upgrades.
"They were both very happy with the car, the last sector for us was a bit more tricky," said Vettel, who was fastest through the high-speed first sector. "I think we got everything out of the car. I'm happy, but not happy.
"The car doesn't feel bad but obviously we are not quick enough. With the balance, I think we got it right. In these sort of corners you just need the grip, and I think we might be a bit down on that.
"We brought some new bits, and a new engine, and everything seems to be working but clearly we are not where we want to be. I think we ended up getting the best out of the car today which wasn't enough and we are certainly not satisfied."
Leclerc added to Sky F1: "We were slower than Mercedes today and that's it."
Watch the Spanish GP live only on Sky Sports F1 this weekend. Sunday's race starts at 2.10pm. Sky Sports is the home of live and exclusive F1. Find out more here to watch the 2019 season live