Ferrari head into F1 Testing with fresh problems to solve
Scuderia not ruling out notion of conceptual problem with 2019 car after Barcelona struggle; Ferrari on track with rivals again at Barcelona test
By James Galloway and Matt Morlidge in Barcelona
Last Updated: 14/05/19 8:47pm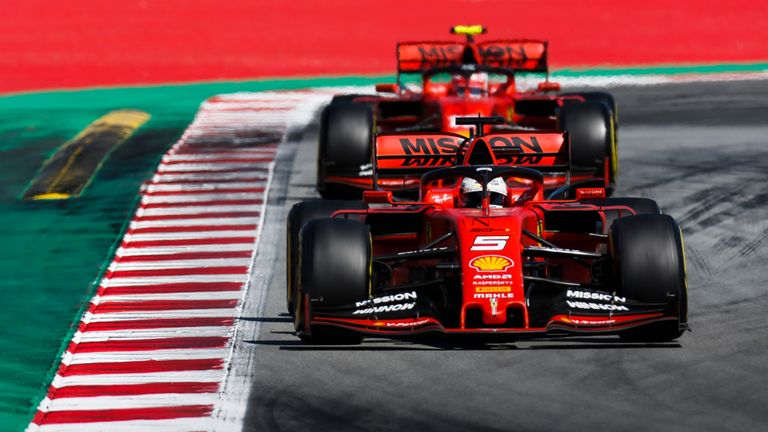 Ferrari head into F1's final in-season test of the year at Barcelona unsure how long it will take to resolve their 2019 car's problems.
Despite an upgrade to both their chassis and engine for the Spanish GP, Ferrari were thrashed by Mercedes, and also beaten in Sunday's race by Red Bull's Max Verstappen, with their F1 title hopes fast unravelling.
Questions have started to turn to whether Ferrari's 2019 car concept, which initially earned rave reviews in winter testing, could be at the root of their problem.
Speaking on Sunday night, team boss Mattia Binotto said: "We are losing a lot in each corner, not only in the last sector.
"In each single corner we are slow, quite a lot of understeer. Is that only downforce? Is it more than that? I think it's something we really need to analyse and understand.
"Any early conclusion would be wrong, it will take some days to really have some proper analysis and understand. Is it a matter of balance? Is it a matter of downforce? Is it a matter of different concepts? I don't think we have the answer yet."
Ferrari make an immediate return to the Circuit de Catalunya for the two-day group, with Charles Leclerc and test driver Antonio Fuoco driving on Tuesday and Wednesday respectively. Sebastian Vettel and then Leclerc, meanwhile, are in the other SF90 across the two days for Pirelli tyre testing.
"The limitations we had [in Barcelona] were present already in the first races of the season," explained Binotto.
"How long [to fix] it will take is difficult to answer. First we need to understand how to fix them and after that I'm pretty sure we can do it quickly."
He added: "We are quite a young team and we are still in the learning phase. There is still much to learn and I'm pretty happy in terms of the team improving. The concept design, it depends what it is and there are things you can address in the season."
Who's testing in Spain?
Barcelona test line-ups
| Team | Tuesday | Wednesday |
| --- | --- | --- |
| Mercedes | Valtteri Bottas | Nikita Mazepin |
| Ferrari | Charles Leclerc | Antonio Fuoco |
| Red Bull | Pierre Gasly | Dan Ticktum |
| Renault | Nico Hulkenberg | Jack Aitkin |
| Haas | Pietro Fittipaldi | Kevin Magnussen |
| McLaren | Carlos Sainz/Lando Norris | Oliver Turvey/Sergio Sette Camara |
| Racing Point | Nick Yelloly | Nick Yelloly |
| Alfa Romeo | Callum Ilott | Kimi Raikkonen |
| Toro Rosso | Daniil Kvyat | Alex Albon |
| Williams | Nicholas Latifi | Nicholas Latifi |
| Pirelli testing (Ferrari) | Sebastian Vettel | Charles Leclerc |
| Pirelli testing (Racing Point) | Sergio Perez | Lance Stroll |
A month after the last two-day test in Bahrain, F1's teams are getting their second early-season opportunity to run their cars on track outside of a race weekend.
The test sees the usual mix of regular race drivers and young hopefuls, with Spanish GP point-scorers Valtteri Bottas, Leclerc, Kevin Magnussen and Daniil Kvyat joined on the two-day line-up by British youngster Callum Ilott, who makes his F1 debut with Alfa Romeo, and Russia's Nikita Mazepin, who drives the Mercedes W10 on Wednesday.
Ilott, 20, is a member of Ferrari's Academy, while Mazepin has previously tested for Force India. Renault's Jack Aitken and Racing Point's Nick Yelloly, who last tested an F1 car in 2015, are also in action.
Sky Sports F1 is the home of live and exclusive F1 - and new and existing customers in the UK can now get the channel for just £10 extra a month.Find out more here to watch the 2019 season live