Russian GP: Lewis Hamilton ends victory wait as Mercedes beat Ferrari
Mercedes end Ferrari's winning run to close on another title double; Ferrari's victory bid falls apart after early team orders controversy and then Vettel DNF; Hamilton now leads title race by 73 points
By James Galloway in Sochi
Last Updated: 29/09/19 8:54pm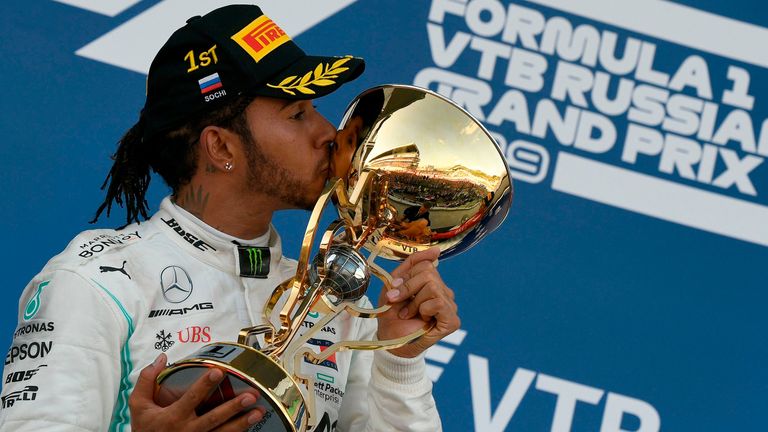 Lewis Hamilton returned to winning ways as Mercedes claimed an unexpected one-two in a Russian GP that fell apart for Ferrari after Sebastian Vettel retired.
In a race that had started in breathless and controversial fashion - Vettel blasted from third on the grid to overtake Hamilton and pole-sitter Charles Leclerc before disregarding initial instructions to let his team-mate back past - Mercedes bided their time, and then pounced on a Virtual Safety Car when an engine fault stopped the German soon after his pit stop.
Hamilton jumped Leclerc as a result and then Valtteri Bottas did likewise, after Ferrari, who had pitted their Monegasque driver just a few laps earlier, had to switch him to the same soft tyres for the final stint.
Leclerc finished 1.3s behind Bottas in third.
Hamilton's victory - Mercedes' first since the summer break after a run of three wins for Ferrari - extends his world title lead over Bottas to a season-high 73 points after he also took the fastest-lap bonus point.
There are just 130 points still available over 2019's final five races. Hamilton could win his sixth title as soon as the Mexican GP on October 27, in two races' time.
"What an effort guys," said a jubilant Hamilton over the radio. "That's exactly what we needed. "Never give up."
Red Bull's Max Verstappen raced solidly to finish fourth from a penalised ninth on the grid, while team-mate Alex Albon surged from the pit lane to an impressive fifth.
Carlos Sainz was sixth for McLaren after a consistent drive to cap a very strong weekend, while Sergio Perez raced well from 11th to seventh for Racing Point. But Kevin Magnussen was raging post-race after a five-second time penalty dropped him from eighth to ninth, behind Lando Norris, for not returning the correct side of the Turn Two bollards after running off the track in battle.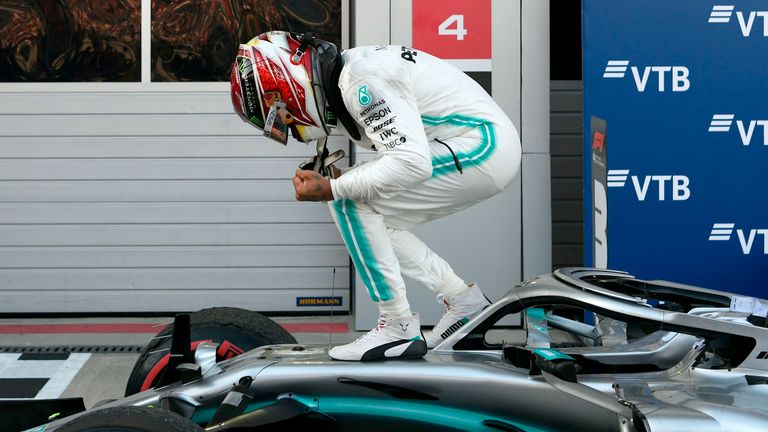 Russian GP: Top 10
1. Lewis Hamilton, Mercedes
2. Valtteri Bottas, Mercedes
3. Charles Leclerc, Ferrari
4. Max Verstappen, Red Bull
5. Alexander Albon, Red Bull
6. Carlos Sainz, McLaren
7. Sergio Perez, Racing Point
8. Lando Norris, McLaren
9. Kevin Magnussen, Haas
10. Nico Hulkenberg, Renault
How did it go so wrong for Ferrari?
With all the momentum going into the race after three victories and four consecutive poles, Ferrari had appeared big favourites to defeat Mercedes again from first and third on the grid.
Leclerc had brilliantly headed qualifying by 0.4s but quickly admitted on Saturday evening that "I don't know if it's the best track to start on pole" given the long run down to Turn Two, Sochi's first true corner.
He was proved correct.
However, it was Vettel, and not second-placed Hamilton - who started on the slower medium tyres - who got the powerful 'tow' and surged past Leclerc into the lead.
But it soon became clear that Ferrari had a pre-arrangement agreement that meant Leclerc would tow Vettel towards Turn Two in order to keep Hamilton behind - and then the positions would be reversed if the German took the lead.
"Sebastian will let you by on the next lap," Leclerc was told.
But when the race leader received the call to do so, Vettel replied: "He'll have to close up". The German then extended his lead, eventually getting it beyond three seconds.
"You put me behind, I respected everything. We will speak later," countered Leclerc.
Ferrari ultimately pitted Leclerc first and the impact of fresh medium tyres meant he duly jumped Vettel when his team-mate pitted four laps later. The team later denied this was done in order to switch the positions themselves, saying Leclerc had worn his tyres following Vettel in the opening stages.
But when Vettel rejoined the circuit on lap 26 he almost immediately pulled off the track when his car's MGU-K failed. It was the four-time champion's first retirement since last year's German GP, although he was still voted as the fans' official driver of the day.
The Ferrari's demise triggered a race-changing Virtual Safety Car.
Having been able to run a longer first stint in any case over Mercedes' decision from Q2 to start on the medium tyres, the race quickly came towards the world champions, and, with everyone on track running to a controlled speed under the VSC, Hamilton was called in from the lead - which he retained over Leclerc.
To compound matters for Ferrari, Bottas then inherited second when Ferrari pitted Leclerc for a second time to shed his medium tyres. The Ferrari came back at the Mercedes after a full Safety Car, when George Russell crashed with apparent brake trouble, but could not get close enough to make a move.
Of his ninth win of 2019, Hamiltoin said: "It's incredible to have this result today considering how quick [Ferrari] were off the start. Just keeping up with them was the real incredibly hard task. But we haven't given up and we keep pushing."
Russian GP Race Result
| | | |
| --- | --- | --- |
| Driver | Team | Time |
| 1) Lewis Hamilton | Mercedes | 1:33.38.992 |
| 2) Valtteri Bottas | Mercedes | +3.829 |
| 3) Charles Leclerc | Ferrari | +5.212 |
| 4) Max Verstappen | Red Bull | +14.210 |
| 5) Alexander Albon | Red Bull | +38.348 |
| 6) Carlos Sainz | McLaren | +45.889 |
| 7) Sergio Perez | Racing Point | +48.728 |
| 8) Lando Norris | McLaren | +57.749 |
| 9) Kevin Magnussen | Haas | +58.779 |
| 10) Nico Hulkenberg | Renault | +59.841 |
| 11) Lance Stroll | Racing Point | +60.821 |
| 12) Daniil Kvyat | Toro Rosso | +62.496 |
| 13) Kimi Raikkonen | Alfa Romeo | +68.910 |
| 14) Pierre Gasly | Toro Rosso | +70.076 |
| 15) Antonio Giovinazzi | Alfa Romeo | +73.346 |
| Did Not Finish | | |
| Robert Kubica | Williams | |
| George Russell | Williams | |
| Sebastian Vettel | Ferrari | |
| Daniel Ricciardo | Renault | |
| Romain Grosjean | Haas | |
Don't miss the rest of the Formula 1 season on Sky Sports F1. Find out more here to subscribe