F1 Virtual GP: Alex Albon wins after race-long Charles Leclerc duel
Red Bull driver defeats Leclerc in gripping race-long contest; Leclerc drops to third behind Russell after penalty; Vandoorne causes start chaos; Stokes beats Broad in battle of the cricketers
By James Galloway
Last Updated: 04/05/20 7:16am
Red Bull's Alex Albon denied Charles Leclerc a Virtual GP hat-trick with a hard-fought maiden win in the Esports series after a barnstorming race-long duel between F1's young stars.
And a three-second time penalty for exceeding track limits meant Leclerc ultimately slipped to third place, with George Russell promoted to second for Williams after a strong performance.
But it was a race around the virtual version of Brazil's dramatic Interlagos circuit that was dominated by a gripping and ever-changing wheel-to-wheel battle between Albon and Leclerc, a fortnight after the Ferrari driver had beaten his Red Bull rival in the virtual surroundings of China's F1 circuit.
Albon vs Leclerc - the never-ending duel
After profiting from a chaotic start - when Stoffel Vandoorne dropped his Mercedes into the pit wall from pole position - Albon and Leclerc wasted little time in sprinting clear of the pack.
Although driving for different teams, the pair actually worked together to slipstream and so repeatedly change positions down the circuit's main straight and long run to Turn Four.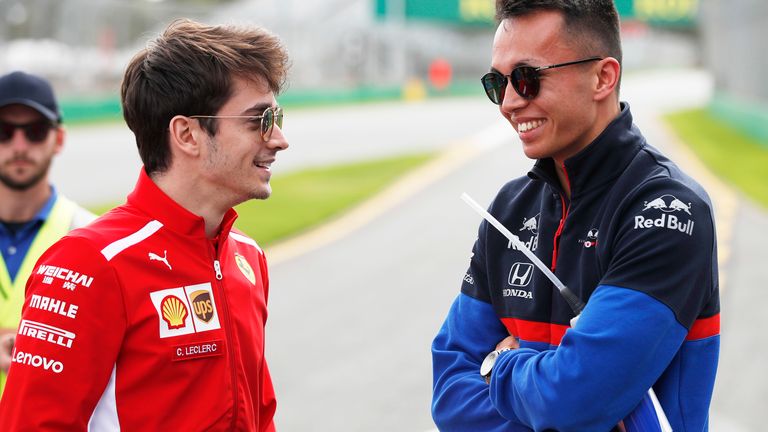 But the battle truly ramped up after the pit stops.
Albon, on faster tyres, moved ahead soon after his service but Leclerc did not give up - despite picking up the penalty for excessive warnings about running wide. The Ferrari briefly nosed back ahead of the Red Bull on several occasions in the closing laps, before Albon took control and seized victory.
"I was shaking afterwards. I had so much adrenaline in my body - I feel more scared driving a simulator than the real thing! The pressure was unbelievable!" said a thrilled Albon, who was denied a maiden F1 podium in real life in Brazil last November after a late tangle with Lewis Hamilton.
Leclerc added: "I kept overtaking Alex, I didn't want him to go even knowing that George would come back and cost me the second place.
"It was proper fun."
Russell steadily closed in on the top two once moving into the podium places midway through the 36-lap race and was rewarded with the runner-up finish after finishing within 3s of Leclerc.
Who else performed strongly?
F1 champions Mercedes had started on pole position with Vandoorne - but their wait for a first Virtual GP success continues after the Belgian spun immediately after the start lights went out, hitting Russell and Ferrari's Enzo Fittipaldi as he speared towards the wall.
However, Vandoorne then raced strongly from the back and beat team-mate Esteban Gutierrez to fourth.
Connection problems initially beset Lando Norris once again, meaning the McLaren driver did not take part in qualifying, but the Englishman was finally able to race without interruption and fought from last place to 10th - despite picking up several penalties on the way.
Meanwhile, in the battle of the England cricketers, Ben Stokes was a commedable 13th on his second outing in the series, four places ahead of a debuting Stuart Broad.
"It was great fun," said Stokes, the World Cup-winning all-rounder. "I took part in the one in Australia - which went horrendously - but today was good.
"Me and Stu were training together actually and as soon as we knew we were about to do the proper race it just completely throw all of that out of the window and we were both very, very nervous."
How Vandoorne made the worst possible start...
Latifi loses out after Giovinazzi clash
Stokes sweating in heat of virtual battle
Virtual GP result: Top 10
1. Alexander Albon, Red Bull
2. George Russell, Williams
3. Charles Leclerc, Ferrari
4. Stoffel Vandoorne, Mercedes
5. Esteban Gutierrez, Mercedes
6. Christian Lundgaard, Renault
7. Enzo Fittipaldi, Ferrari
8. Louis Deletraz, Haas
9. Nicholas Latifi, Williams
10. Lando Norris, McLaren
Don't miss the next instalment in F1's Esports series with the Virtual Spanish GP on Sunday, May 10. Coverage starts at 6pm on Sky Sports F1 and our YouTube channel