F1 drivers to show anti-racism support at Austrian GP season-opener
Drivers expected to wear anti-racism T-shirts ahead of race; GPDA says drivers united against discrimination and free to show support in their own way; Hamilton explains what he said to his fellow drivers; World champion yet to decide whether he will take a knee
By James Galloway
Last Updated: 05/07/20 2:24pm
Formula 1's drivers will take a collective stand against racism - and have the opportunity to take a knee on the grid - ahead of Sunday's season-opening Austrian GP, as the sport calls for an end to all forms of discrimination.
Ferrari driver Charles Leclerc and Red Bull's Max Verstappen have already confirmed that they will not take a knee, but emphasised their support for anti-racism.
The Grand Prix Drivers' Association comprises all 20 drivers and the group have held discussions with chairman Alex Wurz on how they will show their support in recent days.
A GPDA statement said drivers will be free to express their support in their own way.
It is understood that drivers will have the opportunity to take a knee on the grid after the national anthem.
The Red Bull Ring features 'End Racism' signage this weekend, with drivers also expected to wear T-shirts carrying the message. Teams are carrying messages of support on their cars, as are drivers on their crash helmets.
On Sunday, the FIA announced it had donated €1m (£900,756) to F1's new foundation aimed at improving diversity in the sport. Chase Carey, F1's chairman, has already personally donated $1m (£801,029) to the new project, which is part of the sport's extensive We Race As One campaign.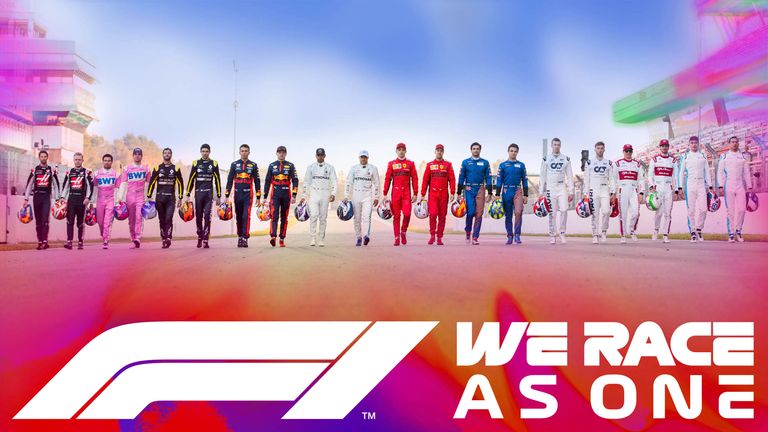 "The Grand Prix Drivers' Association has held a number of virtual meetings with all 20 drivers to agree how best to show their collective support for the fight against racism ahead of this weekend's Grand Prix," read a statement.
"All 20 drivers stand united with their teams against racism and prejudice, at the same time embracing the principles of diversity, equality and inclusion and supporting Formula 1's commitment to these.
"Together the drivers will all show their public support for this cause on Sunday ahead of the race, recognising and respecting that each individual has the freedom to show their support for ending racism in their own way and will be free to choose how to do this ahead of the race start on Sunday."
Hamilton explains what he said to F1 drivers
Six-time world champion Lewis Hamilton has been a powerful and leading voice on the topic of diversity and equality and has revealed plans to launch a research project in his own name to improve inclusion in the motorsport industry.
In an extensive interview with Sky Sports F1's Martin Brundle on Thursday, Hamilton said he had yet to decide whether he would take a knee this weekend - with his position unchanged after qualifying.
"Honestly, I don't have any plans at the moment. I've not thought that far forward but I'm sure over the evening we will… we spoke a bit in the drivers' briefing and yup, interesting but it's good that we're kind of all at least in discussion and I don't know what we'll see tomorrow," said Hamilton.
"I think, potentially, people paying their respects in their own ways."
In the wake of the death of George Floyd in the United States on May 25, Hamilton had appeared to directly call on F1's drivers to speak out against racism in a post on Instagram in which he said: "I see those of you who are staying silent."
Speaking to Brundle, Hamilton clarified that the message had not specifically been focused on his fellow drivers - saying it was also a call to the wider motorsport industry, as well as his friends in other industries, to do more.
Hamilton has now explained what he said to his fellow drivers in Friday night's GPDA meeting and why "silence is generally really complicit".
"Well, just in the meeting I just acknowledged a lot of the drivers that… obviously there was an interpretation of a message that I had posted, asking for people to speak out and their silence and just saying thank-you to those who have said something on their social media platforms," said Hamilton
"They've got a great voice, a great platform and then encouraging the others that haven't to say something and I just described the scenario that silence is generally really complicit so there still is some silence in some cases but I think it's also part of a dialogue of people trying to understand, because there are still people that don't fully understand exactly what is happening and what are the reasons for these protests. So I continue to try and be that guide, try to influence."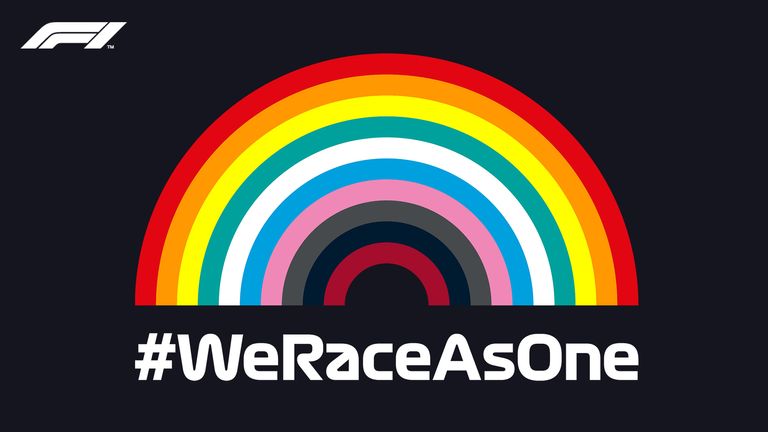 How can F1 improve diversity?
In an interview with Sky Sports at the Austrian GP, F1 chairman Chase Carey explained: "We last year came out with two primary social initiatives. Sustainability, the environmental issue, and diversity.
"How do you provide educational opportunities to those who don't have the same opportunities many do? And how do you provide opportunities?
"It's education and jobs. So we've announced this taskforce and with the taskforce [the aim is] to try and provide opportunities. We do think education and opportunity is at the core."
GPDA director Romain Grosjean said it was crucial that F1 took a stand.
"It's been a big thing in the world and Formula 1 is reacting in the right direction. We are global sport, we have a lot of audience and we can send some very strong messages," said the Haas driver.
"As you can imagine within the GPDA we've had a lot of talk about what are the right messages, what should we do, when is the right time and so on. Diversity is key. I think it's very important we do as much as we can in that aspect and we support the right initiative."
Red Bull's Max Verstappen said: "I think everyone should be against racism. We try to make a very strong statement, I think everyone tries that in the best possible way, so we'll definitely make sure that is going to happen. Everyone of course needs to feel very comfortable and equal."