Lewis Hamilton signs new Mercedes contract with two-year Formula 1 deal confirmed
Lewis Hamilton agrees contract extension that will keep him with Mercedes until 2023 as seven-time world champion commits to F1's new era; Hamilton will be 38 by the end of his new deal, which takes him into 17th season in F1; But who will be his team-mate?
By Matt Morlidge
Last Updated: 03/07/21 12:31pm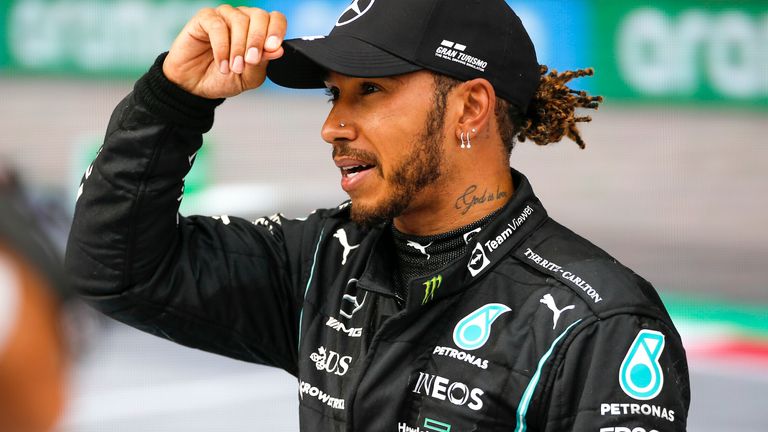 Lewis Hamilton has signed a new two-year contract with Mercedes that will keep him with the team until the end of the 2023 season.
The deal extends Hamilton's nine-year stay and will take the seven-time world champion and Mercedes, Formula 1's most successful driver-team combination, into the sport's much-changed new era from 2022.
It also means Hamilton is committed to F1 until at least the age of 38, with 2023 set to be his 17th season.
"It is hard to believe it's been nearly nine years working with this incredible team and I'm excited we're going to continue our partnership for two more years," said Hamilton, who has won six of his seven titles with Mercedes.
"We've accomplished so much together but we still have a lot to achieve, both on and off the track."
Hamilton's previous contract, while only signed in February, was only for one year. He is currently 18 points Max Verstappen in a hotly-contested championship battle between Mercedes and Red Bull.
"As we enter a new era of F1 from 2022 onwards, there can be no better driver to have in our team than Lewis," said team boss Toto Wolff. "His achievements in this sport speak for themselves, and with his experience, speed and race-craft, he is at the peak of his powers.
"We are relishing the battle we have on our hands this year - and that's why we also wanted to agree this contract early, so we have no distractions from the competition on track.
"I have always said that as long as Lewis still possesses the fire for racing, he can continue as long as he wants."
Just like his last deal, Hamilton cited Mercedes' work in helping improve diversity in F1 as a key factor.
"I'm incredibly proud and grateful of how Mercedes has supported me in my drive to improve diversity and equality in our sport," added the Englishman, 36. "They have held themselves accountable and made important strides in creating a more diverse team and inclusive environment.
"Thank you to all the dedicated and talented individuals at Mercedes whose hard work makes it all possible and the Board for their continued trust in me. We're entering a new era of car which will be challenging and exciting and I can't wait to see what else we can achieve together."
F1 boss Stefano Domenicali also praised the news, hailing Hamilton as a "global superstar".
"This is fantastic news for Formula 1 and I am delighted that Lewis will stay In F1 for at least another two years," he stated.
"What he has achieved in this sport is incredible and I know he has more to come. He is a global superstar on and off the race track and his positive impact on Formula 1 is huge."
Hamilton & Mercedes: F1's record-breaking force continues
While there have been talks about switching teams in the past, and hints about a possible early retirement, Hamilton extending his Mercedes stay is one of F1's biggest no-brainers.
Since Hamilton made the then-controversial decision to leave McLaren for Mercedes for the 2013 season, driver and team have embarked on a record-breaking charge that nobody could have predicted.
Making the most of a package that dominated as soon as the hybrid era began in 2014, Hamilton quickly added to his 2008 title, winning the Drivers' Championship in six of the next seven seasons - with Nico Rosberg's narrow 2016 triumph the Englishman's only blemish.
Hamilton has also collected an astounding 77 of his record-setting 98 F1 wins with Mercedes.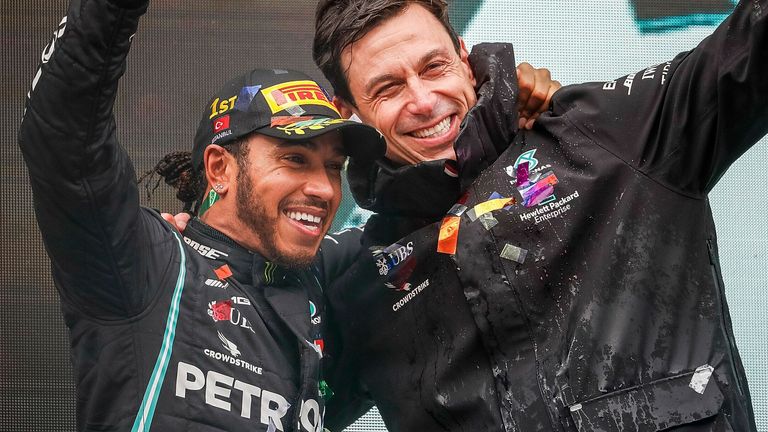 In fact, one of the only records Hamilton is left to pursue is the outright championship tally - he is currently tied on seven titles with Michael Schumacher.
He may be up against it to break that record this year, with Verstappen and Red Bull certainly a force to be reckoned with, but the new contract gives Hamilton at least two more seasons, if necessary, to achieve that goal.
Hamilton has spoken excitedly about the challenge of F1's new era from 2022, as the sport prepares for a huge rules reset and dramatically different cars, which should aid overtaking and excitement.
The pecking order could be reset, although Mercedes - like many other teams - have already shifted much of their focus to next year's cars.
But who will be Hamilton's team-mate?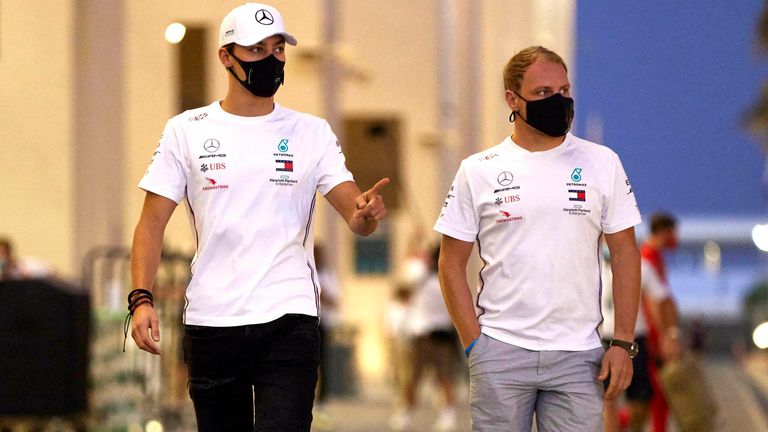 Hamilton's future is now assured, but who he will be partnering at Mercedes is far from certain.
Valtteri Bottas has been Hamilton's team-mate since 2017, and the pair have certainly enjoyed a more harmonious relationship than Hamilton did with Rosberg previously. But Bottas, while helping Mercedes continue their constructors' title streak, has also failed to provide quite the challenge to Hamilton as his predecessor managed.
The Finnish driver has been on one-year deals for much of his Mercedes stay and that is also the case in 2021, with his contract once again expiring at the end of the season.
And he may have more competition than ever for the seat next to Hamilton, with George Russell certainly in the running.
Russell, a highly-rated Mercedes junior who ably filled in for Hamilton at last year's Sakhir GP, has shone at Williams over three seasons, and his contract with the Grove team also expires at the end of 2021.
That means Mercedes have a decision to make, to promote young Brit Russell to the senior team or leave him further down the grid.