Lewis Hamilton-Max Verstappen British GP collision: Christian Horner rages as F1 champion defends move
Christian Horner, Red Bull's team principal, rages at Lewis Hamilton's driving after Max Verstappen clash and heavy accident; But Hamilton defends himself and says "it's never one person's fault, it's always a balance of the two"
By James Galloway
Last Updated: 19/07/21 7:57am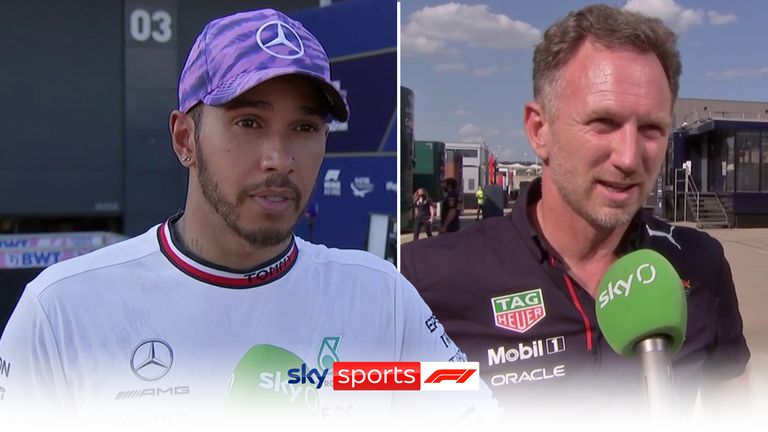 Red Bull boss Christian Horner labelled Lewis Hamilton's driving "unacceptable", while the Mercedes driver said Max Verstappen was "too aggressive", as accusations flew following the high-speed collision that sent F1's title leader crashing out of the British GP.
Verstappen and Hamilton's gripping 2021 title duel suffered its first major flashpoint on the opening lap of Sunday's race at Silverstone, with the two cars making contact as the Mercedes attempted to overtake the Red Bull down the inside of the near-200mph Copse corner.
Verstappen's Red Bull flew into a big accident with the barriers - with an impact measured at 51 times the force of gravity - and was taken to hospital for further precautionary checks after initial check-ups at the circuit.
Horner said the Dutchman "was very heavily winded" in "probably the biggest shunt of his career", but that "thankfully he's ok". Verstappen was released from hospital on Sunday night.
Hamilton continued in the race that was initially red-flagged before being restarted and was found to have been "predominantly at fault" by stewards for causing the collision, with a 10s penalty imposed on the seven-time world champion.
However, despite dropping from second to fifth while he served the penalty at his pit stop, Hamilton recovered in a stirring late comeback drive to overtake Ferrari's Charles Leclerc for the win with two laps to go.
What did Red Bull say about the incident?
Horner, Red Bull's team principal, was livid about the outcome of the accident and described Hamilton's win as a "hollow victory".
"It shouldn't be like that to be honest with you," a visibly-incensed Red Bull team principal told Sky Sports F1.
"Max has incurred a 51G accident, Lewis Hamilton is a world champion and he shouldn't be making manoeuvres like that. It's unacceptable.
"He's put a driver... thank goodness the biggest result for us today is that he was uninjured. He's having to go to hospital for precautionary checks after a 51G accident so I hope Lewis is very happy with himself."
Discussing the incident, Horner added: "He [Hamilton] stuck a wheel up the inside in a corner that you just know you don't do that.
"You just don't stick a wheel up the inside of Copse in that corner in that circumstance. He was nowhere near ahead, it was contact left-front to right-rear, and the speed that they're travelling it's one of the fastest corners in the championship.
"Lewis has got more than enough experience to know that is unacceptable. I'm just very disappointed that a driver of his calibre should make such a move like that. It's dangerous, it looked desperate."
Hamilton cut Verstappen's title lead from 33 to just eight points, and Horner added: "For me, that's a hollow victory."
What did Hamilton say about the incident?
Hamilton and his Mercedes team saw it differently.
The world champion felt he had been sufficiently alongside the Red Bull to justify an overtake - and accused Verstappen of racing too hard.
"I just don't feel like he needs to be as aggressive as he is," Hamilton told Sky F1.
"We are going down to Turn Six and he's bumping wheels with me. But it's cool because there's footage of old Formula 1 great drivers bumping wheels on the straight. So I'm sure it looks cool and everything but I tried to give him space but I was quite a long way up the inside into Nine and none of us backed out and that was the end result.
"But I took the penalty of course and it's never one person's fault, it's always a balance of the two. I don't feel anything now, I just channel it into my driving, which I did, and I'm proud I was able to do that in front of the crowd."
Hamilton said he was not aware that Verstappen had been taken to hospital and sent his best wishes to the Dutch driver.
Asked if the events of the race took any element of shine off his eighth home victory, Hamilton said: "Honestly, no, it doesn't. This is racing and of course I would love to be able to race and for us to leave one another space - and there is plenty of space on the track for us to get around.
"I've managed for a long time without colliding with someone but when someone is just too aggressive these things are bound to happen."
Hamilton added: "I hope he's ok. Of course I would have loved to have had to have wheel-to-wheel battle for the whole race. I enjoy racing with him and I'm looking forward, but I will never back down from anyone and I will naturally not be bullied into being less aggressive.
"Today, this weekend, we needed the points and there was a gap, he left a gap, and I went for it."
Mercedes boss Toto Wolff said: "First of all we have seen a dramatic and exciting race today with Lewis winning the British Grand Prix again and catching Charles at the end. So there was something for everyone.
"As for the incident, it always takes two to tango and these two are not giving each other an inch and it's a high-speed corner, and that's why these things are nasty to look at.
"But there is a clear regulation and that is something that's black and white on paper and as a racing driver you may have a different perspective from the car, but you need to exactly understand that if the front axle is over the middle of the car on the outside it's your car.
"Is that a corner that is equivalent to any other? Maybe not but an accident involves two drivers.
What did the stewards say?
Explaining their reasoning for finding Hamilton at fault for the collision, the stewards said that the Mercedes driver had been "on a line that did not reach the apex of the corner, with room available to the inside.
"When Car 33 turned into the corner, Car 44 did not avoid contact and the left front of Car 44 contacted the right rear of Car 33. Car 44 is judged predominantly at fault."
Hamilton also had two penalty points added to his racing superlicence, taking him up to seven of a maximum 12.