Mohammed Ben Sulayem: FIA president at odds with F1 bosses and teams ahead of 2023 season
FIA president Mohammed Ben Sulayem has become embroiled in multiple controversies ahead of the 2023 Formula 1 season; debate over the possible entry of new teams to the grid, along with speculation over the sale of the sport's commercial rights, have created major tension
Last Updated: 29/01/23 1:12pm
As the start of the 2023 season approaches, Formula 1 has never been in such rude health, but the sport's increasing success is also contributing to fractures at its very top.
F1 is no stranger to disputes and controversies, but the sport's latest saga is not over the design of a front wing or the application of a racing law, but rather centres around Federation Internationale de l'Automobile (FIA) president Mohammed Ben Sulayem.
The FIA, the world's governing body for motorsport, represents many forms of racing, but F1 is very clearly the organisation's showpiece championship.
Ben Sulayem, who was elected to the role in December 2021 and is a quarter of the way through a four-year term, has had a highly-eventful first 12 months in the position.
By all accounts, Ben Sulayem has handled the governance of the actual competition well, but his recent - and very public - involvement in the possible entry of new teams, the potential sale of the sport's commercial rights and accusations of sexism - have caused a major stir.
What is the difference between F1 and the FIA?
The FIA, founded in 1904 and headquartered in Paris, oversees all aspects of motorsport.
From grassroots level to F1, the FIA is responsible for regulating competition, whether that be issuing licences and permits to drivers and teams or establishing safety regulations.
While the FIA governs F1, it does not currently own the sport's commercial rights. Those belong to Formula One Management (FOM), a company that has almost 90 years remaining on a long-term deal for the rights.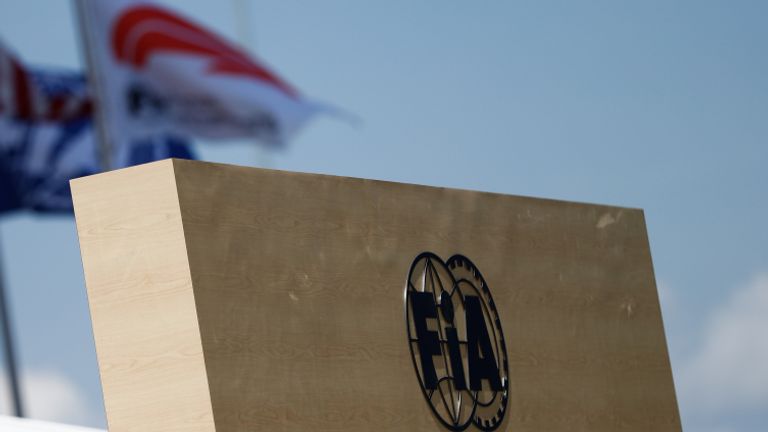 FOM, which is owned by American company Liberty Media, takes the vast majority of the money that comes in from the sport's broadcasting rights, which have hugely grown in value in recent years.
While the FIA is a non-profit organisation which in theory is merely out to protect the future of F1 and motorsport, FOM and F1 are a business who are attempting to grow the commercial viability of the sport.
Given F1's incredible growth in recent years, there is potential for regret at the FIA that the hugely-valuable commercial rights are out of its hands until the next century.
Who is Mohammed Ben Sulayem?
Ben Sulayem was elected in December 2021, replacing Jean Todt and becoming the first non-European president of motorsport's governing body.
Born in Dubai, the 61-year-old is a 14-time Middle East rally champion and was previously vice-president for sport at the FIA, in addition to a member of the World Motor Sport Council.
Among his election promises for the four-year term, Ben Sulayem vowed to double motorsport participation, put the best-practice governance structures in place, and strengthen diversity and inclusion.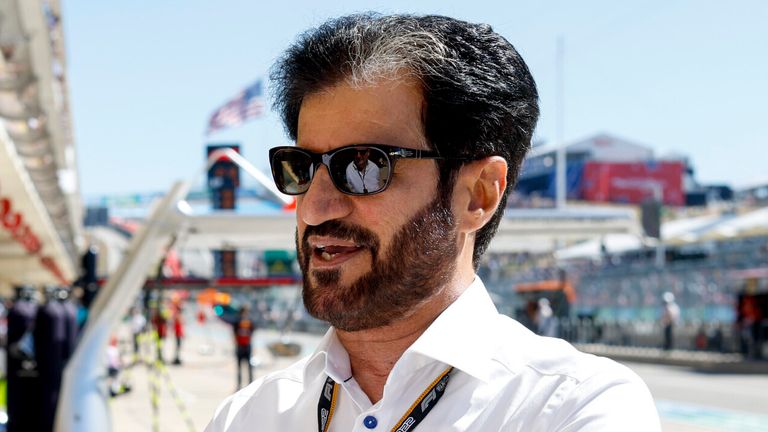 He took on the role at a hugely-turbulent moment for F1, with Max Verstappen having just beaten Lewis Hamilton to the 2021 world championship in controversial circumstances.
Hamilton's Mercedes team were seeking consequential action over the incident, with former race director Michael Masi ultimately stood down by the FIA.
While the new structure put in place undoubtedly had teething issues during the 2022 campaign, the FIA was considered to at least be on a path to filling the void left by former race director Charlie Whiting, who died suddenly in 2019.
Ben Sulayem was also credited for his handling of the cost-cap saga, which saw Red Bull fined and punished for breaching the 2021 spending limit.
While neither Red Bull nor their rivals were completely satisfied by the outcome, the firm and decisive manner with which a final ruling was made was appreciated by all.
Why has Andretti's attempted F1 entry sparked controversy?
With the cost-cap saga handled and Formula 1 set for a 2023 season in which there is realistic hope of a thrilling three-way battle between Red Bull, Ferrari and Mercedes, everything seemed to be going pretty well for Ben Sulayem.
However, discussions around the prospect of new entrants to the sport kicked off what has become a very turbulent month for the FIA boss.
After years of lobbying the FIA, successful American team owner Michael Andretti got his biggest boost yet in his F1 bid as a partnership with General Motors through its luxury brand Cadillac was welcomed by Ben Sulayem.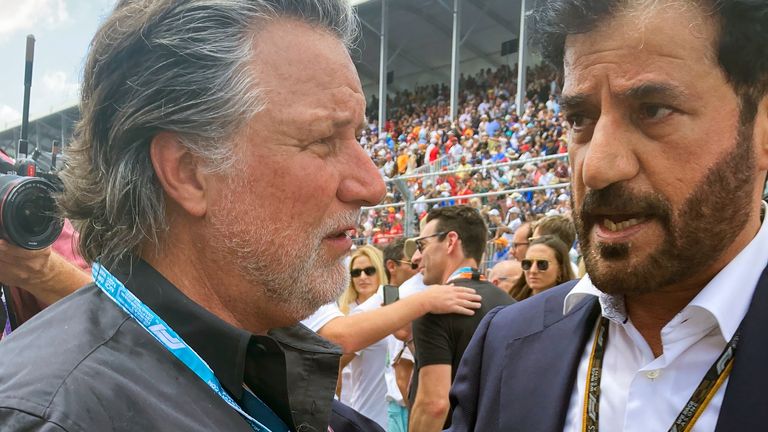 However, the prospective Andretti-Cadillac entry, which would be unlikely to feature on the grid until at least the 2026 season, requires sign-off from both F1 and the FIA.
F1 issued a statement saying the American team were not the only interested party and would not be guaranteed a spot on the gird.
Ben Sulayem took to his own Twitter account to release a statement expressing his "surprise" at the "adverse reaction" to the bid, with several of the sport's 10 current teams understood to have held reservations.
Andretti would later hit out at F1 teams, insisting their resistance is "all about greed" and "not looking at what is best" for the sport.
Since 2021 there has been a $200m fee in place for any new team to join the sport, but the current entrants are understood to feel that the 'anti-dilution fund' figure does not reflect the recent growth of the sport, and that they would be less worse off by allowing the field to be enlarged.
James Vowles, who became F1's newest team principal when he was appointed by Williams in January, laid out what appears to be the view from much of the paddock.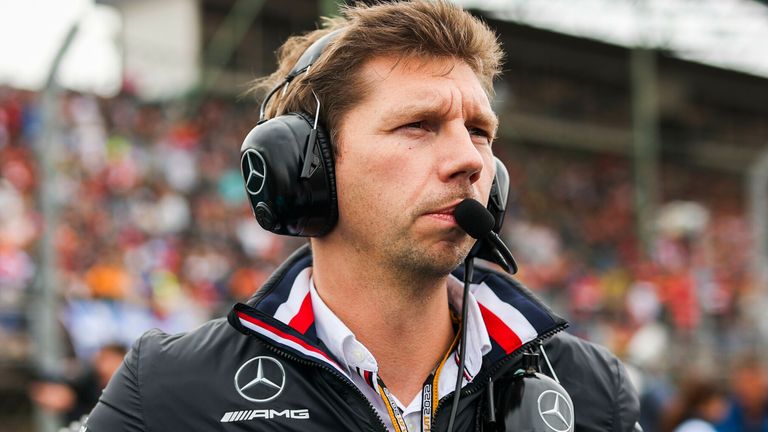 "The truth behind it is that the sport financially is becoming more and more successful," said Vowles, who left Mercedes to join Williams.
"Whoever joins in that environment needs to bring with it effectively the growth that is required in order for everyone else to be in a better position, or at least a neutral position."
How has F1 sale speculation deepened the rift?
With relations already tense, Ben Sulayem caused another controversy as he once more used his personal Twitter account to address speculation over the possible sale of F1's commercial rights.
After reports of a $20bn (£16.3bn) Saudi Arabian bid to buy the rights from Liberty Media, Ben Sulayem raised concerns about the potential consequences of an "inflated" takeover - such as higher ticket prices for fans if the new owners tried to recoup their investment.
He added that a potential buyer of F1 should "come with a clear, sustainable plan - not just a lot of money".
Sky Sports News reported that Ben Sulayem's remarks had angered senior F1 officials, before a letter leaked in which he was accused of "unacceptable" interference.
In the letter, seen by Sky Sports News, F1 general counsel, Sacha Woodward Hill, and Renee Wilm, chief legal and administrative officer of Liberty Media Corporation alleged that Ben Sulayem had "interfered with our rights in an unacceptable manner".
The letter was also circulated to all 10 F1 teams. Neither F1 nor the FIA have offered public comment.
Ben Sulayem's comments came in response to a report last week by Bloomberg News that Saudi Arabia's sovereign wealth fund had explored a $20bn takeover bid for the sport in 2022.
What about the sexism scandal that involved Ben Sulayem?
In the same week as the letter was sent to the FIA, the governing body was prompted to comment on another controversial story concerning its president.
Ben Sulayem was quoted as saying he does "not like women who think they are smarter than men" on an archived version of his old website.
The quotes, which were initially published in 2001, were revealed in an article in The Times.
An FIA spokesperson told Sky Sports: "The remarks in this archived website from 2001 do not reflect the president's beliefs. He has a strong record on promoting women and equality in sport, which he is happy to be judged on. It was a central part of his manifesto and actions taken this year and the many years he served as vice-president for sport prove this."
The incident is certainly an embarrassing one for a president who vowed to strengthen diversity and inclusion when he was elected.
Is there more trouble on the horizon?
While Ben Sulayem appears to have work to do to mend his relationship with F1 bosses and teams, he could also be heading for a confrontation with the drivers.
Ben Sulayem announced earlier in January that F1 drivers must not use the platform provided by the FIA to make statements for their own "personal agenda".
Drivers will need prior written permission from the sport's governing body to make "political, religious and personal statements" following an update of the International Sporting Code.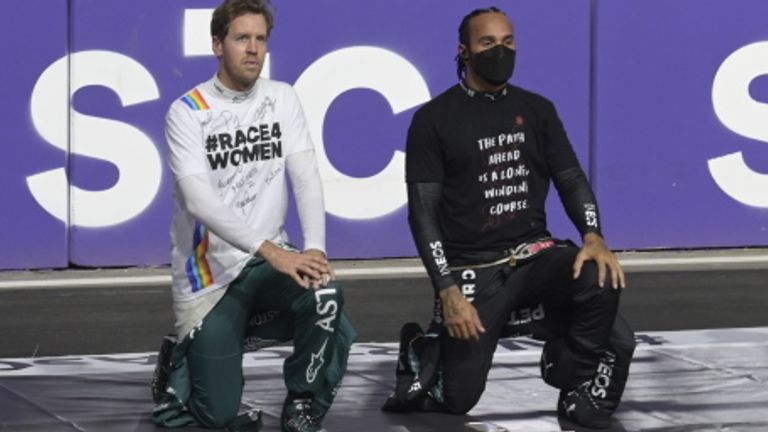 Unless the FIA grants approval in writing, drivers who make such statements will now be in breach of the rules.
Seven-time world champion Lewis Hamilton is among high-profile drivers who have made such statements in recent seasons.
Hamilton has stood up for human rights and racial equality while also addressing LGBTQ rights in conservative countries like Saudi Arabia which has held two races since 2021.
The Briton has yet to comment on the new rules, and it remains to be seen whether he will choose to abide by them when the season begins in Bahrain in early March.
Hamilton clashed with the FIA last season after the introduction of new rules banning the wearing of jewellery, which eventually resulted in the Mercedes driver removing a nose-ring after a lengthy stand-off that saw him granted exemptions.
Considering Sky Sports News' Craig Slater has reported this week that several senior figures within F1 have said there is active discussion among team bosses over whether Ben Sulayem's tenure is an increasing problem, a public conflict with the one of the world's most popular athletes is perhaps the last thing the embattled FIA president needs at the moment.