Saudi Arabian Grand Prix: Max Verstappen aims to win from 15th after engine failure: 'Anything is possible'
"When you have got a car that quick, you can kind of do whatever you want," says George Russell when asked if Max Verstappen can win Saudi Arabian Grand Prix from 15th place; watch Sunday's race live on Sky Sports F1 (build-up 3.30pm, lights out 5pm)
Last Updated: 20/03/23 11:04am
Max Verstappen says "anything is possible" as he aims to win the Saudi Arabian Grand Prix from 15th place after a driveshaft failure led to his early exit in qualifying.
The reigning world champion, victorious in the season-opener in Bahrain earlier this month, suffered his mechanical issue in Q2, with team-mate Sergio Perez going on to claim pole position for the second year running.
Fernando Alonso will join Perez on the front row, with the Aston Martin driver third quickest in Q3 but pushed up a spot by dint of Ferrari racer Charles Leclerc's 10-place penalty for a change of power unit.
Verstappen, who won last year's Belgian Grand Prix from 14th place after taking an engine penalty, said: "Of course I would have liked to have started further up the road but I can't change that now.
"Anything is possible at this track. We have seen a lot of crazy things. Let's stay a little bit realistic, it is going to be tough, but we have good pace, so for sure we'll move forward."
Reflecting on the driveshaft problem that curtailed his qualifying session, the Dutchman said: "Coming out of Turn 10 it happened, which is very annoying.
"I think so far we had a really good weekend, every session was going really well. Every time we were on the track the car was working really well. Now it will be a bit more tricky to get to the front but it's all about scoring points."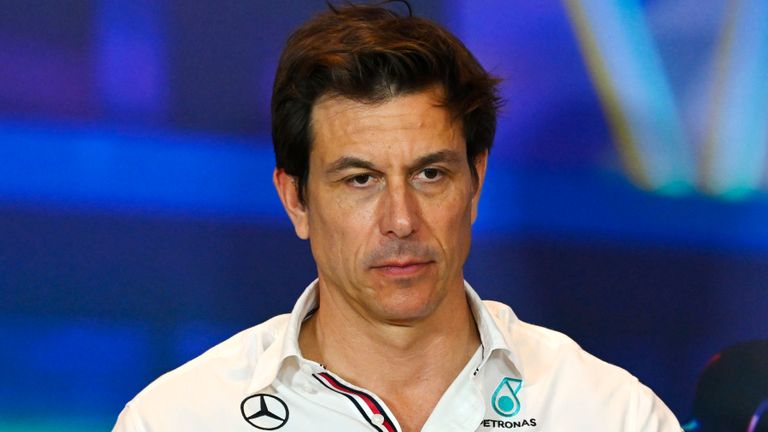 "Maybe [with Verstappen's problem] Red Bull have done it on purpose to win it all the way from the back!"
Mercedes Team Principal Toto Wolff
'When you have got a car that quick, you can do whatever you want'
Mercedes' George Russell - who qualified fourth, four spots ahead of team-mate Lewis Hamilton - expects Verstappen to push for victory on the high-speed Jeddah Corniche track, saying: "When you have got a car that quick, you can kind of do whatever you want.
"You saw what Max did last year in Spa and he has got a faster race car this year. Credit to Red Bull, they have done an exceptional job."
Sky Sports F1 pundit Damon Hill said: "Max has got the car to do it - provided it is reliable. He has the speed to make it through the pack. He just needs to stay out of trouble [but] he is in a vulnerable position."
Nico Rosberg, the 2016 world champion, said: "Max is an absolutely brilliant racer but 15th is too much to ask, I find.
"With a lucky safety car, it could be very exciting…"
Horner: Great opportunity for Perez
Red Bull are still best placed to win the race with Perez out in front in a car that Leclerc says is "on another planet."
Red Bull Team Principal Christian Horner added: "It's a great shame [for Max] because that one lap he did in Q1 would have put him fourth on the grid. Nonetheless, we have got a quick race car and I am sure we he will race well.
"There wasn't a concern coming into the race. Something obviously has happened there and we need to get to the bottom of it and understand it and make sure that it doesn't happen on Sunday.
"It is a tough race here, it is going to be a matter of staying out of trouble. There is going to be plenty of action, plenty of carnage and it should provide an exciting race hopefully.
"It is a great opportunity for Checo and it is important to convert that. We are going to have two different races going on in the Grand Prix."
Sky Sports F1's live Saudi Arabian GP schedule
Sunday
1:30pm: F2 Feature Race
3.30pm: Grand Prix Sunday Saudi Arabian GP build-up
5pm: THE SAUDI ARABIAN GRAND PRIX
7pm: Chequered flag: Saudi Arabian GP Reaction
New for 2023: Ride onboard with any driver
Sky Sports F1 viewers can experience live races from inside the car of their favourite driver thanks to a stunning new innovation for the 2023 season.
Sky customers with a Sky Sports F1 subscription just need to download the Sky Sports App and log in to ride with Lewis Hamilton, Max Verstappen, Charles Leclerc or any driver of their choice.
In addition to the 20 driver onboard streams, viewers will also be able to experience the Sky Sports 'Battle Channel', a split-screen offering focusing on a battle between up to three cars.
If you prefer to jump onboard through your TV screen, the service will also be available through Sky Q and Sky Glass.
This is in addition to the Race Control streams that have been available in previous seasons, including multi-screen, timing screen, driver tracker and onboard mix.
Watch the Saudi Arabian Grand Prix live on Sky Sports F1 this weekend with Sunday's race live at 5pm. Get Sky Sports