Carlos Sainz: Ferrari driver reveals main contract desire amid uncertainty over future with Italian team
Carlos Sainz's contract with Ferrari expires at the end of 2024; Spanish driver says he is keen to have his mid-to-long-term future resolved by the start of next season; watch Sainz race in front of his home fans at this weekend's Spanish GP live on Sky Sports F1
Last Updated: 31/05/23 7:34pm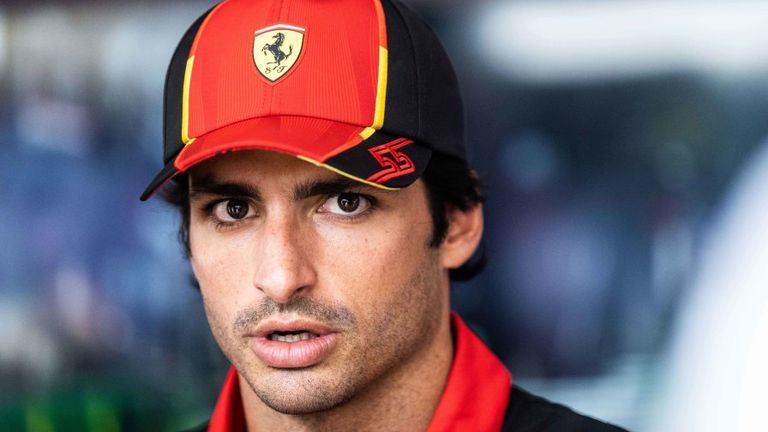 Carlos Sainz says he wants to avoid being left to drive on an expiring Ferrari contract in 2024, amid continued speculation over his future with the team.
Sainz's current deal with Ferrari expires at the end of next season, but recent reports claimed the Italian team were keen to sign Lewis Hamilton, who is currently only contracted to Mercedes until the end of 2023.
Hamilton and Ferrari team principal Frederic Vasseur both dismissed the reports ahead of the Monaco Grand Prix, but uncertainty remains over the Spaniard's future after an unconvincing start to his 2023 campaign.
Sainz, who has also been linked with a move to Audi when the German manufacturer enters F1 in 2026, says his main priority is to avoid a repeat of 2018 when he drove for Renault without knowing where he would be the following season.
"Obviously I don't want to reveal what my strategies are in terms of contractual negotiations because it's something that I never disclose," Sainz said.
"But if you've heard me in interviews in the past, I've always said I like going into an F1 season knowing where I'm going to race the year after, because I went through that experience at Renault and I didn't enjoy it at all, the way everything panned out, so that would be my target."
Asked if that meant he would like to have his future resolved before the end of the 2023 season, Sainz added: "Not necessarily this year but before the start of next year or during the start of next year."
Sainz not seeking reassurances as 'silly season' begins
Speculation over Hamilton's future came just a few weeks after Sainz's Ferrari team-mate Charles Leclerc had been linked with a switch to Mercedes, which the Spaniard sees as confirmation that F1's 'silly season' has begun.
Vasseur said that he felt no need to explain anything to his drivers amid the Hamilton rumours, and Sainz confirmed that he hasn't felt the need to seek reassurances.
"Honestly, no, because I didn't feel like I need to," he said. "I know at this time of the year there's always this kind of rumours to happen. It's silly season time.
"A week and a half ago I was going to Audi, a week ago Charles was going to Mercedes, now Lewis is coming to Ferrari - it's the story of our lives when it comes to this time of the year.
"I've been long enough in F1, more than eight years, to know that this is that time of the year."
The 28-year-old is driving for a ninth season in F1, and says he is far less likely to be distracted by rumours at this stage of his career.
"I think back in the day you would read the media a lot more, try to find out a lot more," he said.
"Now I prefer to focus on my weekend and just don't care what the others are saying or doing and focus on myself - that's always worked out fine for me."
Sainz endured another challenging weekend at the Monaco Grand Prix as he crashed in practice on Friday before dropping from fourth to eighth in the race after spinning in the wet.
The 28-year-old will be keen to put on a strong performance at his home race this weekend, with Formula 1 returning to the Circuit de Barcelona-Catalunya for the Spanish Grand Prix.
Vasseur: Big room for improvement in Ferrari's car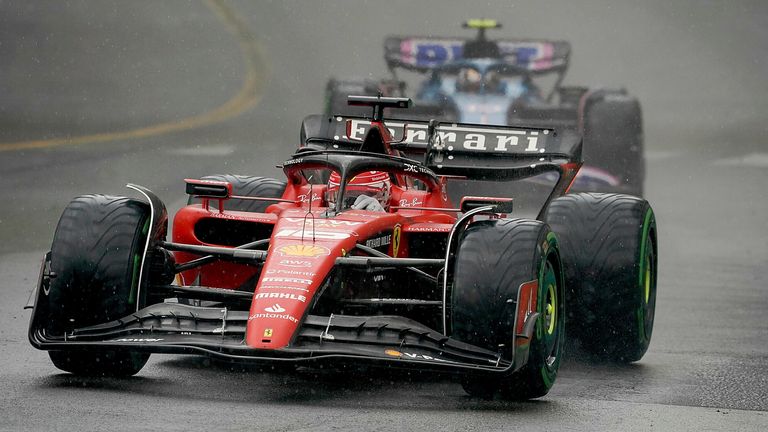 Ferrari will be bringing a substantial upgrade package to Spain as they seek to get back into race-winning contention after an underwhelming start to the 2023 season which has yielded only one podium finish.
The Italian outfit have regularly been strong on a Saturday - including claiming pole position in Azerbaijan for both the Grand Prix and Sprint - but have struggled on race pace on Sundays.
Mercedes have changed their car concept as they seek to close up to Red Bull's dominant car, but Vasseur has ruled out Ferrari following a similar path, feeling there is still significant performance to find in their SF23.
"It's not just about the potential and package and upgrades, we also have to upgrade the car into a better window. The first target for us is not just to put downforce on the car, it is to have the car a bit more consistent," Vasseur told the media on Tuesday.
"On top of the update we have a big room for improvement with the current car in terms of performance.
"I would say that as long as I am convinced we can improve the current car, it would be a mistake, during the season, to change completely the target.
"Should the team decide during the 2023 season to bring a completely different car, I think it will bring us to October and I am not sure it's the best solution to improve in the mid-term view.
"We already have next year's car in the wind tunnel, and we are working on the next project, but to try to introduce a completely different car in the season, it is quite critical at this stage of the season."
He added: "You always have to stay calm, if the car was so difficult to drive, I can't imagine we would be one tenth off Verstappen [in Monaco GP Qualifying].
"If we are suffering from something, it is consistency over the lap, over the race or from corner to corner and it's where we must improve but mainly for the race, but we are working on it.
"It's not that we are out of the pace by potential [of the car]."
Sky Sports F1's live Spanish GP schedule
Thursday June 1
2pm: Drivers' Press Conference
Friday June 2
8.50am: F3 Practice
10.00am: F2 Practice
12pm: Spanish GP Practice One (session starts 12.30pm)
1.55pm: F3 Qualifying
2.50pm: F2 Qualifying
3.45pm: Spanish GP Practice Two (session starts 4pm)
5.15pm: The F1 Show: Spain
Saturday June 3
9.25am: F3 Sprint
11.15am: Spanish GP Practice Three (session starts 11.30am)
1.10pm: F2 Sprint
2.15pm: Spanish GP Qualifying build-up
3pm: Spanish GP Qualifying
6.15pm: IndyCar - Detroit GP Qualifying
Sunday June 4
8.50am: F3 Feature Race
10.20am: F2 Feature Race
12.30pm: Grand Prix Sunday Spanish GP build-up
2pm: THE SPANISH GRAND PRIX
4pm: Chequered Flag Spanish GP reaction
5.45pm: Indy NXT - Detroit GP
8pm: IndyCar - Detroit GP
Will Red Bull's winning run in F1 2023 continue at the Spanish GP? Watch all the action live on Sky Sports F1 from June 2-4 Get Sky Sports