Italian GP Practice 2: Lewis Hamilton heads Nico Rosberg
Mercedes pair dominate once again, with Sebastian Vettel third fastest again ahead of Force India pair
By Mike Wise
Last Updated: 05/09/15 4:13pm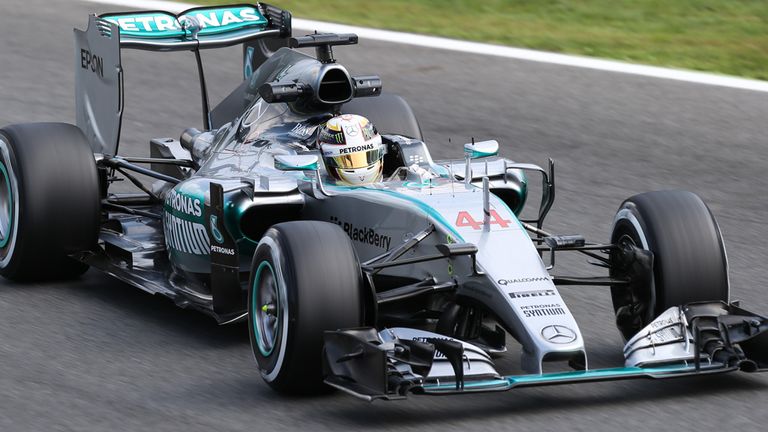 Lewis Hamilton once more headed Nico Rosberg in second practice for the Italian GP practice at Monza on Friday afternoon, with Mercedes again well clear of the rest.
Hamilton, who was also fastest in the opening session, lapped the 3.6-mile track in a time of 1:24.279 to go 0.021s clear of Rosberg. In turn, Sebastian Vettel was third - as was also the case in the morning - although the gap, 0.759s, was rather less than it was.
But the feeling is that it's already looking ominous for Ferrari at their home race, with reserve driver Esteban Gutierrez admitting as much. "We're working really hard but this car has been adapting itself in high-downforce tracks. I'm not saying we'll struggle but it's probably not the strongest point of the car to be at this kind of track," he told Sky Sports F1.
The Tifosi will doubtless, therefore, be hoping they have reason to open their scarlet umbrellas heading into the weekend, when rain is forecast. And another ray of light might be brake wear: the low-downforce Monza is tough on brakes and Mercedes have been found to be marginal in that regard on similar tracks this year.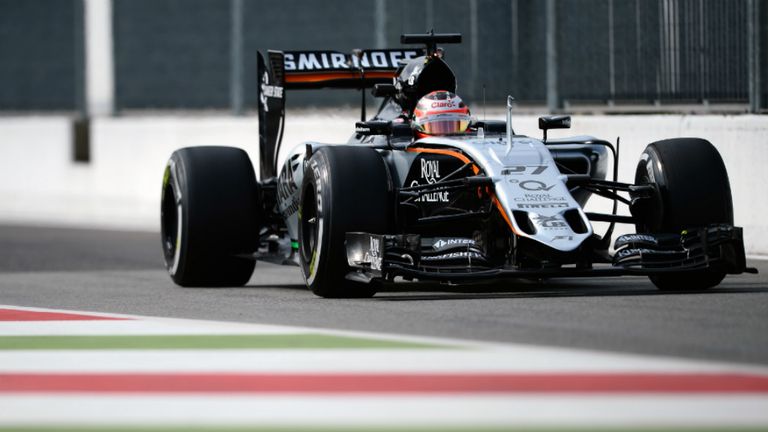 Indeed, Hamilton's car spent time in the garage having its brakes changed and it might be seen as a potential weakness by rivals. But with Mercedes about 0.5s faster than Ferrari on their long runs as well, most indications suggest more of the same.
Watching trackside, Sky Sports F1's Martin Brundle said the Silver Arrows, which also feature new spec. engines this weekend, "just looked planted out there, absolutely sensational through Ascari".
So if Mercedes appear in a race of their own already, attentions are bound to focus on the title battle. Hamilton stands 28 points clear of Rosberg, who admits he needs a big result now and will take heart from the tiny gap to his team-mate. 
Then again, we've been here so often before. "I hope he does," Hamilton replied with grin, when afterwards whether he hoped Rosberg might up his pace on Saturday. And might the world champion up his pace as well? "I hope so."
As was the case in the morning, the Force Indias of Sergio Perez and Nico Hulkenberg - whose Mercedes engines are not of the latest specification - were next up behind Vettel, with his team-mate Kimi Raikkonen sixth fastest.
The Lotuses of Romain Grosjean and Pastor Maldonado were seventh and eighth, with Williams pair Valtteri Bottas and Felipe Massa completing the top 10.
Further down the order, Red Bull found the going tough, with Daniel Ricciardo 13th and struggling with a hydraulic problem, Meanwhile, team-mate Daniil Kvyat was slowest of all after gearbox problems intervened.
But both cars are taking engine penalties this weekend and the same, once more, goes for McLaren. Fernando Alonso was 16th fastest while it was a dismal session for Jenson Button, who was P18 and spent most of his time in the pits after the inevitable problem intervened.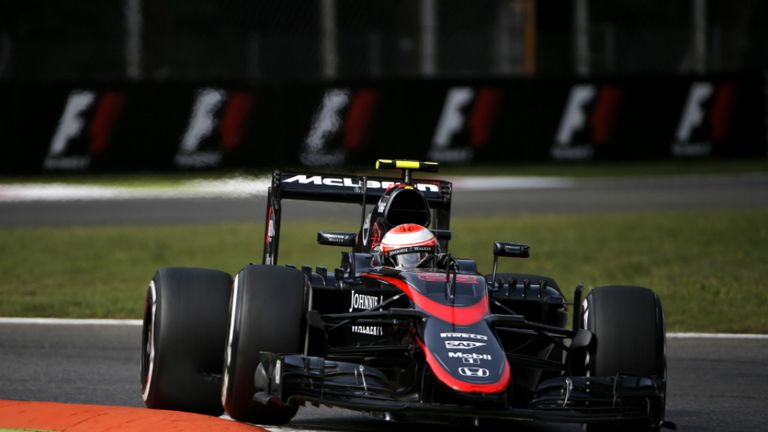 Times:
1. L Hamilton, Mercedes, 1:24.279
2.N Rosberg, Mercedes, 1:24.300
3. S Vettel, Ferrari, 1:25.038
4. S Perez, Force India, 1:25.038
5. N Hulkenberg, Force India, 1:25.325
6. K Raikkonen, Ferrari, 1:25.380
7. R Grosjean, Lotus, 1:25.497
8. P Maldonado, Lotus, 1:25.513
9. V Bottas, Williams, 1:25.647
10. F Massa, Williams, 1:25.891
11. F Nasr, Sauber, 1:26.114
12. M Ericsson, Sauber, 1:26.133
13. D Ricciardo, Red Bull, 1:26.222
14. M Verstappen, Toro Rosso, 1:26.454
15. C Sainz, Toro Rosso, 1:26.641
16. F Alonso, McLaren, 1:26.966
17. W Stevens, Manor, 1:28.201
18. R Merhi, Manor, 1:28.439
19. J Button, McLaren, 1:28.471
20. D Kvyat, Red Bull, 1:28.723
Don't miss Sky Sports F1's exclusively live coverage of the 2015 Italian GP. Race-day coverage begins on Sunday at 11.30am with lights out at 1pm. Watch the Italian GP for £6.99 with NOW TV